My third boy was born just shy of his older brothers first birthday. For four days I had two under one but at totally different stages. Their older brother had turned three just one week before.
While I did hope to have kids fairly close in age, I never intended to have them all THAT close together, but that's how our story went. After years of being told I was infertile, we had our boys back, to back, to back.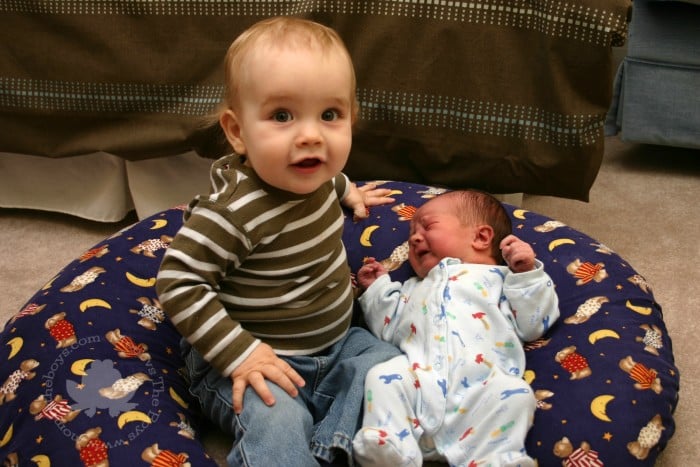 Holy cow, it's a mini me!
Raising babies together at different stages is tough. I was deep in the throws of potty training with one, while the other was taking his first steps and trying to get the newborn used to breastfeeding all at the same time. Life was overwhelming to put things mildly. My oldest took every opportunity to get into mischief while I was held hostage on the couch breastfeeding the youngest. One day he decided to help himself to some ice cream that he pulled out of the freezer and climbed onto the table to eat with his hands. I just let him, I was way too tired to care and at least I knew where he was and what he was doing.
The middle boy loved his little brother but was far too rough, I couldn't leave them alone in the same room together. So no more getting things done while the baby napped in his bouncer. Speaking of naps though, I was was eventually able to get them all on the same napping schedule at one point so I could get an hour to myself. People marveled at this, wondering how did I do it? Basically, it was a life saving skill I'd worked hard at. I NEEDED that time to survive.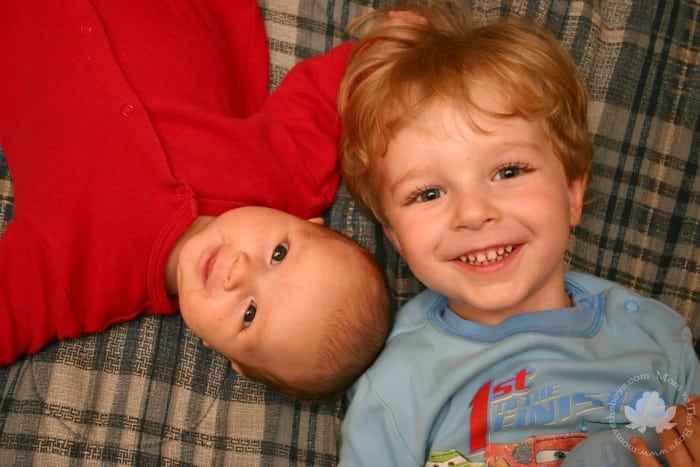 The biggest bro with the littlest bro
Being home with three little ones made for long lonely days. I tried to get out with them, trust me I did, but it's not easy with an energetic three year old and two non walkers. I tried to take the boys to a play group twice. Both times I drove home in tears. With one on my hip and the other in an infant car seat, I didn't have any hands left to hold my oldests hand. This freedom meant for a nice run in the parking lot the first day. The next time we went he decided he didn't want to leave. While all the other parents packed up their belongings and strolled out the door, I was chasing my kid around the room begging him to be a good boy and walk to the van with me. With just one or two kids, he would have been over my shoulder and out the door. Problem solved.
Needless to say, it was safer to stay home and watch dust collect on the furniture.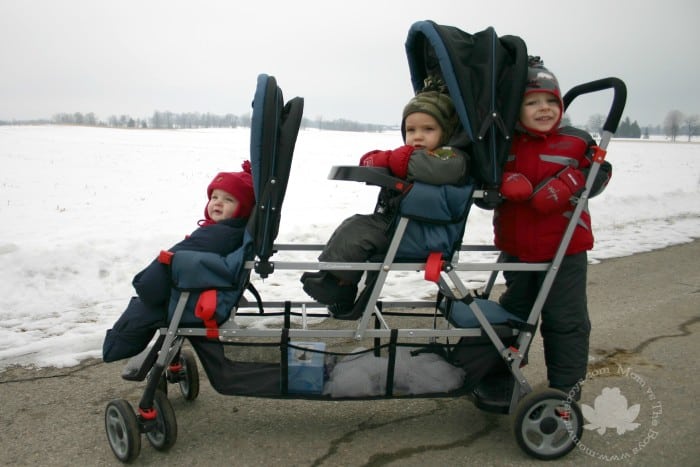 The Big Caboose, I felt like I was driving a bus
But it gets better mamas, it does. The baby finally starts sleeping through the night and slowly but surely the sleep deprived fog starts to lift a little. The oldest starts entertaining his bros long enough for you to unload a dishwasher without someone crawling in and the middle one still hasn't learned to walk without hitting his head off the walls, but being accident prone is just now part of his charm.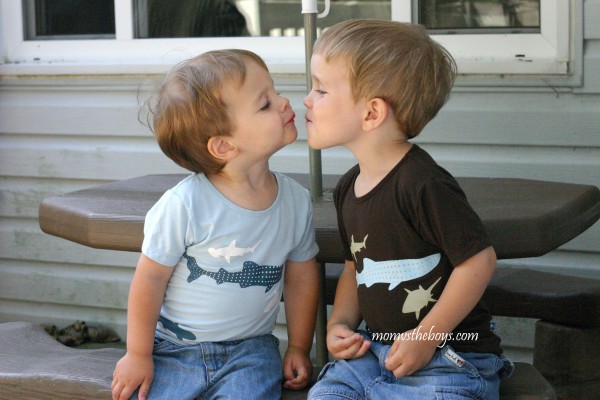 Brotherly Love 
They quickly became the best of friends. When my youngest was a toddler we couldn't keep him from climbing out of his crib to go visit his brothers at night. When we checked on them before heading to bed, we often found him sleeping on the floor in their room. It happened so much we put him in a big boy bed and moved him in there with them. Despite having a 4 bedroom house, we were only using two rooms lol All three of them preferred to share.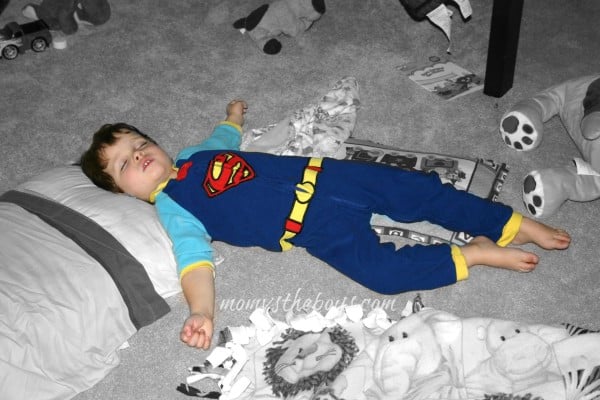 Why sleep in your bed when you can sleep on your brother's floor
And as quickly as they came, they left. Kindergarten came quickly for all of them and then the house was silent. I savoured that last year with my youngest at home. He was the perfect age to take on outings and do activities with. I wish I had the one on one time with my middle child at some point. I had a year with my oldest when he was born on maternity leave and this year with my youngest when his brothers were at school, but not one day with my middle boy.
And while I do love the quiet house to work in during the day, I miss my little boys. I wish I was able to enjoy their babyhood more, I wish I wasn't so exhausted that I wished the days away. Those first few years with three were the hardest years of my life, but while the days were long, the years were short and it was over before I knew it.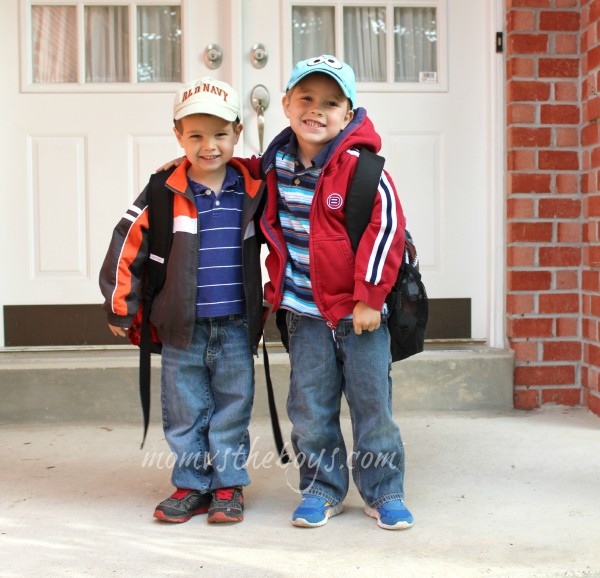 My Kindergarten Babies
Today the boys rush through the door from school and head to the basement to play video games together. They miss eachother throughout the day too. Like all siblings they fight. Especially when they are almost the same age, because they are into the same things. Keeping track of who's pokemon is who's is an impossible feat and a never ending argument. But they love each other fiercely and I wouldn't have it any other way. Nothing makes my heart melt like listening to them whisper to each other in the dark before bed. Imagine having a sleep over with your bestie every night of the week? Life is sweet.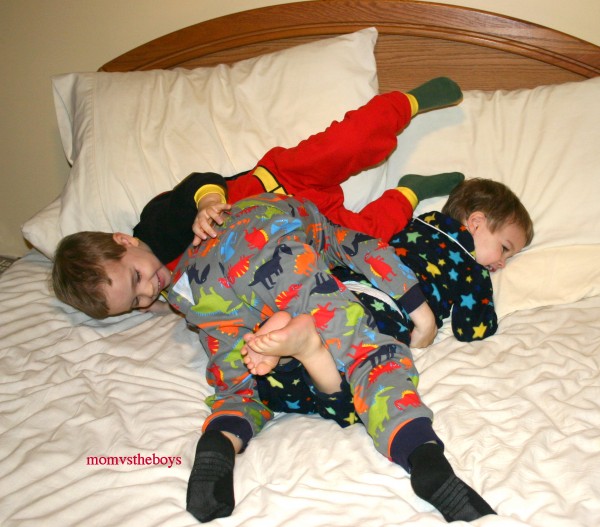 3 Little Monkeys…
Each day their independence grows and the teen years are lurking ahead. They only stay little for such a short and busy time. Those years my house was filled with babies, I felt like I was drowning, but without them I feel a little lost at sea.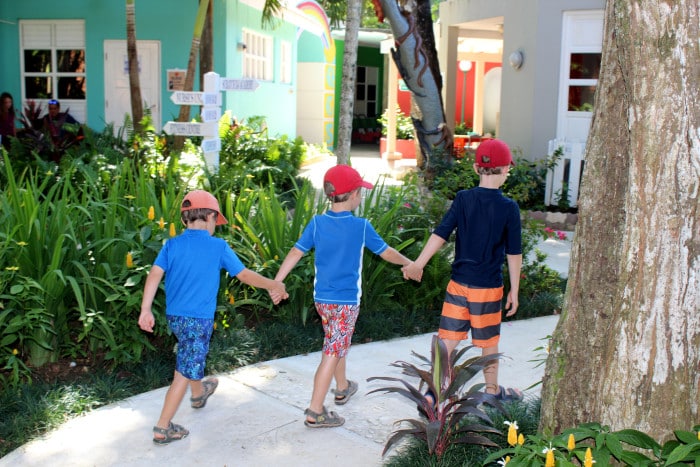 Best Friends