Spring has sprung and with it came a burst of energy from the boys. After being cooped up all winter the boys were ready to get outside and burn off some energy. The last few weeks have been a flurry of bike rides, soccer, baseball and trampoline jumping! They are even out on the trampoline in their pajamas before breakfast on school days! They just couldn't wait to shed their big heavy winter boots and get back into shoes, but as per usual, they running shoes no longer fit. I guess that happens with kids and their constant growing, give them a few months and they've grown out of everything lol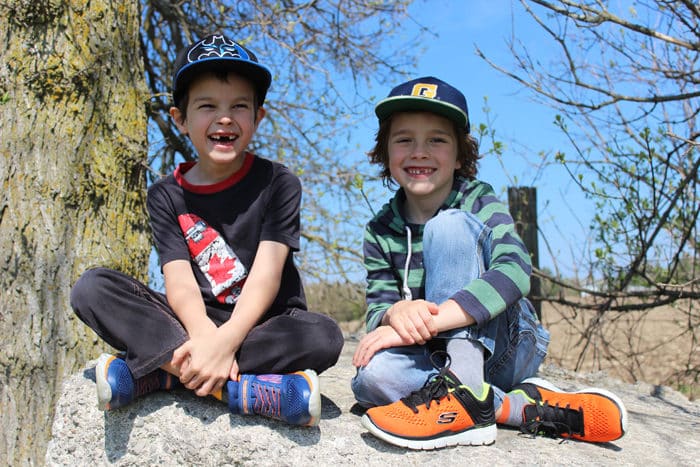 Skechers is our go-to for family footwear, we love the variety of styles and colours, as well as their ability to stand up to our busy boys wear and tear. We had each of the boys cruise the Skechers website and pick out a new pair for spring and summer this year. Each of our boys like something different and I was happy that Skechers had a big selection so that they each got a pair to suit their individual style.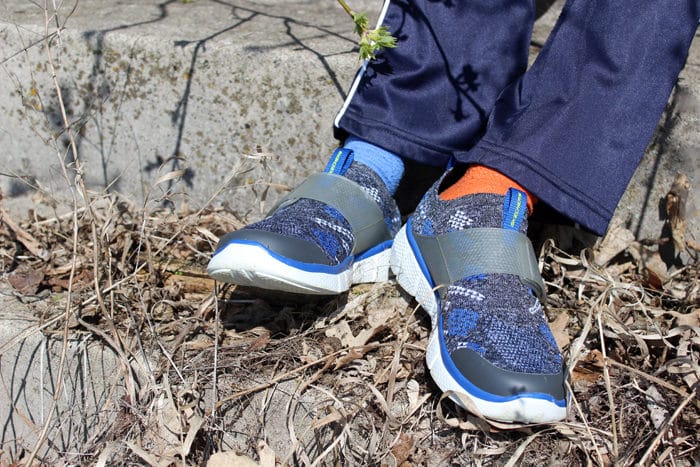 My oldest is almost 11 years old now and moving away from organized sports, but still loves to kick balls and race around the school yard. Comfort is his main goal with footwear now and he was super excited to find that Skechers offers slip on shoes. The Skechers Equalizer 2.0 – Quick Sprint shoe comes in a grey/blue frabric that is comfy to wear (like a slipper mom!) but can hold up to play time and won't fall off thanks to the strap. The air cooled memory foam insert gives extra comfort and cushion for the feet.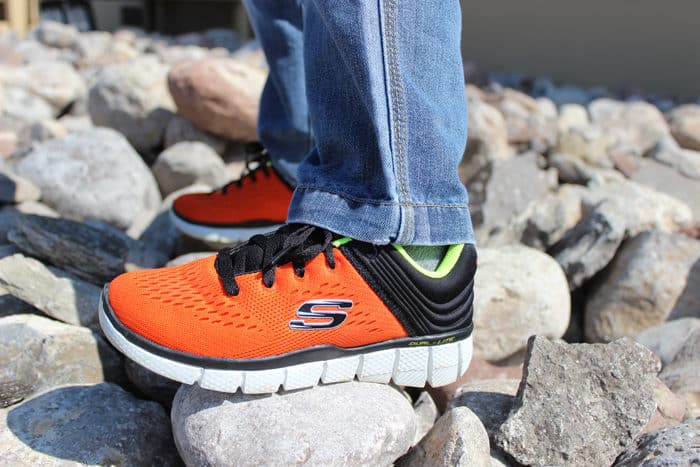 My middle son is super sporty and all about bright colours so these Skechers Equalizer 2.0 – Post Season kicks were right up his alley. They are lightweight and flexible but still give him support to play indoor soccer which he does twice a week. I also love the bright orange colour, it's such a refreshing sight for spring and I can spot him at a distance in a group of kids! It has an Air Cooled Memory Foam insole and Dual-Lite comfort outsole and comes with regular laces.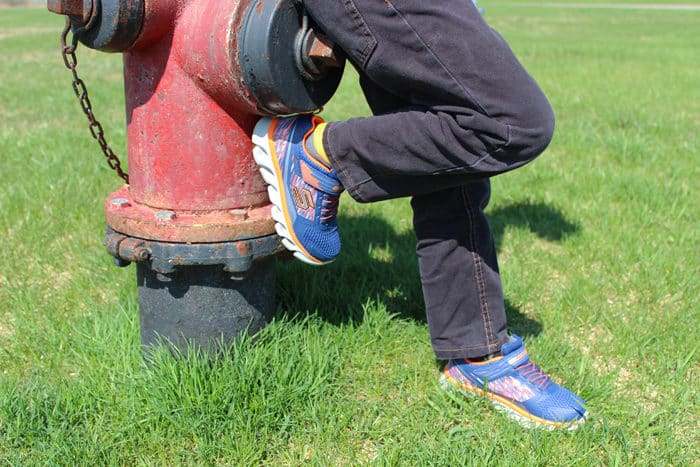 My youngest is just 7 and still adores the light up shoes, he can't go without his Skechers S Lights! This colourful blue and orange pair are the Hypno Flash style and have a full row of flashing lights on the outer mid sole side pods of each shoe. The shoe itself is very sturdy and great for sports. He also plays indoor soccer twice a week and I can see him across the field from the stands with those lights on this feet! The striped laces look grown up but don't require tying, the velcro straps hold the shoe in place. Check out the lights in action!
 25th Anniversary!
Love Skechers too? Tell the world! Skechers Canada is celebrating their 25th Anniversary this year and will be celebrating all month long! Snap a fan photo and share to Twitter or Instagram using the hashtags #Skechers25CAN and #WorldSkechersDay. Be sure to tag them at @skechers.canada (IG) or @skechers_canada (TW) so they don't miss it and can share it too!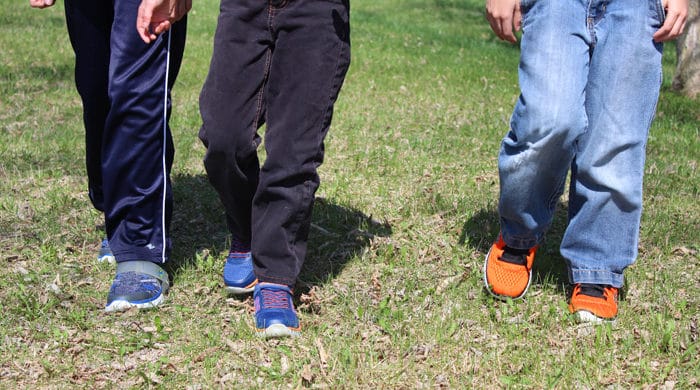 A chance to WIN!
Enter below for your chance to win one child's pair of Skechers, open to Canada only, closes May 20th.