Nine years ago we got one heck of a storm late in the evening. It was one of those magical storms that filled the night sky with lightening every other minute and thunder that just shook the house. I could feel that storm through my entire body and as I was very very pregnant at the time, baby could too. Sure enough, a few hours later, I delivered a beautiful baby boy three weeks early. The storm scared him out before we expected him and he ended up arriving right on his Dad's birthday. 
Since then I've had the challenge of decorating birthday cakes that both of them will enjoy and luckily it hasn't been too difficult. I've created a Minion, BB-8, a fire breathing dragon, and this year I decided on Harry Potter!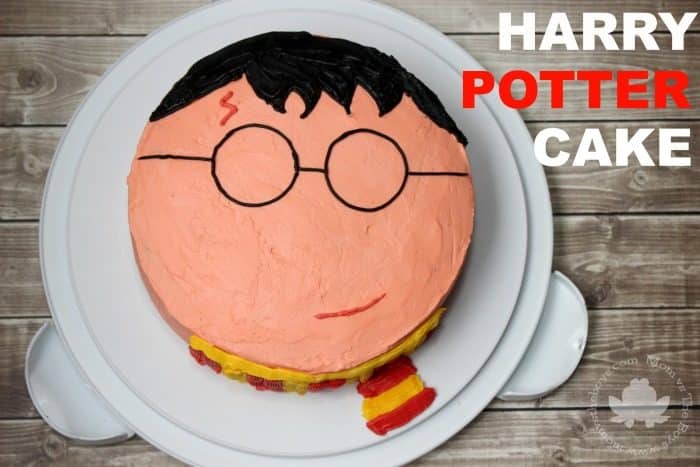 My husband and I had both read the Harry Potter series before we even had children and have been reading them to our oldest for a few years now. Earlier this year we started reading them to our younger two children in preparation for a trip to Universal Studios and The Wizarding World of Harry Potter that we had planned for this Summer. It seemed like the perfect fit!
HARRY POTTER CAKE
You'll Need
Two 9″ round baking pans
Cake mix, any flavour
Buttercream Icing
Tube of black icing (If you don't want to make it)
Frosting spatula
Wilton icing bags and tips 48,104,3
Wilton icing colours, creamy peach, red-red, lemon yellow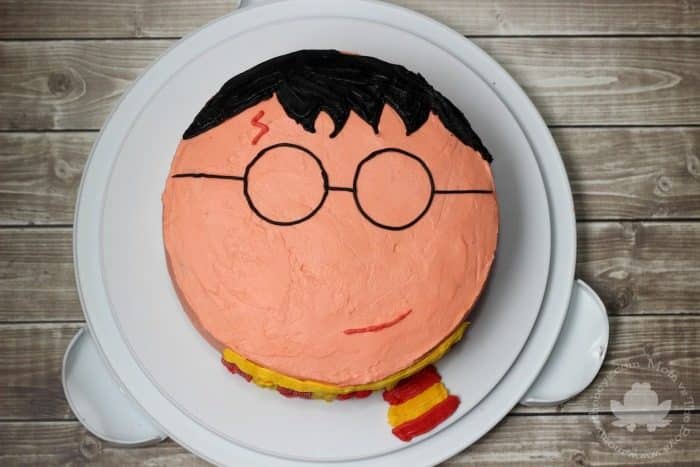 Directions
Bake the cake according to the package directions in two 9 inch baking pans. Be sure to grease and flour to the pans so they are easy to remove from the pans once cool. Using a long serrated knife level one of the cakes so that it is completely flat. Frost a crumb coat on this cake using buttercream with a generous amount on top which will act as your middle layer of icing. Add the second cake directly on top and finish the crumb coat. Place the cake in the freezer for 20-30 min to firm up the icing. 
Prepare your icing colours by mixing the wilton icing colours with the buttercream. Add small amounts at a time until you reach the colour you desire. My skin colour turned out a little more pink than I had planned. You'll only need small amounts of the light red, dark red and yellow. For the light red, I just reserved a small portion as I was creating the darker shade. I decided to just buy a large tube of black icing to save myself the trouble of mixing black which can be a bit of a pain and uses a load of the colouring. 
Using the frosting spatula, give the cake a final smooth frosting using the creamy peach coloured buttercream icing you prepared.
Cut the bottom end off of the black icing tube and squeeze the contents into an icing bag with a #3 tip. To create Harry's glasses, I found a drinking glass that had about the same size of circle that I was looking for and gently pressed the rim into the cake icing. This made it easy for me to trace the lines with my icing tip. Connect the circles together and draw lines from the outer circles to the outside of the cake. 
Using a toothpick draw the outline of Harry's hair in the frosting, be sure to leave a small part to show off Harry's scar. I like to do this part first with the toothpick so I can make adjustments before decorating with the icing. Once you have the outline, trace the line using the same black icing, again with tip #3. Remove the tip and place a #104 on and fill in the rest of Harry's hair. 
Place the light red icing into a small icing bag with tip #3. Draw on Harry's lightening bolt scar and mouth. 
Place the dark red and yellow icing into separate bags, both with a #48 tip (#47 will probably work okay here too). Pipe stripes, alternating colours along the bottom edge of the cake to create Harry's Gryffindor scarf.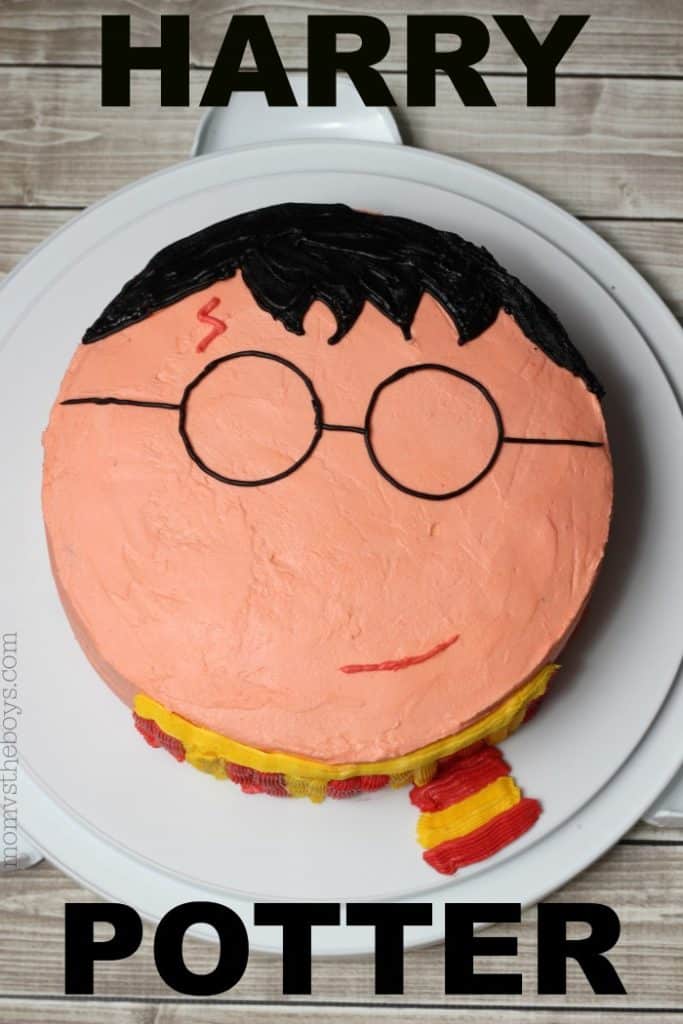 I hope your little witch or wizard loves the cake as much as mine did! If you are looking for a great Harry Potter themed gift, I recommend Harry Potter Clue. It's one of our families favourite games to play! The game is for ages 9 and up but my 7 year old has played many times on his own. My younger boys started out partnering up with mom and dad but they are able to play by themselves now that they understand how the game works. The game can be played with 3-5 players.