It's Great to BB-8!!!
My son recently turned 8 which is pretty awesome, but that day is also extra special because he shares a birthday with his dad. I always try to come up with a cake I think they both will love which wasn't hard at all this year. I went with one of the new and most loved characters from the latest Star Wars movies, The Force Awakens, BB-8!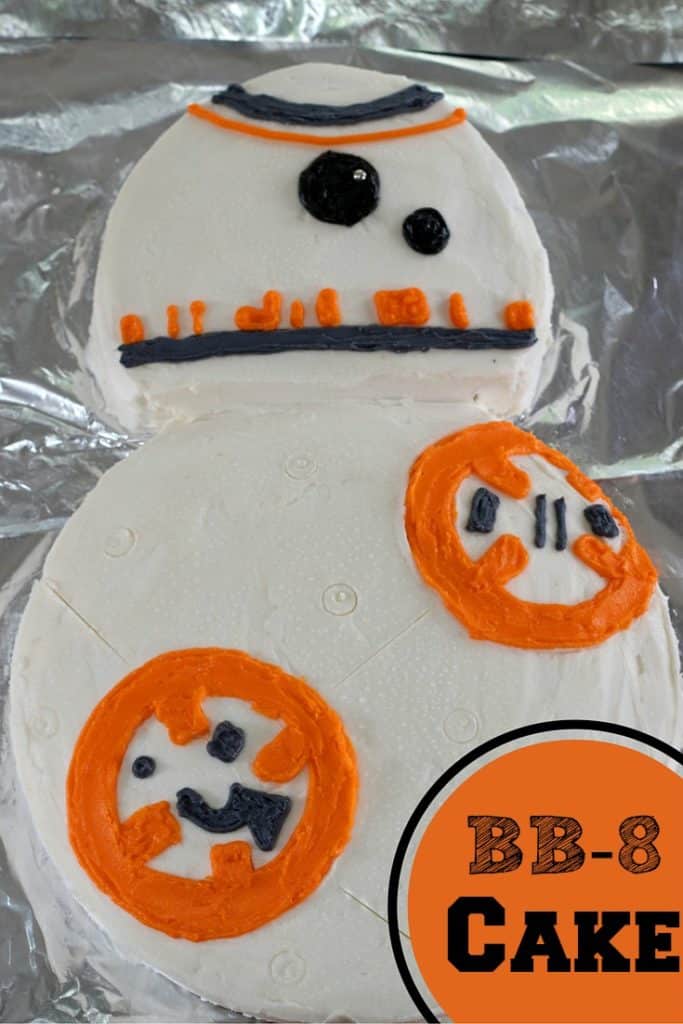 Here's how to put it together
The making of BB-8
You'll Need
2 – 9 inch round cakes, any flavour
Buttercream icing in white, orange, grey and black
piping bag and tips
1 small silver candy bead (dragee)
Directions
One of the cake rounds will stay intact for the bottom, but the top needs to be smaller in size and flat on the bottom. The easiest way I found to do this was to use a bowl with a skinny edge and press down firmly on the cake to cut a nice smooth edge. Now just cut a straight edge on the bottom to make it flat. Arrange the cakes together on your cake board and place in the freezer.
You don't have to freeze the cake, but I find it much easier to ice the cake this way so it doesn't turn into a crumby mess. Next, dirty icing or crumb coat the cake and place it back in the freezer for about 20 minutes before adding the final decorative layer of white frosting. This will help the dirty iced layer set up so you can add the decorative layer of frosting without pulling crumbs into into the top layer of frosting.
Now you have a white BB-8, time to add the details. I kind of just eye balled this one while looking at a few images of BB-8. I used drinking glasses and gently pressed down onto the icing to give me perfect circle guides for the bottom orange pieces. I piped on orange icing and then filled it in and smoothed it out with a small frosting spatula. BB-8 is welded and patched together from different parts in the movie, I created the lines by gently pressing a knife into the cake and the 'bolts' by finding small circular objects and pressing in gently as well. Check your piping tips, these work good.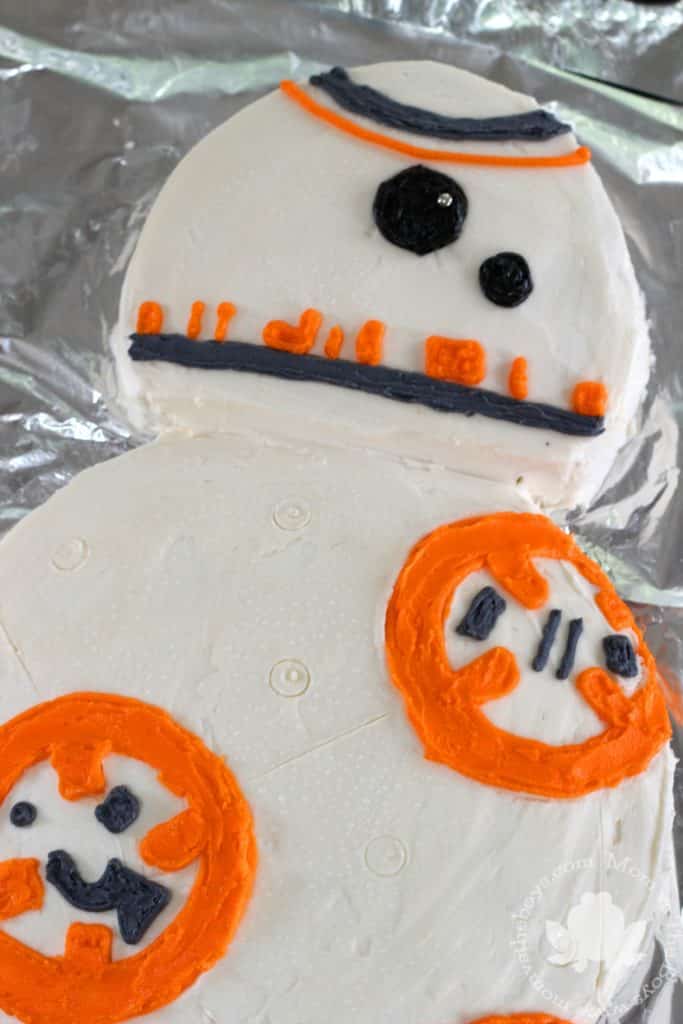 The stripes on BB-8's head and the pieces inside the orange round parts are grey (they are showing darker than they were on my computer) and the two circle 'eye' pieces are black. The final touch is one silver dragee in the largest one.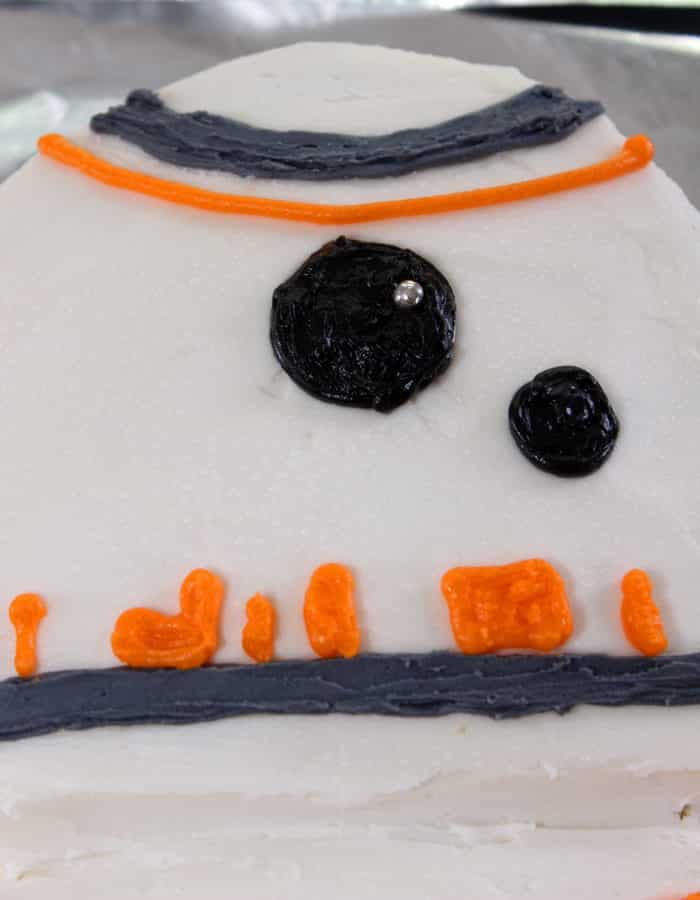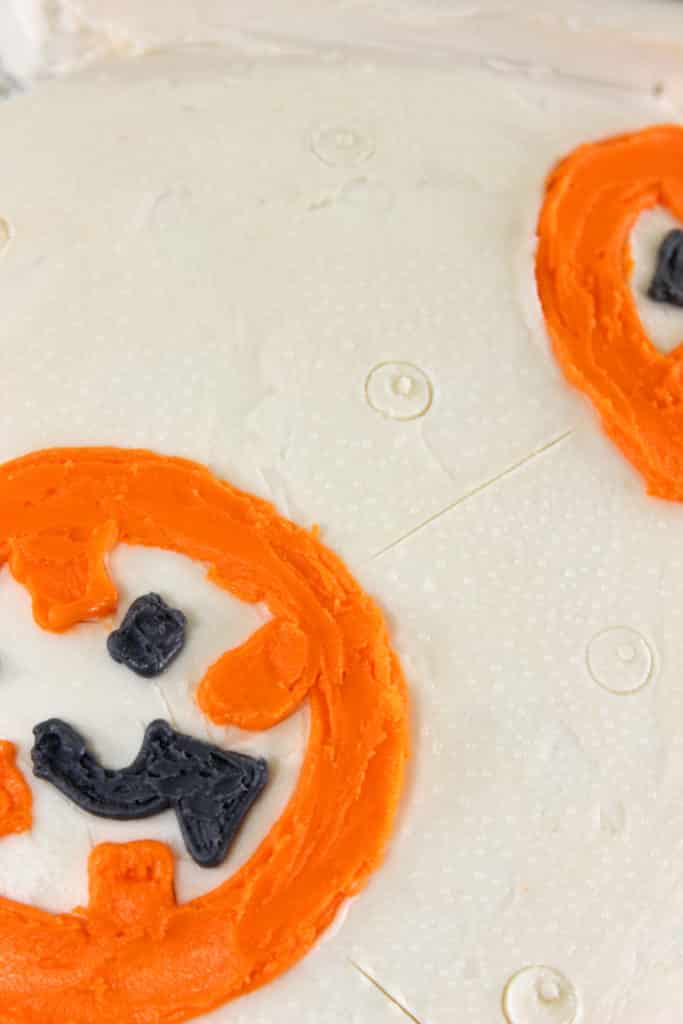 BB-8 was actually very easy to create and didn't take too long at all. In the end I was super pleased with the results and it was a big hit for the birthday boys as well!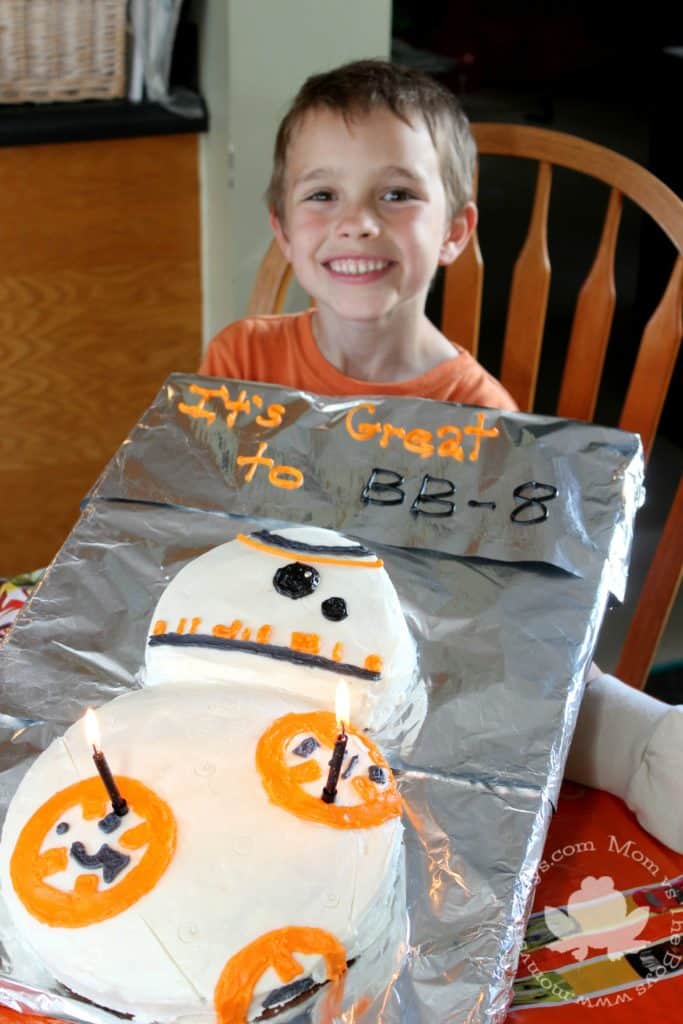 It's Great to BB-8!!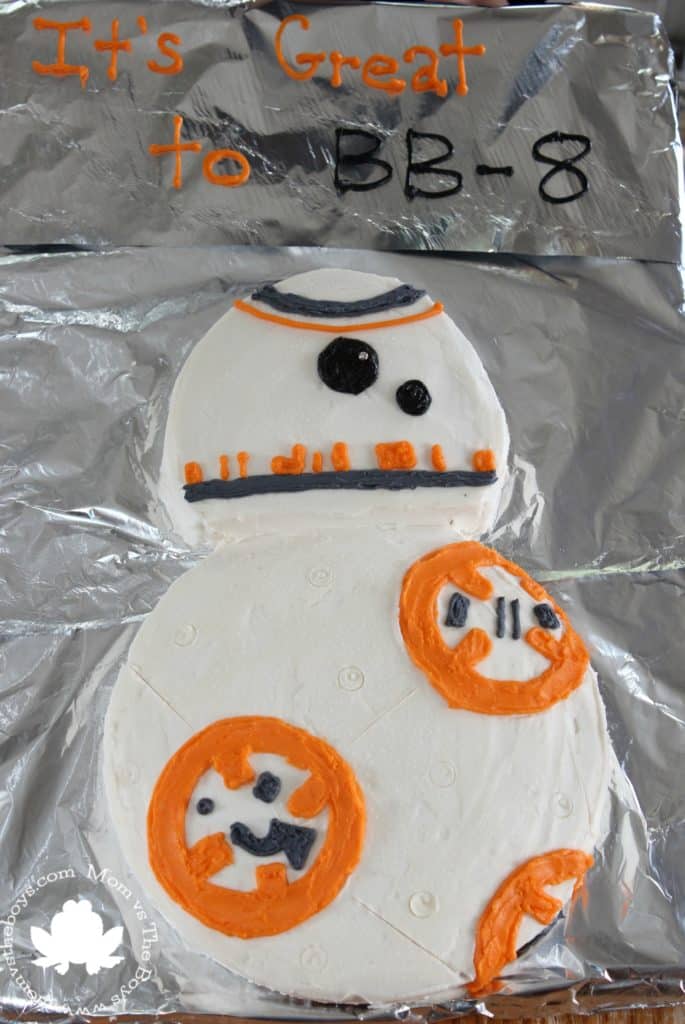 Hope you have fun making a BB-8 Cake for you Star Wars fan!