Got yourself a Harry Potter fan? We sure do here, in fact our whole family has been enjoying the books and movies for years. Both my husband and I had read the series before we even had children! So it's safe to say we love all things Harry Potter and we couldn't wait to take the boys to Hogwarts. I can't believe that in just a few days our family will be headed to Orlando, Florida to visit Universal Studios and of course we are most interested in checking out the Wizarding World of Harry Potter attractions! 
Whether your announcing a surprise trip to Universal yourself or have a Potter fan's birthday coming up, these Harry Potter cupcake toppers are sure to make the moment special!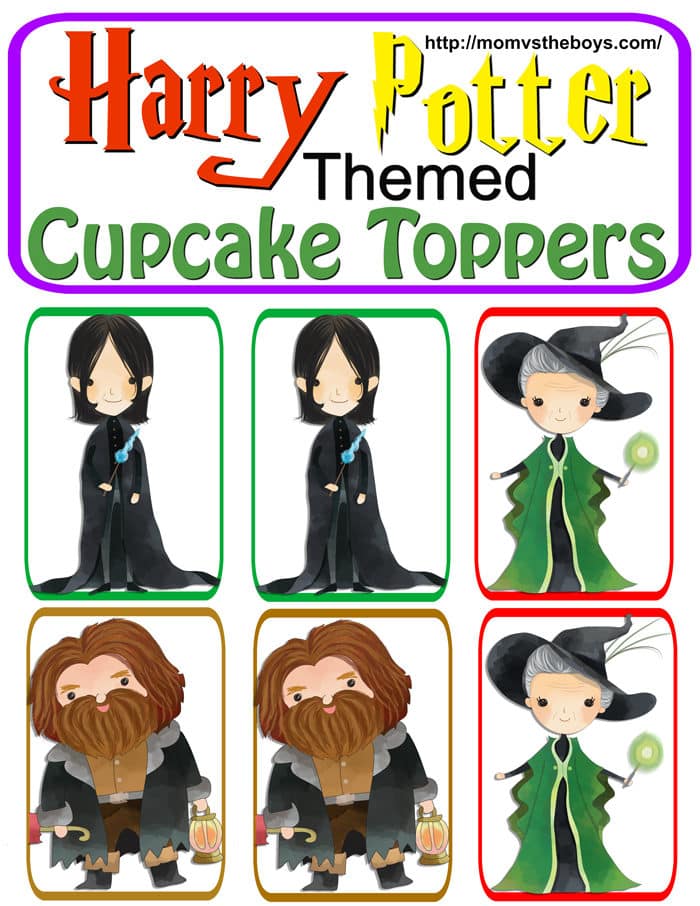 How stinking cute are these right????
You'll find a whole set of 6 different characters including favourites like Hagrid, Dumbledore, Hermione, Ron, Dobby, Professor McGonagall, Luna Lovegood, Draco Malfoy, Bellatrix Lestrange, Harry Potter himself of course and even Voldemort, err… He Who Shall Not Be Named!
Harry Potter Themed Cupcake Toppers 
You'll Need
White Cardstock Paper
Coloured Printer
Harry Potter Cupcake Topper Printable
Wooden skewers
Scissors
Glue Gun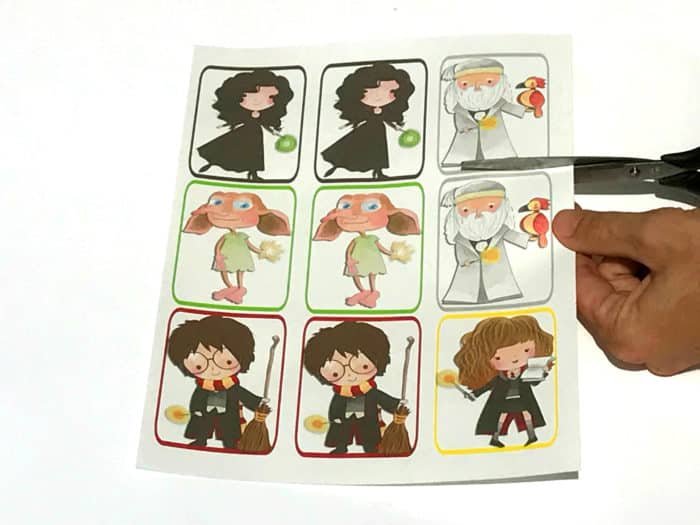 Download the free Harry Potter Cupcake Toppers from this site and print each page in colour. Using scissors cut around the edge of each one, there will be two of each character.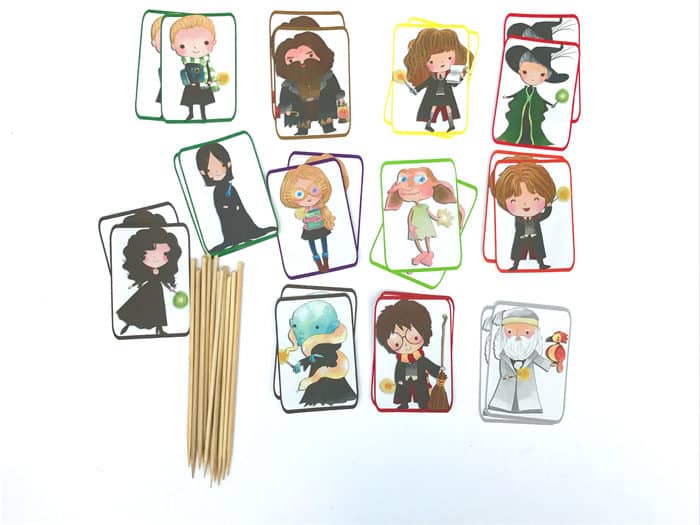 The wooden skewers will be too long so you'll want to trim them down a little. Give them a cut with a pair of scissors or just snap them with your hands.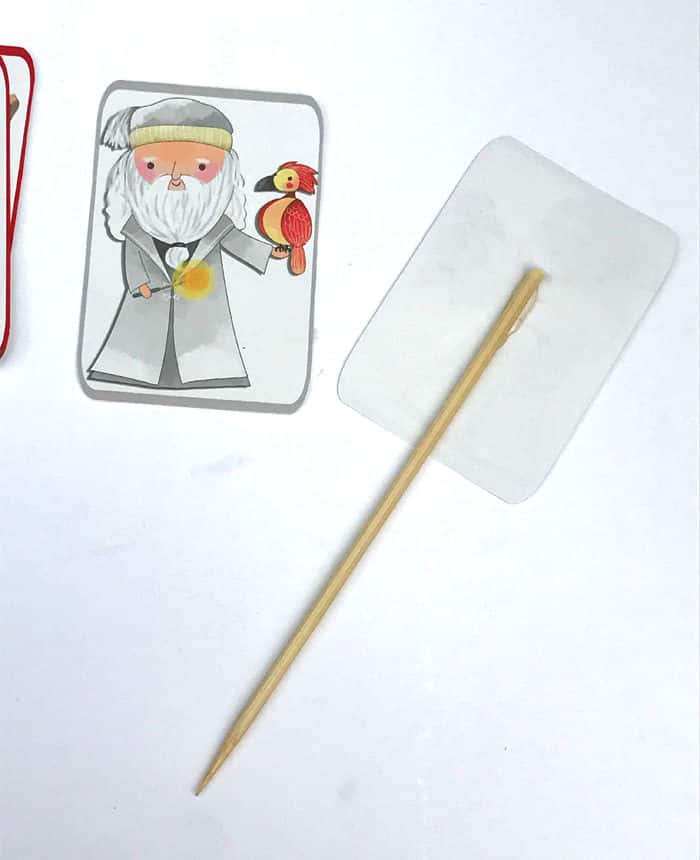 Using a heated glue gun, secure the skewer to the back of one copy of the character and then place the other copy on top, sandwiching the the skewer in between. Your topper now showcases the character from both sides and is ready to stick into any frosted cupcake.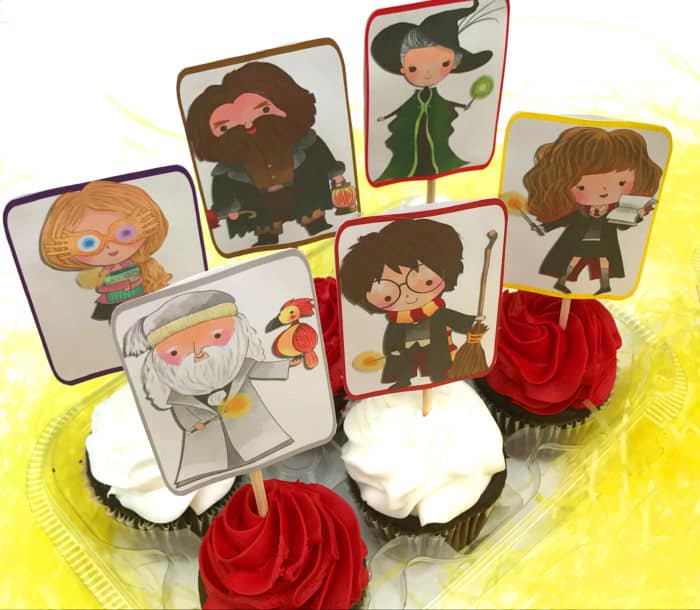 Aren't they the cutest?
Here's a look at the full set, even baddies like Draco Malfoy and Bellatrix Lestrange are pretty adorable!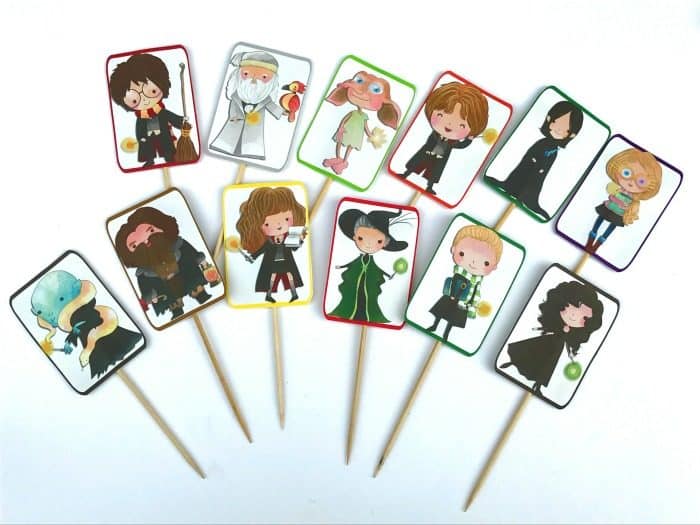 Go ahead and make it a party by playing a round of Harry Potter Clue, it's one of our families favourite games to play! The game is for ages 9 and up but my 7 year old has played many times on his own. My younger boys started out partnering up with mom and dad but they are able to play by themselves now that they understand how the game works. The game can be played with 3-5 players.