When it comes to feeding a crowd, there is no better meal than turkey! When my parents came to visit for my birthday, an easy roast turkey dinner was on the top of my list. A few weeks later my brother also had our parents over for his partner's birthday dinner where turkey was the star and of course we all gathered together for Easter just recently and shared the celebration over turkey dinner. Turkey is obviously a family favourite because it tastes great and feeds the whole lot, no one walks away hungry after a nice turkey dinner!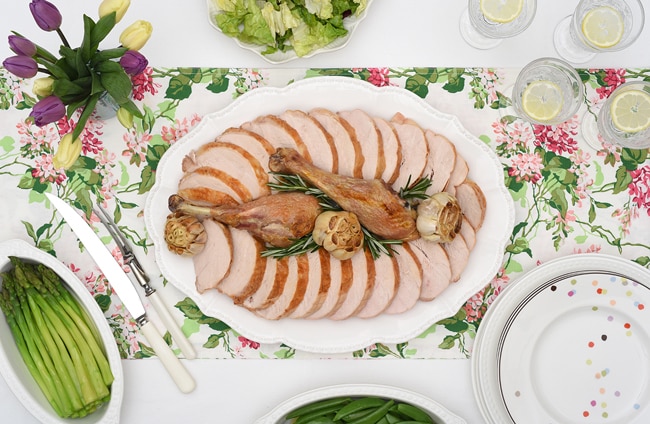 Super Easy Roast Turkey Dinner
This post is sponsored by Canadian Turkey, Easy Roast Turkey Dinner recipe provided. 

Super Easy Roast Turkey Dinner
Prep time:
Cook time:
Total time:
Ingredients
2 X 3 lb turkey breast roast
2 drumsticks
2 tbsp olive oil
Salt and pepper to taste
1 cup white wine (or turkey broth if you prefer)
2 large heads of garlic
6 sprigs fresh rosemary
Instructions
Preheat your oven to 350ºF (177ºC).
Rub the turkey with olive oil.
Season with salt and pepper to taste.
Place the turkey into your roasting pan. Add the wine or turkey broth.
Cut the heads of garlic in half. Add to the pan.  Add rosemary sprigs.
Roast for 45 – 60 minutes until the juices run clear and an instant thermometer reads 165°F (74°C) in the thickest part of the breast. Drumsticks will be cooked up to 15-20 minutes sooner, remove when ready and an instant thermometer reads 165°F (74°C).
Remove the turkey from the oven and let the breast rest for 20 minutes before carving.
Squeeze cooked garlic cloves out of casing. Mash into pan juices.  Heat gently and add flour, if necessary, to thicken to create a gravy.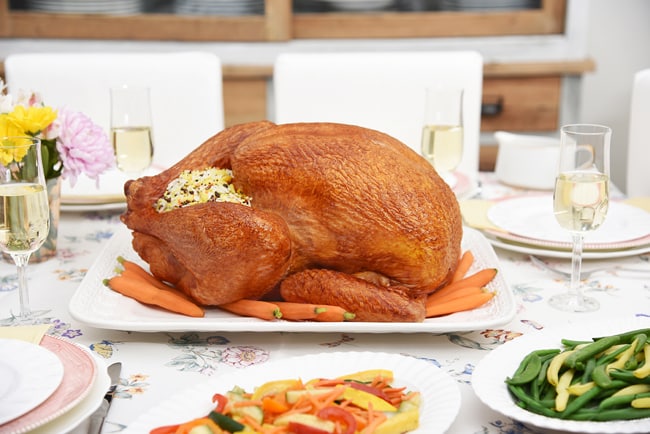 5 Ways Canadian Turkey is the Perfect Choice to Feed a Crowd!
Create an elegant buffet family-style meal:
Make Canadian turkey the star of your buffet meal.  A whole turkey can feed a large crowd and provides a variety of dark and white meat servings to suit everyone's preferences.  Add a few side dishes and you'll have everything you need to satisfy all your guests.
Host like a pro and save precious time:
Choosing to cook a whole turkey means freeing up valuable time before guests arrive.  While the turkey is cooking, you will have time to prep all your other side dishes and desserts.  Cooking time can be reliably pre-determined so you can time the turkey to come right out of the oven just as your guests arrive.
Consider making hot and cold dishes:
Turkey tastes great at room temperature.  You can cook a whole turkey and then carve your meat to serve in hot and cold sandwiches.  You can build a sandwich bar where guests can create an open-faced turkey sandwich with hot gravy, or fixings like avocados, tomatoes, bacon and lettuce for cold club sandwiches too.
The price is right:
We know that feeding a large crowd often comes with a hefty bill.  A whole turkey is a very economical way to feed a group and often provides you with leftovers that can be used for meals later on too!
Keep it light:
A big celebration doesn't always have to mean a huge food hangover.  With Canadian turkey, both dark and white meat is lean so you can feel great serving a satisfying meal that will still be light.  Make healthy habits a part of your celebration traditions and you and your guests can enjoy yourself without worrying about heavy meals.
Looking for additional tips, recipes and HOW TOs?  Visit canadianturkey.ca for all your cooking inspiration.  The recipe section is filled with amazing recipes for full meals, snacks, appetizers and family favourites.  There are WHOLE TURKEY HOW TOs that are packed with helpful tips and instructions.  You can also find a gold mine of ideas in the recipe section for make-ahead dishes and leftovers.  There's nothing better than making some delectable dishes for the remainder of the week, or stashing some pre-made meals in the freezer for your next busy weeknight.
To help you with your own Spring dinner prepping, enter below for a chance to win a $75 Hudson's Bay e-gift card (redeemable at The Bay, Home Outfitters, or thebay.com) Giveaway open to Canadian residents only, 18 years and over. Ends April 27, 2018.
Got leftover turkey? Try these Grab and Go Turkey Muffins!