Boys can be naturally active and silly, but they love their quiet time too. Some of the best ways to fill in time before bed or riding in a car is to grab a good book and relax with a story. Not all boys are eager readers though and that's okay. Here are a few of our tips to encourage boys to read, it might be easier than you think!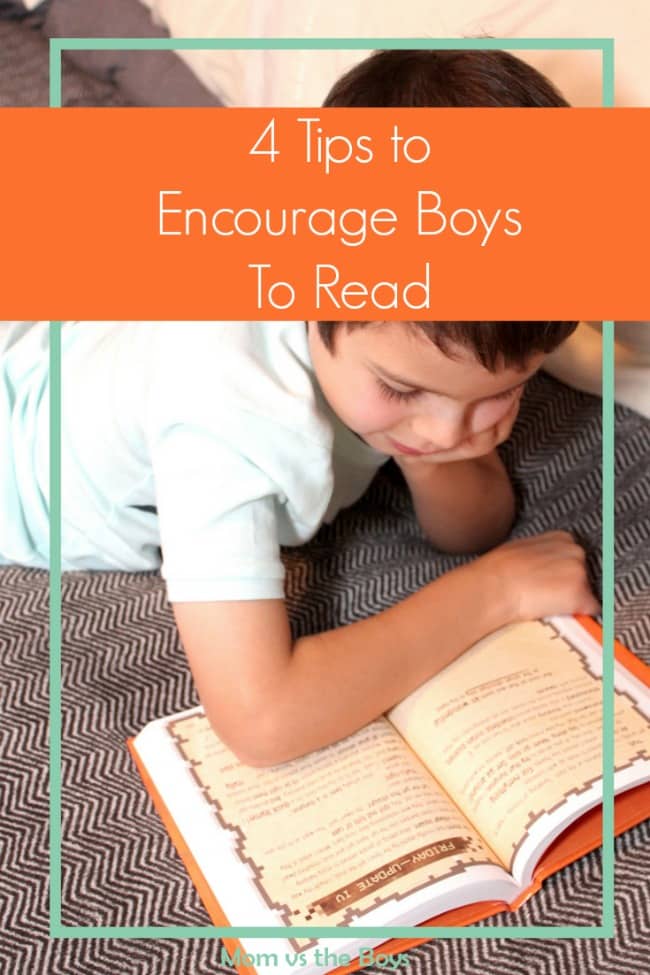 4 Tips to Encourage Boys to Read
Read With Your Son
It's best to start early, right from infancy, but it's never too late to start reading with your boy.  Reading aloud together can enhance vocabulary and comprehension skills but it's also just a really nice time to bond. We started with picture books and eventually moved on to chapter books as they got older. Before bed is the perfect time to cuddle up with a book, especially post bathtime when they smell really good! We start bedtime one hour earlier than we want them asleep to allow reading together in our routine. Follow your son's lead each day, if he is eager to read, let him do a lot of the reading. If he's not feeling it, you can do more of the reading. We often like to take turns and have him read one page and me the next, especially when the book is particularly hard.
Reading is Reading
Sometimes we have an idea in our head that reading only counts when it's a story book, but reading is reading no matter what it is. Boys might be more interested in reading sports stats, quiz books, joke books, or comics. For my guys, graphic novels are where it's at!
Model the Behaviour
Make sure the boys see you reading too, for pleasure! You might be like me and tend to save reading for when the kids are in bed and the house is quiet, but it's good for kids to see you reading for fun. Often kids see reading as a chore, instead of a great pastime. Make sure the boys see adult male role models reading as well. Dad's, grandparents and uncles can show boys that reading is enjoyable for all genders.
Get Boy Approved Books
The problem might not be with your boy, but your books. Bring your boys to the library or bookstore and let them choose their own favourites. My boys are really into the Big Nate books and just recently discovered the Diary of an 8-Bit Warrior series.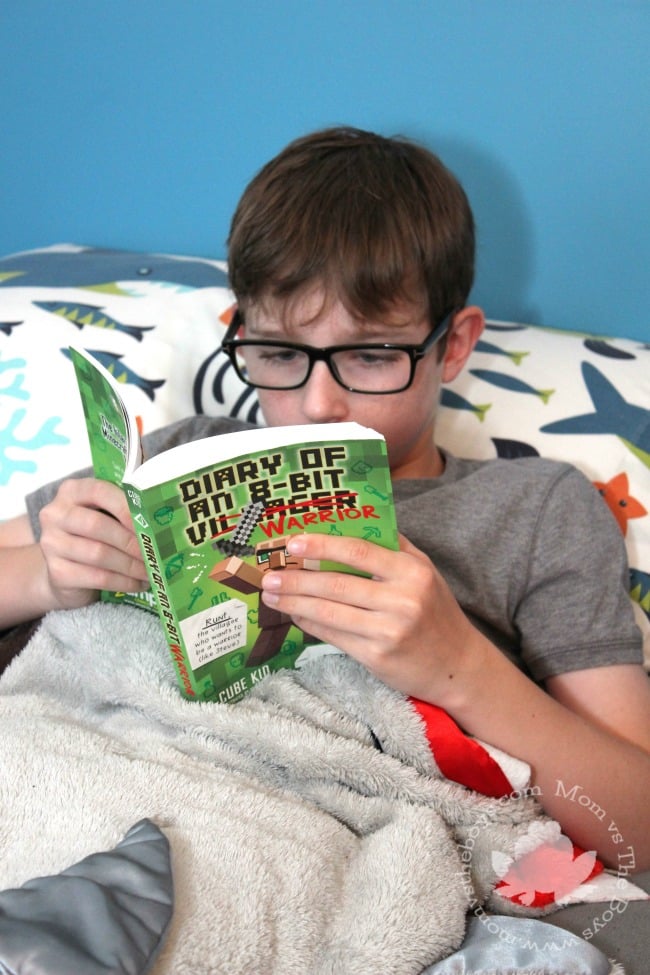 Disclosure:This post includes affiliate links, Diary of an 8-Bit Warrior books were provided by Andrews McMeel Publishing for review purposes. All opinions are my own.
If your boys are Minecraft fans, and most of them are, they will just love this Diary of an 8-Bit Warrior series. There are now 5 books in the series as the fifth book 8-Bit Warrior: Quest Mode has just been released. 
Here's More:
Minecraft meets Diary of a Wimpy Kid in book 5 of the very popular 8-Bit Warrior series of the journal of a young Minecraft villager who dares to dream of becoming a Minecraft warrior!
In the fifth in this series of five unofficial Minecraft adventure books, everyone's favorite 12-year-old villager-turned-warrior is back this time to use his warrior training on a new quest.
There's no time to enjoy his newfound stardom.To save Villagetown, Runt embarks on a perilous quest far beyond the safety of the wall. Between bizarre towns, terrifying dungeons, and epic boss battles, Runt must summon the hero within and say "so long" to the noob!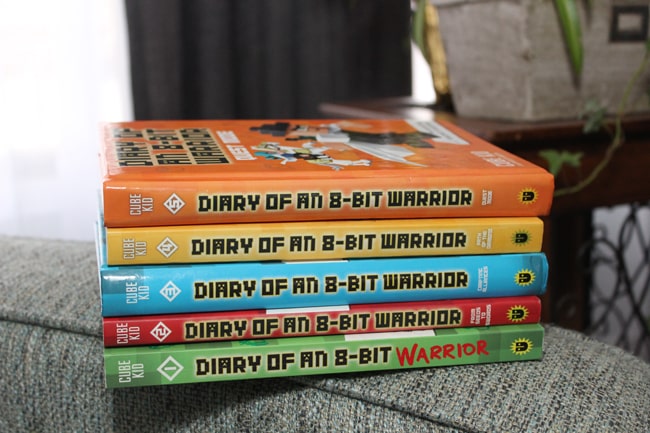 Diary of an 8-Bit Warrior books are geared for kids aged 8-12 which fits exactly the range of my three boys and it's definitely a hit with all three of them. I've been reading the first book in series with my 8 year old and I have to admit I actually like the book as well! Finally, Minecraft makes sense to me when you put it into a story format! My oldest has been bringing these books everywhere with him and is spending hours pouring through the series. We definitely have a new favourite on our hands! 
To help encourage your boy to read, enter for a chance to win the whole Diary of an 8-Bit Warrior series (Books 1-5) below! Open to Canada and the USA, 18 yrs and over, ends April 29, 2018