Mother's Day is literally around the corner, according to my five year old I am not supposed to know about this because Mother's Day is a surprise! Someone really should tell the calendar makers to quit letting the cat out of the bag! lol
Johnson's Baby recognizes moms and encourages us to celebrate moments of joy! Sometimes it's the everyday moments that leave the lasting impressions. The booboo kisses, the good night hugs, the games of hide and go seek when your toddler hides in the exact same place every.single.time and for us lately it is finding our two year asleep on the floor in his brother's shared bedroom.
To celebrate Mother's Day, Johnson's Baby sent me over a fabulous gift bag of various lotions and washes for our boys, some great Aveeno products for me and a very girly pink Nikon Coolpix camera so we can capture more special mommy moments together! It was perfect! We've been using the Johnson's baby wash since our oldest was born and the smell of it will probably be ingrained into by being forever more. The smell of a fresh clean baby will never get old.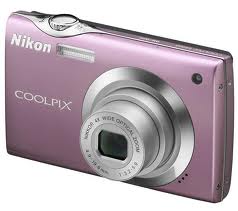 The Nikon Coolpix is adorable!!! I just love the shimmery pink colour, it's the perfect Mother's Day accessory!
It also a large 3″ display, features a high resolution and touchscreen interface so you can navigate menus and photos with a simple touch. And has a 12MP CCD sensor, 4x optical zoom, and easy-to-use features.
Need an excuse to get snapping right away??  It's time for another  JOHNSON'S® Baby Joy of Bathtime Photo Contest! Submit your fave picture of your little one on the Johnson's Baby Facebook Page and Share the Joy with Johnson's! There are 20  JOHNSON'S® Baby gift baskets valued at approximately $100 to be won!
Here's a look at the whole amazing gift package you can win right here, with all the great Johnson's Baby products complete with a really handy bag that will be coming with me to the beach this summer!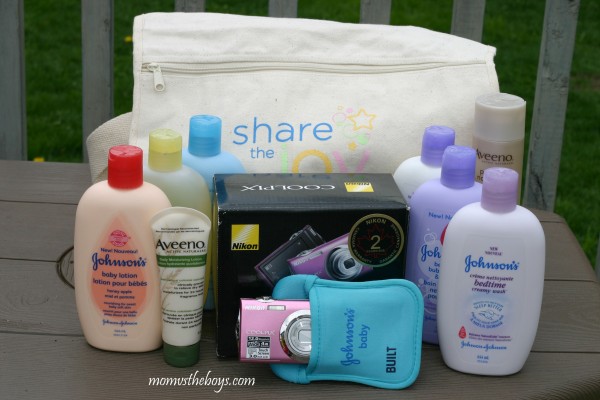 Want one for yourself or a mom you love? of course you do! Johnson's Baby has one to giveaway to a Mom vs. the Boys reader!
Enter below by telling me the best thing about being a mom! (or married to one fellas!)
Canada Only