My last post on Sesame Place was all about the Rides and Dining, today I want to tell you all about the Characters, because let's face it, Sesame Street is ALL about the Characters!!! From favourites like Cookie Monster to characters we honestly weren't familiar with like Rosita, we saw them all and they did not disappoint!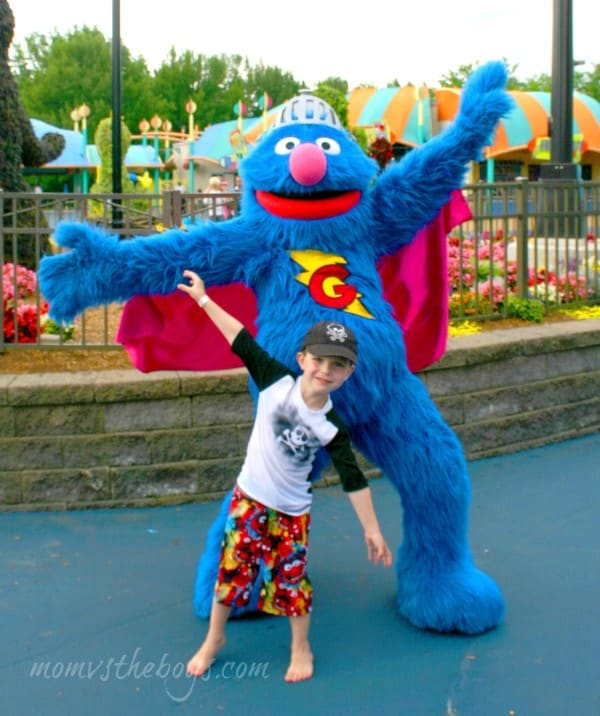 Shows
There are three shows this season at Sesame Place. Elmo Rocks, Let's Play Together! and Elmo's World Live. I'll break them down-
Elmo Rocks!
We took in Elmo Rocks on our first day at Sesame Place. The line up was really, really long before the performance so we almost skipped it, but when we noticed the full line moving in we decided to join. It would have been really hot to wait out in the sun in a long line so I'm glad we didn't arrive too early to wait. We still had an awesome seat but it was in the sun and not in under the covered area that offered some shade. Elmo Rocks, stars Elmo with Zoe, Cookie Monster, Bert and Ernie! This was our first look at the characters and wow, they were amazing! The show featured many songs that we know from a Sesame Street CD we had and listened to on the drive down from Canada so it was fun to recognize the music. The show was good, it might have gone on a little bit long, the boys started to lose some interest but it was a fun number to see.
Elmo's World Live
This is an indoor show so it's a great place to go to beat the heat on a hot day. The set of Elmo's World really comes to life before your eyes as it is all set up with scribbly furniture and even Dorothy just like you see on tv. At the beginning of the show a lady asked for a few volunteers to come down and dance with Elmo during the show. My oldest son was really excited and threw his hand up in the air and to his delight, he was picked! Children need to be over the age of three, I believe, and able to leave their family for the duration of the show. The show is all about different types of dance and while my son loved being up front he decided he didn't want to bust a move with the big red guy after all and just kind of stood and swayed. lol Even Mr Noodle makes a silly appearance. This show was great for my 6 year old but the younger two got bored quickly, even with their brother on stage.
Let's Play Together!
While daddy had the younger two back at the hotel for a much needed grouch reducing nap on our second day at the park, I took the big guy to see this show. There were no line ups at all and we sat right in the first row. This show features Elmo, Cookie Monster, Grover, Rosita, Bert, Ernie, and of course Abby Cadabby as it's held in Abby's Paradise Theater. The show is all about being friends and it is really high energy and fun! It's fast paced and super active, so much so that it was almost impossible to snap a pic because the characters were always on the move! I loved this show and thought it was super fun! We brought back the little ones and saw it again on our third day at Sesame Place. By far my favourite show, if you only have time for one, make it this one!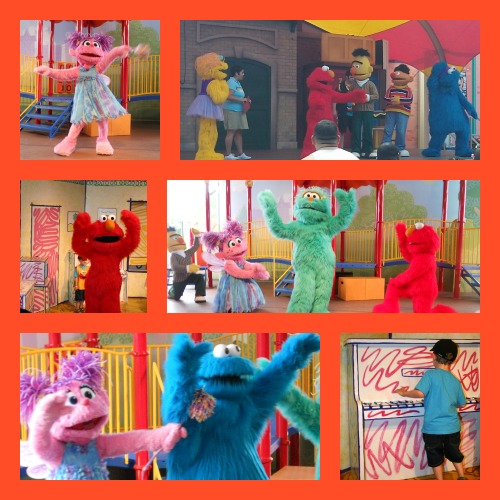 Characters
There's a few ways to get up close and personal with your favourite furry pals. One is the 1-2-3 Smile with Me! area where you can pay to get your photo done with Big Bird, Elmo or Murray (this is the only place to meet these characters).
Another way is to just scope out the main street and wait for Characters to appear. This is completely unpredictable as there is no schedule posted, you just might happen upon Oscar the Grouch in the alley or The Count by the garden. You never know who might appear! If you are only at Sesame Place for one day it might be hard to catch everyone since you will be busy taking in the rides, but over the coarse of our 2.5 days we saw a good number of them including, Cookie Monster, Prairie Dawn, Abby Cadabby, Cookie Monster, The Count, Oscar, Super Grover, Rosita, Telly,  Zoe and Ernie. We had our picture taken with Ernie by himself, he said Bert was sleeping, but we did see Bert and Ernie together for photos it just happened that they were always departing when we were arriving.  The Staff were nice to take pictures for you with your own camera and the characters were very funny and friendly! Often one would take off my son's hat and put it on his own head and joke around with them in that nature. We loved every minute of it! The boys were scared of a few characters like the Count, but that didn't stop mommy and daddy for jumping in for a photo alone!
Finally, you can also do a meet and greet before the parade – VIP Character Meet & Greets are open to Big Bird and Super Grover season pass members only and can be cancelled due to heat.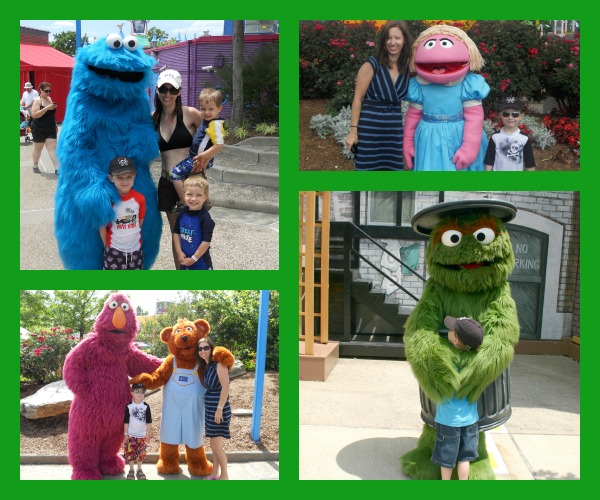 Neighborhood Street Party Parade
This is a blast!!! You really do not want to visit Sesame Place without catching the parade! It usually happens twice a day, but that's not always the case, and it's best to check the schedule when you arrive. There is even a nighttime parade with lights, during certain times of the year. The parade is a great way to see all of the characters including Big Bird (boy is he big!) and Elmo as the parade makes it's way down Sesame Street on 11 larger than life floats! The music is super fun (but very loud, my oldest son had to hold his ears the whole time) and there is action happening all over the place! I had read before leaving that the best place to catch the parade was where the 'blue meets the black' but I don't think that's true. We chose that spot and probably just down from there would have been better, but all in all there isn't a bad place to watch the parade! At one point a cannon shoots out pom poms and my boys still love to carry those around at home and remember our trip!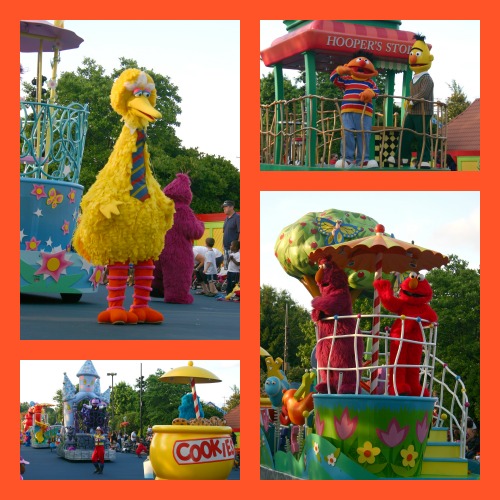 Photo Ops
Aside from with the characters there are a few other fun places to snap some pics at Sesame Place. The main street that runs right through the park is Sesame Street (obviously right?) it is set up at the end to look just like the set of the show and provides lots of fun props for photos like fire trucks (our boys spend a good deal of time on this), 123 Sesame Street signs, Big Birds mail box, the famous front stoop (so wish we had someone to take a family picture for us there), and the gardens have characters made out of plants and flowers too. Just outside the entrance to the park is a walk of fame sidewalk with character hand prints that make memorable photos of your trip.
Overall
So I've shared with all about the rides, food, characters and more! Overall I would say that we had a really great experience and if we were in the area again I would go back in a heartbeat. We created family memories to last a life time (for us anyway, the kids will probably forget, but we have photos for that!). There are rides, games and activities for all kinds of age groups and abilities to suit every family. Don't forget to grab a souvenir before you leave, we bought the boys a stuffie each (they picked, Elmo, Cookie Monster and Grover) and also a light up bubble gun, hat and shirt. The prices are not as outrageous as you might expect which was nice and the quality was fantastic. We saw many items for sale that we already have at home and bought at toy stores.
I think the only disappointment at Sesame Place is the staff, and it was so bad actually, that I feel I'm not being honest if I don't mention it.  If we were only there one day I might have brushed it off as a bad day, but we were there on three different days and saw the same bad attitude on all days. This was mid week in June so the park was fairly quiet and not super hot. No excuse in my opinion to have such grouchy and uninterested staff at a children's amusement park. The characters and entertainment staff were always friendly, but the restaurant and ride staff were moody, occasionally rude and seemed annoyed to even be asked a question. We saw slightly better reactions from life guards, but even then, out of three days I think only once or twice did someone say 'have fun' as they sent us down a water slide, they generally didn't say anything unless they had to. After leaving one of the first dry rides we tried, my oldest son beamed at the staff and exclaimed 'that was awesome!' only be greeted with an eye roll back. um…..not good.
So there you have it, Sesame Place – the good, the bad and the ugly! but mostly it was GREAT!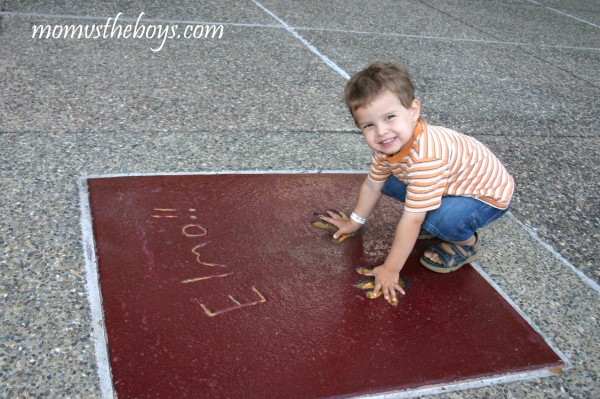 disclosure: as a Sesame Place Ambassador I received park tickets at no cost.