Mom's have known  for years that there is nothing as meaningful and touches the heart like a personalized gift. We feel it when our little ones make us 'I love mommy' mother's day gifts and we know it when our kids light up with joy by seeing their name on something special. There's just no mistaking that adding someone's name to an ordinary gift, makes it extraordinary and there's nothing more special than seeing it on jewelry!
Liz Duarte is the owner and artist behind Rustic Metal Creations, which specializes in pesonalized hand stamped jewelry and I was lucky enough to be able to work with her on special  one-of-a-kind piece for myself recently.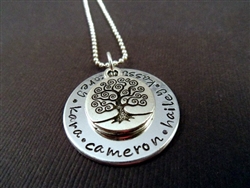 With my 10 year anniversary coming up this fall, I really wanted a piece of jewelry to mark the occasion. 10 years is not small task these days and I'm proud to still be living my 'happily ever after' with my best friend! The charm that caught my eye right away was the Family Tree, it seemed fitting for our anniversary as our marriage has developed our very own branch of the family tree with three boys! The photos on the Rustic Metal Creations website are just gorgeous and give a few different ideas of how each pendant can look. I liked the idea of having each of our family members names around the outside but there just wasn't enough room to fit us all in. Instead I went with our something like this:

Smith Family est. October 2002
When the necklace arrived, I was all smiles! It was exactly what I had envisioned and  more! I really love how shiny it is, the gorgeous snake chain and that the tree is stamped on both sides of the smaller circle. This will forever be a memento of not only our 10 year anniversary but our marriage as a whole and I will always wear it proudly!
Rustic Metal Creations is completely customizable, giving you choices of  metal, font, chains, birthstones and charms . Your choice of metal include- Aluminium, Copper & Brass, Stainless Steel, Sterling Silver and 14K Gold Filled is coming soon.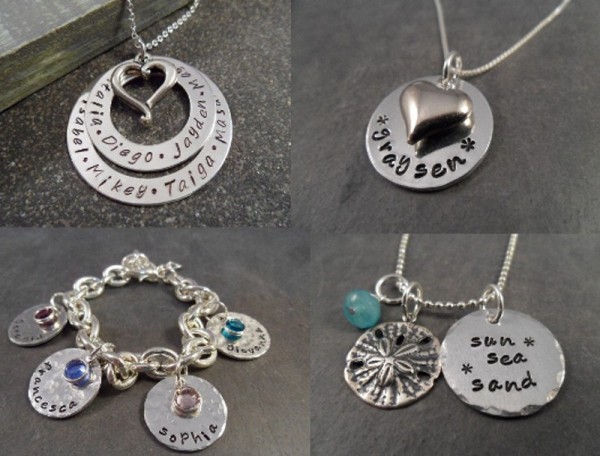 Liz features jewelry for every person and occasion and carries necklaces, bracelets, rings, earrings, key chains, children's and bridal pieces (I think the necklace I received above would make the perfect wedding present!!) but the most impressive part was the price! shocking right? I was so surprised by how reasonably priced the pieces were, with so many options around $15-$30! The Family Tree necklace above is an affordable $24!
Discount
Use discount code: momvstheboys until August 31st for 15% off your order!
 Wouldn't you love a one of kind piece of jewelry? Now's your chance!
Enter below to win a $25 voucher towards a Rustic Metal Creations item of your choice!
US/CAN