Wait, what is My Little Pony doing on Mom vs. the Boys??? Well, if you must know my boys happen to dig the pretty pink ponies and they are pretty tight with Dora too, so let's just roll with it shall we??
MY LITTLE  PONY FRIENDSHIP IS MAGIC: ROYAL PONY WEDDING became available on August 7th and my boys were among the first to view it!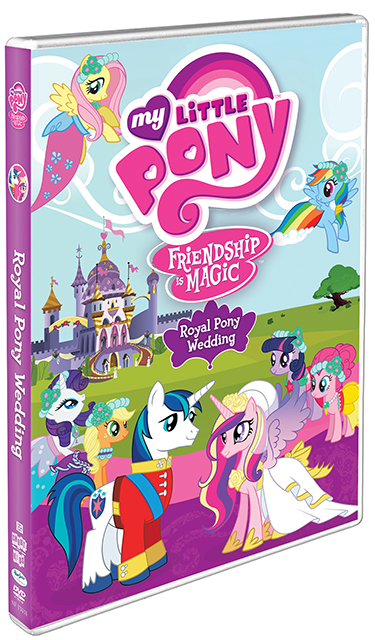 When it's announced that Twilight Sparkle's older brother, Shining Armor, is set to marry Princess Celestia's niece, Cadence, all the ponies in Equestria should be celebrating. But there's one pony in Ponyville who's not so thrilled with the news — Twilight Sparkle! Why is the young unicorn so concerned? And will the royal wedding go off without a hitch? Find out in the two-part special, and then join us for the perfect after-party — three more My Little Pony: Friendship Is Magic episodes, all included in the first-ever DVD release of My Little Pony – Friendship Is Magic: Royal Pony Wedding!
My Little Pony – Friendship Is Magic: Royal Pony Wedding Episodes Include:
A Canterlot Wedding, Part 1
A Canterlot Wedding, Part 2
Hearts And Hooves Day
Sweet & Elite
The Best Night Ever
Bonus Features:
A Coloring Sheet and more!
Grab your copy on DVD today!