Fall is in the air ladies! I love the changing of the seasons and fall is my favourite one! Once again I can cover myself head to foot in all of my favourite fall colours! Chocolate Brown, Rusty Orange, Deep Greys and Purples….ahhhh….and they are almost all a part of OPI's new Germany Collection!
Germany Collection by OPI, inspired by what fashion editors are calling "Europe's hottest new fashion metropolis," the Germany Collection by OPI embraces the classical elegance as well as the avant-garde that is modern Berlin
I was really excited about this collection, I've been looking for two polish colours now for a while, a deep grey and the perfect deep rusty orange! I literally gasped when I opened the OPI package that arrived. This was it! The most perfect Orange hue in Deutsch You Want Me Baby? It instantly went on my toes and will remain there for the full Fall season! I never want to take it off! The grey is amazing as well, sooo deep it's almost black! My nail polish hunt is finally over for those colours! I've found my winners!
The Germany Collection is actually made up of 12 amazing colours, all labeled with creative Germany inspired names to make you smile!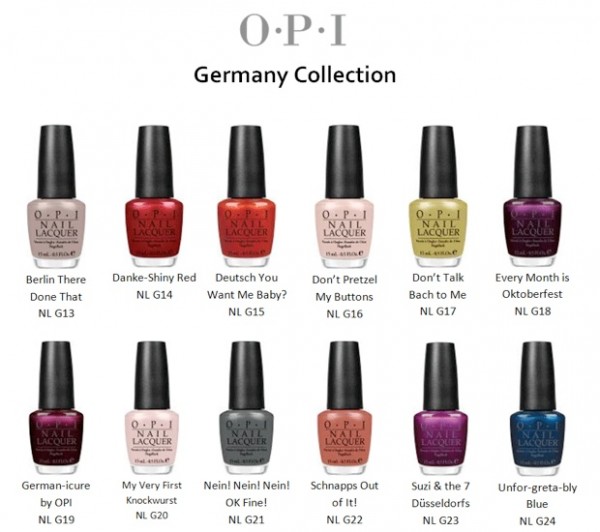 OPI polished contain no BBP, Toluene, or Formaldehyde
Want to take home part of this amazing new collection of OPI? Enter Below to win 6 of your favourite Germany colours!
CDN Only