This summer was the perfect time to give my younger boys a full bedroom makeover. They are now 7 and 8 years old and share a room together. The previous room was a deep but bright green and blue with a ton of outer space wall decals, it definitely needed an upgrade. With school out for summer, the boys could easily camp out in the basement while I tore their room apart and transformed it, well at least until the paint dried anyway.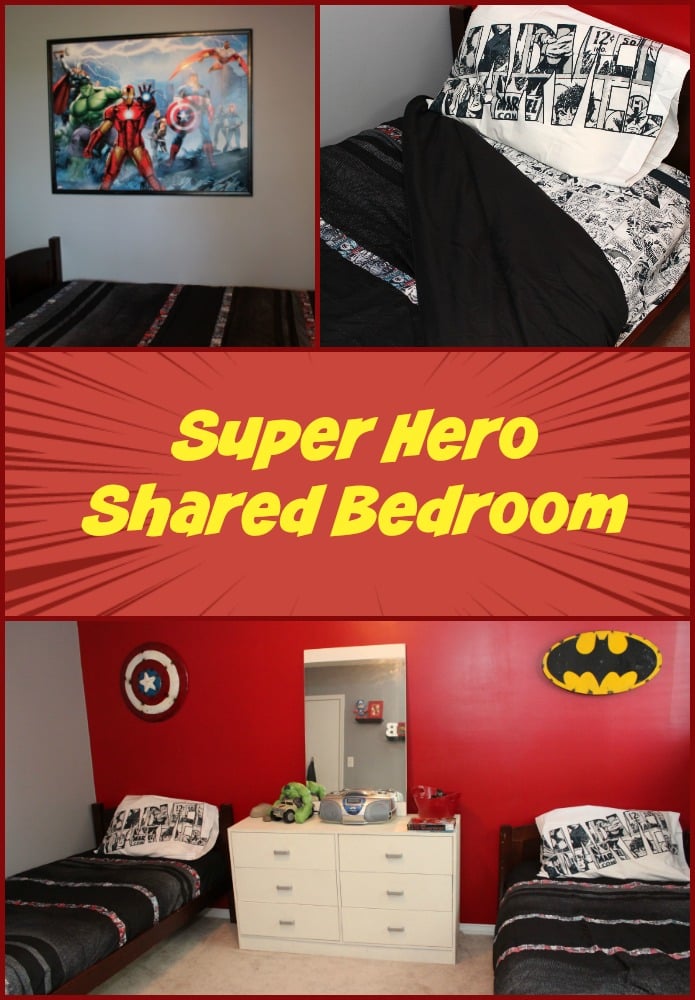 The first big step in creating a shared bedroom is getting the kids to agree on a theme! We tossed some ideas around and we decided on a super hero theme as long as it wasn't too 'scary' as per request from my youngest. No problem!
The first item we picked out for the room was this very cool bedding from Think Geek. It's an American company that sells the coolest geeky things and normally the exchange and shipping can be costly but we were able to catch a great sale with free shipping and we jumped on it! The comforter is mostly black with a comic strip rows of ribbon and it's soooo soft and cozy. The sheets are going to require a bit of washing cycles to soften them up as they were quite stiff on arrival but the comic sheets are really awesome.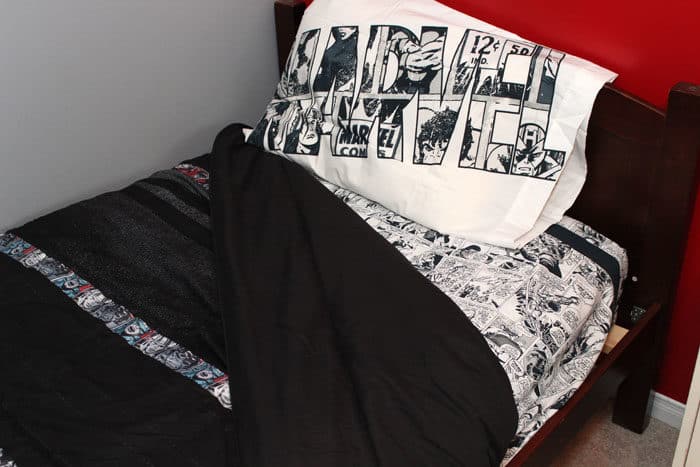 The bedding didn't give us much to go on in terms of colour but we did choose a bold red from the comforter for a feature wall and then went with a soft grey colour for the other three walls. 
One thing I always look at when re doing a room is how we can use existing items and just update them. The boys already had their initial letters and the shelves in their old room, they were just white. I painted the letters the same colour as the feature wall and the shelves got a glossy black finish to revive them for the new room.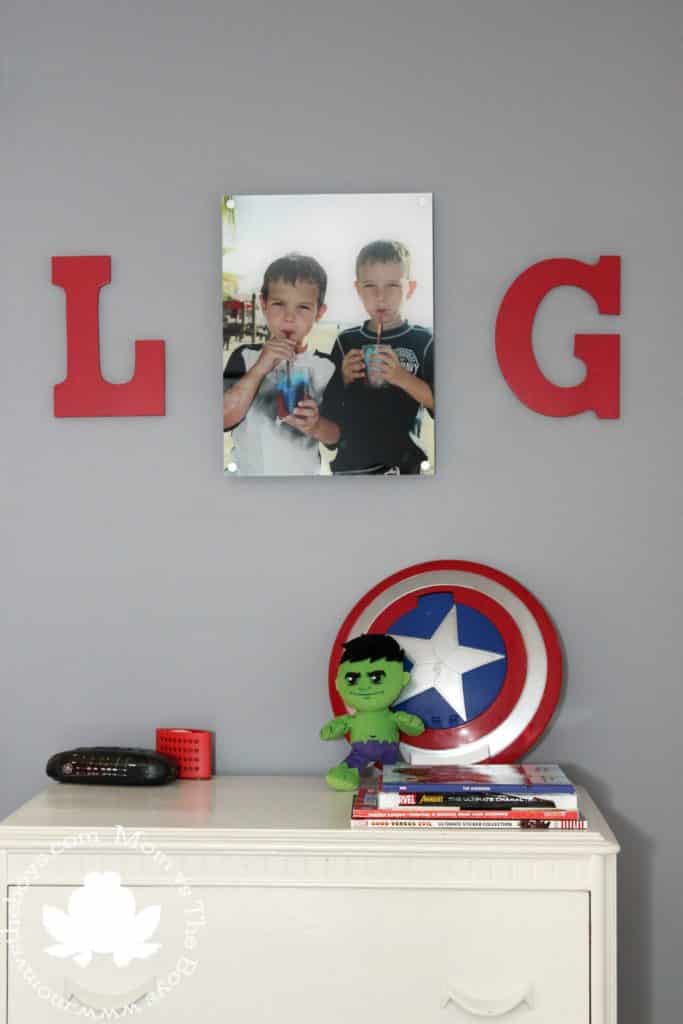 To decorate the shelves I used super hero stuffies that the boys already owned, painted dollar store wooden frames the same red as the feature wall and used picmonkey to create inserts with comic words that the boys picked – Boom! Smash! and Crack!. The marquee letter B initial I found on clearance at Michaels and since it lights up, it serves as a really cool night light as well.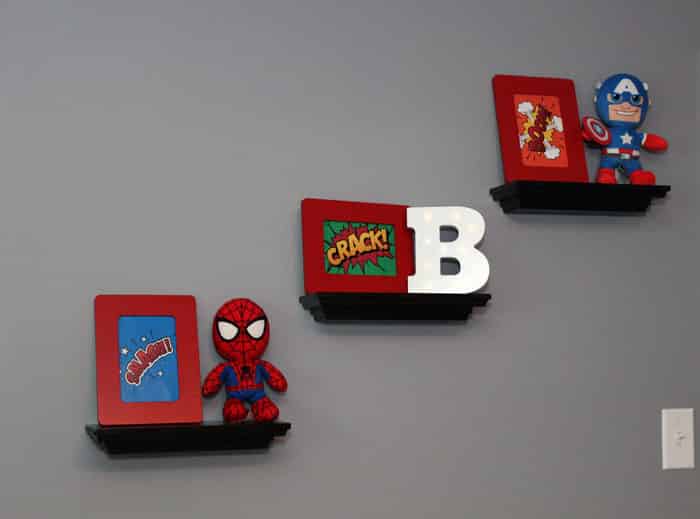 Now we had our big walls to tend to. We chose an extra large 'non scary' Marvel poster for the grey wall and made a glossy black frame to trim it in. The frame now matches the shelves, helps the poster stay on the wall without tearing and makes the whole thing just pop!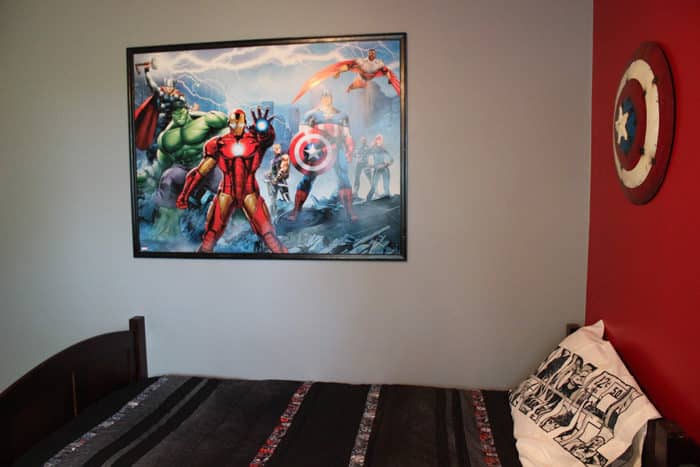 The red wall had me stumped for a bit on how to decorate it. It's just soooo big! We ended up stumbling upon these very very cool art pieces at a quirky shop on our travels. There were three to choose from, Captain America, Batman and Spiderman. We let the boys pick and they choose these two which worked well because the Spiderman one was all red and would have been hard to see on the red wall. So even though Batman is not a Marvel character we went with it, so get over it die hard Marvel fans lol 
The pieces are made out of metal and they are definitely weathered for a rustic authentic look. We paid more than we probably should have for them but I couldn't resist! The nails look like bullet holes!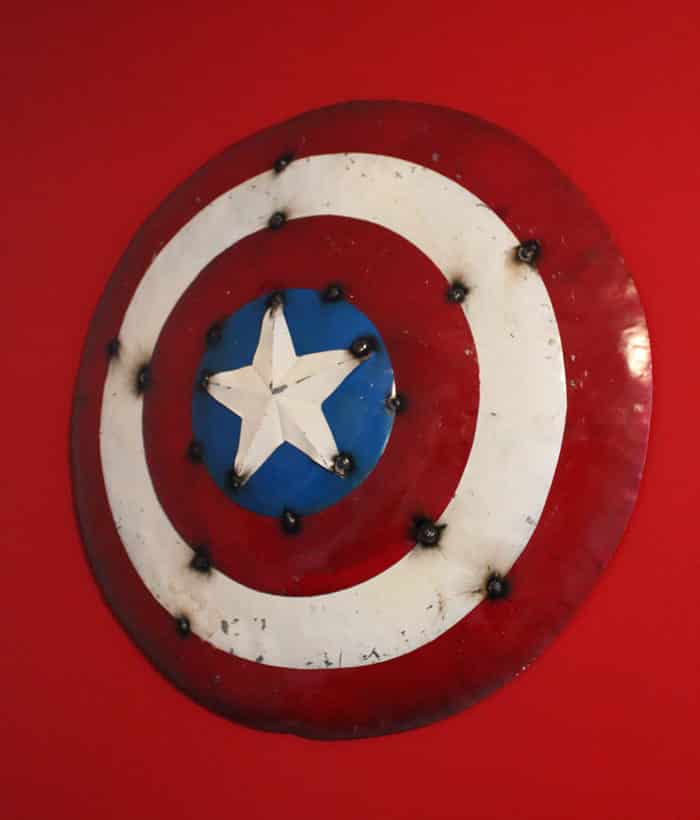 We installed the mirror to the dresser that they hadn't been using, they love seeing themselves and it helps break up that wall a bit too. We accessorized with other Marvel items we already owned as well for a finishing touch. 
In the end, everyone was SUPER happy with the room and it was a really fun summer project for us! What do you think? It's definitely a more grown up boys room that will grow with them over the next few years.