The boys and I made some paper snowflakes, what a nostalgic feeling! We put our own modern twist on them though! Here they are proudly displayed in our window, aren't they pretty?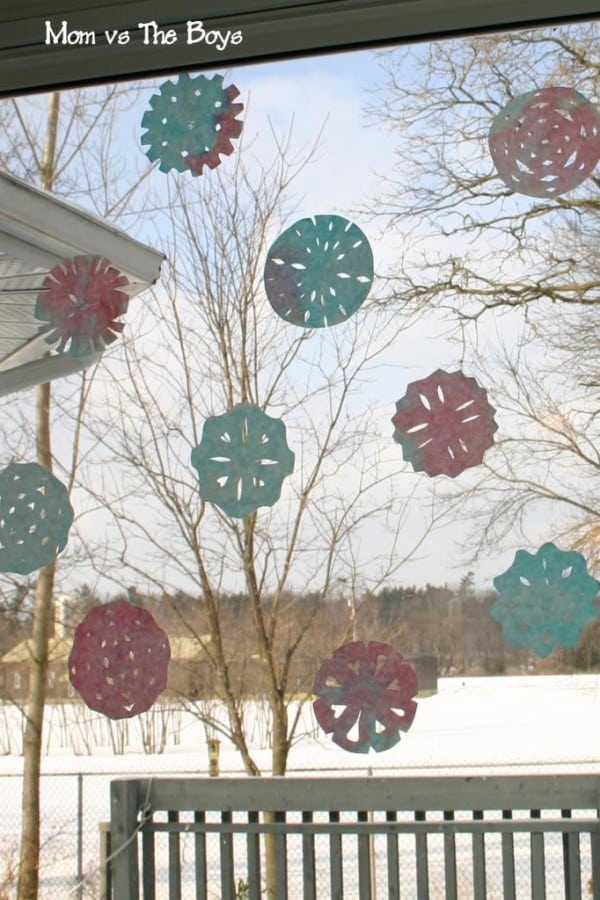 Coffee Filter Snowflakes
You'll need some coffee filters for this one, for obvious reasons the round ones are best, but I only had the cone shaped ones so I just cut circles out of them, the best part of that though is it makes two circles at a time.
You all remember how to make snowflakes right??? If it has been awhile, fold the circle in half, then again and then again. Now you have a little cone shape right? start clipping out little pieces with your scissors and then unfold- voila pretty snowflake!
Next line a cookie sheet or pan with some newspaper, lie the snowflake in there. Mix food colouring with a little bit of water, I used purple and blue for a wintery effect. Then let your little cuties drip the colour onto the snowflake with an eye dropper (ours was from a medicine kit).
Lay flat to dry on some newspaper and hang in your window!
A cheater method, or for younger children, is to have them colour on the coffee filter with marker, then dip a paint brush into water and paint over the marker to make it run and blend.