Today I wanted to share a little craft I like to do with the boys, the best part about it- it doesn't require glue! so no sticky messes! You can adapt this activity for all seasons and holidays, we used it last year for Valentines day when we made these heart shaped suncatchers and this year we made some festive leaves. This is an easy one for all ages.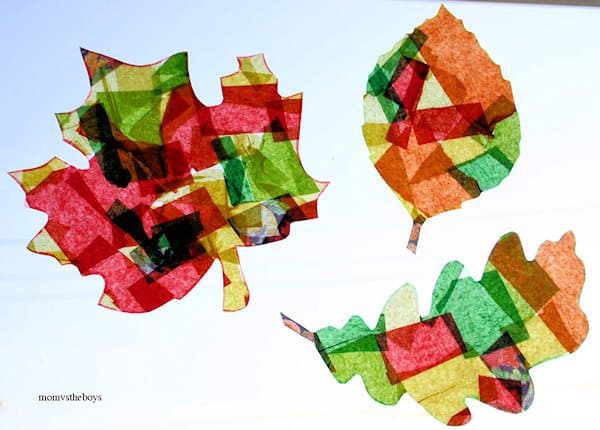 Stain Glass Leaves
Start by tracing some leaves onto contact paper and cutting out the image. I used a couple of different types of leaves which looked really nice when grouped onto a large window together. We made quite a few and gave some to the grandparents over thanksgiving. If you don't have fall coloured permanent markers just draw on the paper side of the contact paper so it doesn't smear off or show on the leaf itself. Peel off the backing paper.
Choose fall coloured tissue paper and tear or cut into small pieces.
Stick the tissue onto the sticky side of the contact paper and over lap edges so it is completely covered. It's okay if it goes over the edges, it will be trimmed up later.
Now cut a piece of contact paper larger than your image to lay on top of the leaf and seal in the tissue paper. Go ahead and cut it to match the shape of the original leaf.
And there you have a pretty fall leaf to hang in your window! These look nice in groups positioned so they look like they are falling down a window. I couldn't get a nice picture because of all the objects on the other side of the window, but it really looked great! You can also use coloured cellophane if you have it  on hand, it lets in the light really well and looks vibrant.