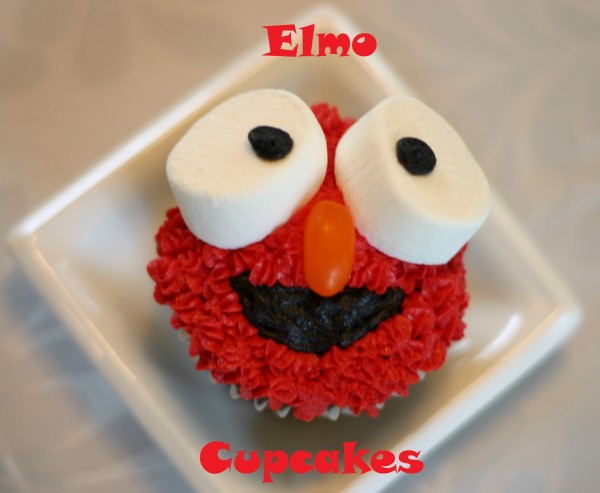 With our Sesame Place trip coming up fast, I knew that these Elmo Cupcakes I saw would be a big hit for Little Buddy's 3rd Birthday and I was right! Even my 6 year old asked why I didn't make them for his class instead of the Lego Cupcakes! lol
Here's our version of the Elmo Cupcake and how you can make them yourself!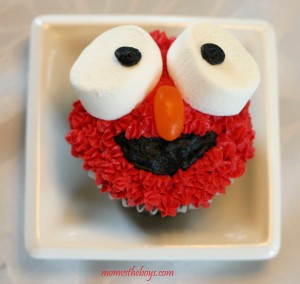 Elmo Cupcakes
You'll need:
Box of cake mix-any kind will do, we used chocolate
Large Marshmallows for eyes
Black icing
Red icing
Orange Jelly Beans for nose
Wilton Star Decorating Tip
Wilton Writing Tip

Put it Together:
Bake the cupcakes as directed and let cool. Using a writing tip, pipe a mouth with black icing near the bottom edge of the cupcake. Next use a star tip to pipe the rest of the surface with the red icing. Cut a large marshmallow in half and place both halves on the cupcake for eyes. Use the black to pipe on pupils. Place an orange jelly bean or other small orange candy in between the eyes for Elmo's nose.
and that's it! clone yourself some Elmo's for your Sesame loving kiddos!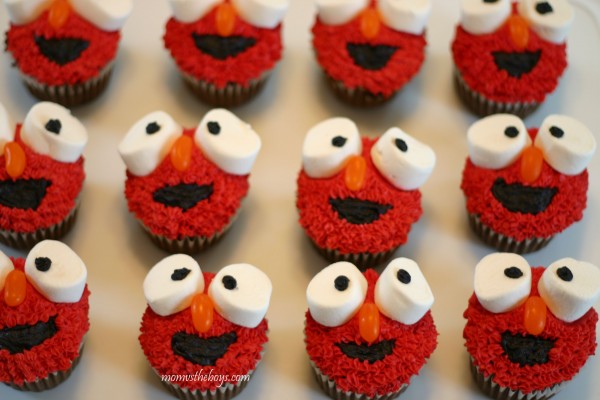 Also check out our Cookie Monster and Ernie Cupcakes!