Earlier this summer I let you in on all of the projects that were making up our renocation, I'm happy to report that project #2 is crossed off the list! Here is a look at our ensuite bath remodel complete with before and after pics!
For this project we went all out, new floors, granite countertop, added in extra outlets, paint and all new accessories. It was a lot of work but worth it in the end! We had some wonderful help from companies like Behr for our paint and Delta who supplied the faucet, towel holders and toilet paper holder. It all came together quite nicely, take a look!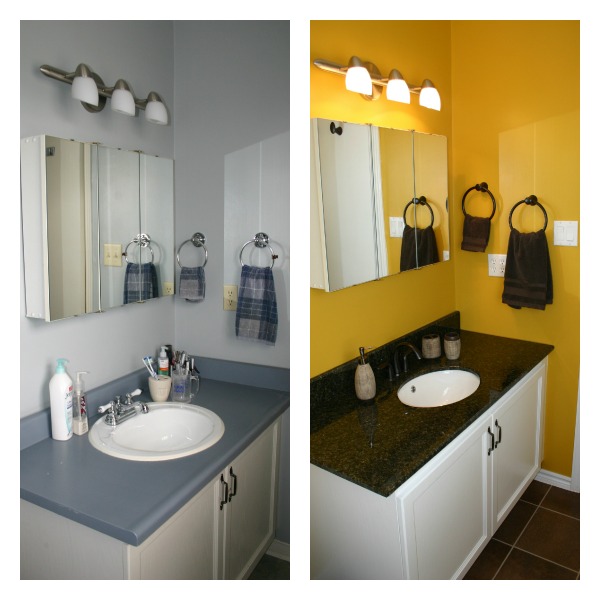 When we moved into the house 91/2 years ago, we weren't too concerned with our ensuite, it's a room no one but us sees afterall, and we wanted to work on the more important rooms. We did throw on a paint colour, stick down some floors and painted the countertop that grey colour to tie us over. It was fine for the last few years but it was pretty boring and we were starting to have trouble with mold and dripping walls. we were definitely ready for an uplift! When we saw this gorgeous granite countertop on sale we knew it was time to start working on the room and started from there. We really wanted to brighten up the room and worked off a "Fall" palette with mustard yellow, browns and a pop of bright white.
Here's the Low-Down~
New Granite countertop in Ubatuba (black with flecks of gold and brown)

Replaced baseboards

The ceiling, trim, doors and vanity was painted a bright white

Wall colour: SOLAR FUSION by BEHR

New tile flooring in a deep brown shade

New DELTA faucet in the LAHARA design, with matching towel holders

Extra outlet and updated outlet/switch cover plates

New accessories (soap holder, toothbrush holder, cup) and towels/bathmat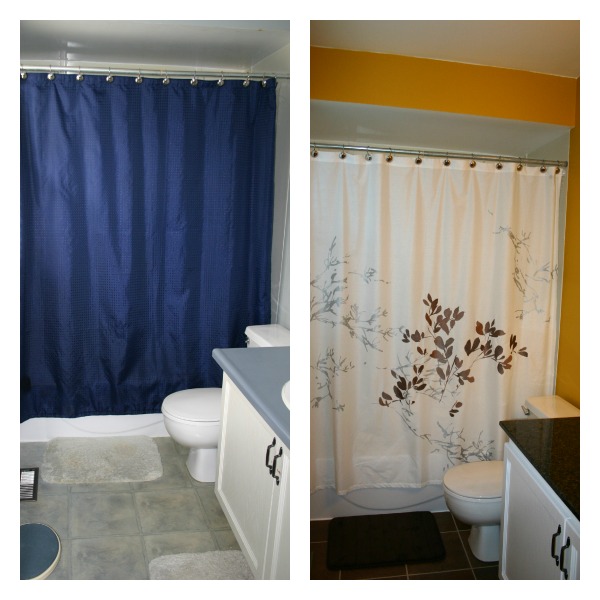 Looking from the door you can see the flooring is updated (I wish you could see more of it) and new shower curtain.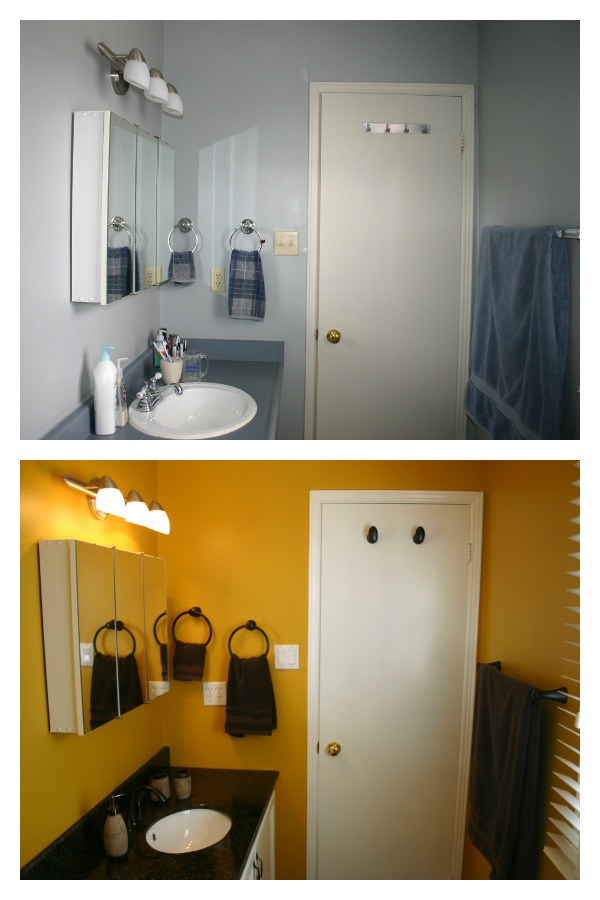 We looked for a new vanity mirror that was bigger but everything we love was too big and won't fit between the light and the sink, so right now we are keeping the one we have and yes that brass doorknob will be replaced shortly!
So what do you think of the transformation? I would love to hear your thoughts!
Watch for full posts on both the BEHR paint and DELTA FAUCET coming soon! (you'll even get a chance to win a new faucet of your own!)