That's right! If you didn't get the chance to see this one in the theatre or just want to relive it all again, Snow White and the Huntsman hits store shelves in a Blu-Ray™ Combo Pack including UltraViolet™, DVD & Digital on September 11th 2012!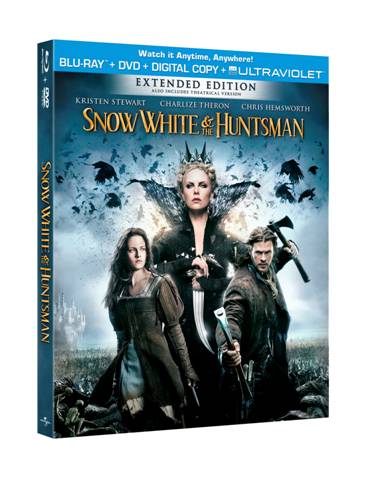 In this spectacular action-adventure, Kristen Stewart (Twilight) is Snow White, the only woman in the land fairer than the evil queen Ravenna (Oscar® winner Charlize Theron). Ravenna wants nothing more than to destroy her young rival, but she doesn't know that Show White has been training in the art of war with a huntsman (Chris Hemsworth) the queen dispatched to kill her. Together with a handsome prince (Sam Claflin) enchanted by Snow White's beauty and power, they assemble an armed force to recapture the kingdom. This breathtaking new vision of the legendary tale from Joe Roth, the producer of Alice in Wonderland and acclaimed commercial director and state-of-the-art visualist Rupert Sanders is, in the words of Shawn Edwards, Fox-TV, "A film that soars with creativity, stylistic genius and amazing battle scenes."
I'll be honest, I did not love Kristen Stewart as Snow White, while her dopey eyes and tortured soul look might work for the twilight movies, it just didn't work for Snow White and she certainly wasn't fairer in beauty then Charlize Theron, but than again, who is? On the contrary, Charlize is simply AMAZING as Ravenna!! She made evil look good lol and I adored her in this role! I really enjoyed the movie as a whole and would watch it again! The Blu Ray addition has some interesting Bonus Features that is worthy of checking out.
SNOW WHITE AND THE HUNTSMAN:
EXTENDED EDITION
Featuring An extended Edition Not Seen in theaters,
Blu-Ray™ Combo Pack including UltraViolet™, DVD & Digital
 Available to own on September 11, 2012