Last Spring I had the chance to review the Looneyspoons Collection recipe book and one of my favourite recipes has been the Peanut-BETTER Gingersnap Cookies.
Our family loves to bake and I love this recipe because it's a snap to make and a little healthier than your average cookie.
The book is created by 'Pod Squad' sisters Greta and Janet Podleski and we like this recipe so much that I asked Greta if I could share the recipe with you here on Mom vs. the Boys. She was nice enough to say yes!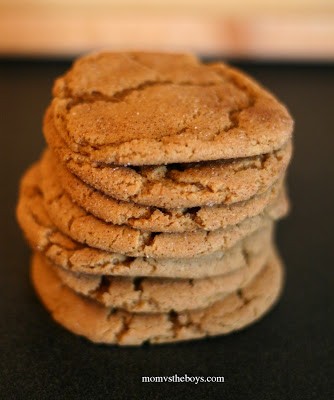 Peanut-Better Gingersnap Cookies
Author:
Janet and Greta Podleski
A thin and chewy cross between a peanut butter cookie and a gingersnap
Ingredients
¾ cup all-purpose flour
⅓ cup whole wheat flour
1 tsp baking soda
2 tsp ground cinnamon, divided
½ tsp ground ginger
¼ salt
¼ ground all spice
2 tbsp granulated sugar
1 cup lightly packed brown sugar
⅓ cup light peanut butter
3 tbsp butter, at room temp
1 egg
2 tbsp molasses
1 tsp vanilla
Instructions
Preheat oven to 350F, Spray a large cookie sheet with cooking spray and set aside.
In a medium bowl, stir together both flours, baking soda, 1 tsp cinnamon, ginger, salt, and all spice. Set aside.
Combine granulated sugar and remaining 1 tsp of cinnamon in a small bowl. Set aside.
In another medium bowl, beat together brown sugar, peanut butter and butter on medium with an electric mixer for about 1 minute. Add egg, molasses and vanilla. Beat again.
Using a wooden spoon, stir flour mixture into peanut butter mixture. You will be making a stiff dough. Using your hands, shape dough into 1½- inch balls. Roll balls in reserved cinnamon-sugar mixture. Place on cookie sheet at least 2 inches apart (they spread a lot while baking). Flatten cookies slightly using a fork.
Bake cookies for 7 minutes. They may appear undercooked, but that's okay. Remove cookies from oven and cool on pan for 1 minute, then transfer from pan to a wire rack to cook completely.
Recipe makes 20 cookies.
PER COOKIE:
108 calories, 3.4 g total fat (1.6 g saturated fat), 2 g protein, 17 g carbohydrate, 0.8 g fiber, 15 mg cholesterol, 100 mg sodium
This is a great way to use up any post Christmas molasses if you traditionally make gingerbread over the holidays. 
Recipe can be found on page 288 of The Looneyspoons Collection recipe book.