A thin and chewy cross between a peanut butter cookie and a gingersnap cookie that kids and adults alike will love!
Last Spring I had the chance to review the Looneyspoons Collection recipe book and one of my favourite recipes has been the Peanut-BETTER Gingersnap Cookies.
Our family loves to bake and I love this recipe because it's a snap to make (see what I did there?) and a little healthier than your average cookie, plus, the cookies are so darn tasty!
The book is created by 'Pod Squad' sisters Greta and Janet Podleski and we like this recipe so much that I asked Greta if I could share the gingersnap cookie recipe with you here on Mom vs. the Boys. She was nice enough to say yes! Thanks Greta!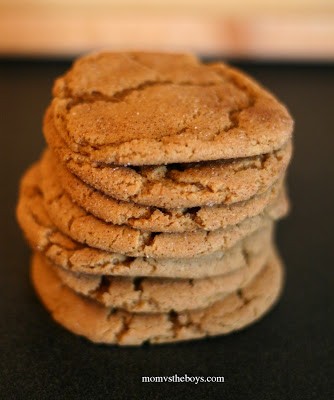 Peanut-BETTER Gingersnap Cookies – Looneyspoons
Yield: 20
Peanut-Better Gingersnap Cookies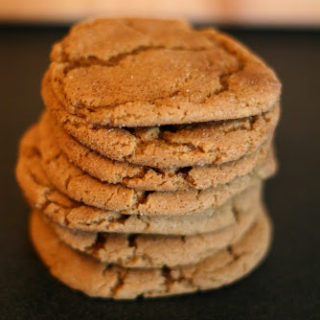 A thin and chewy cross between a peanut butter cookie and a gingersnap
Ingredients
3/4 cup all-purpose flour
1/3 cup whole wheat flour
1 tsp baking soda
2 tsp ground cinnamon, divided
1/2 tsp ground ginger
1/4 salt
1/4 ground all spice
2 tbsp granulated sugar
1 cup lightly packed brown sugar
1/3 cup light peanut butter
3 tbsp butter, at room temp
1 egg
2 tbsp molasses
1 tsp vanilla
Instructions
Preheat oven to 350F, Spray a large cookie sheet with cooking spray and set aside.
In a medium bowl, stir together both flours, baking soda, 1 tsp cinnamon, ginger, salt, and all spice. Set aside.
Combine granulated sugar and remaining 1 tsp of cinnamon in a small bowl. Set aside.
In another medium bowl, beat together brown sugar, peanut butter and butter on medium with an electric mixer for about 1 minute. Add egg, molasses and vanilla. Beat again.
Using a wooden spoon, stir flour mixture into peanut butter mixture. You will be making a stiff dough. Using your hands, shape dough into 1 1/2- inch balls. Roll balls in reserved cinnamon-sugar mixture. Place on cookie sheet at least 2 inches apart (they spread a lot while baking). Flatten cookies slightly using a fork.
Bake cookies for 7 minutes. They may appear undercooked, but that's okay. Remove cookies from oven and cool on pan for 1 minute, then transfer from pan to a wire rack to cook completely.
Recipe makes 20 cookies.
This is a great way to use up any post Christmas molasses if you traditionally make gingerbread over the holidays.
Recipe can be found on page 288 of The Looneyspoons Collection recipe book.
Happy Baking!
Check our other great cookie recipes like these
Pumpkin Oatmeal Chocolate Chip Cookies