These delicious muffins start out a lot like my Double Chocolate Zucchini Muffins, because these came first! After I got this recipe to where I loved it, I modified it for a more chocolatey version! If you love these, you'll them and vice versa! Try them both!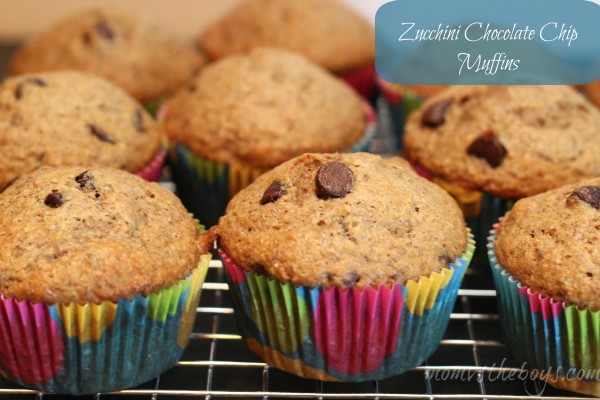 Zucchini Chocolate Chip Muffins
Prep time:
Cook time:
Total time:
Ingredients
1 cup all-purpose flour
½ cup whole wheat flour
½ cup ground flax
¾ cup sugar
1 tsp baking soda
1 tsp ground cinnamon
¼ tsp nutmeg
½ tsp salt
1 egg lightly beaten
¼ cup vegetable oil
½ cup applesauce
¼ cup milk
1 Tbs lemon juice
1 tsp vanilla extract
1 cup shredded zucchini
¾ cup semisweet chocolate chips
½ cup chopped walnuts (optional)
Instructions
Preheat oven to 350 degrees F. Grease muffin cups or use paper liners
Combine flours, flax, sugar, baking soda, cinnamon, nutmeg and salt into a bowl. Mix egg, oil, milk, lemon juice, and vanilla extract into another bowl.
Stir wet ingredients into dry ingredients until just moistened. Fold in zucchini, chocolate chips and walnuts.
Fill prepared muffin cups ⅔ full.
Bake in preheated oven for 20-25 min or until toothpick inserted into center of muffin comes out clean.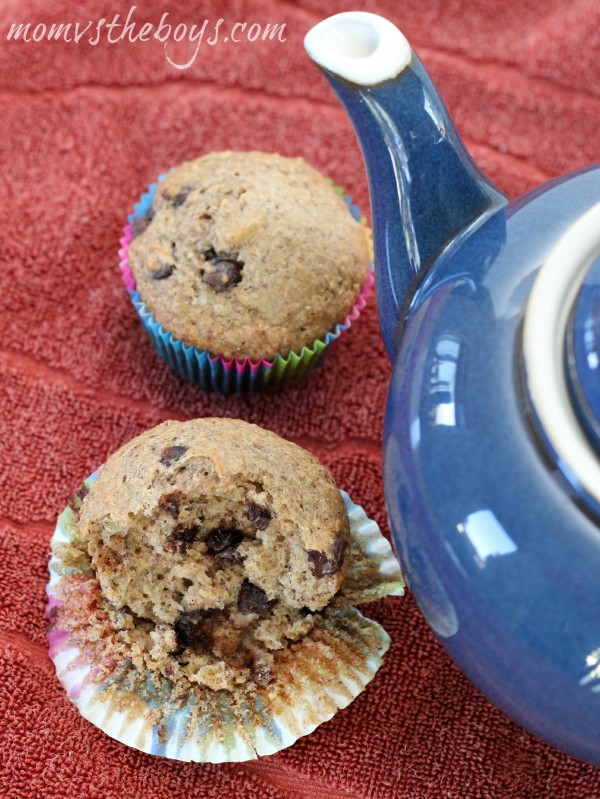 These are a perfect mid morning snack with a cup of tea, or you can also leave the nuts out and send them in your kids school lunch bag. You might also like to try this Chocolate Zucchini Bread as well! 
Enjoy!