"Mom, will you wipe my bum?!"
We all cringe, but it's truely a blessing right? It's the final big step from baby to big kid and definitely worth celebrating!
Proctor & Gamble, Walmart and Today's Parent have teamed up together to present Bathroom Buddies! 
Learning the basics of healthy hygiene can begin as soon as your child is old enough to hold a toothbrush or go on the potty! P&G and Walmart are here to help make the experience easy and fun with cleaning and personal care Bathroom Buddies from Pampers, Charmin and Bounty that are designed specifically for your little ones!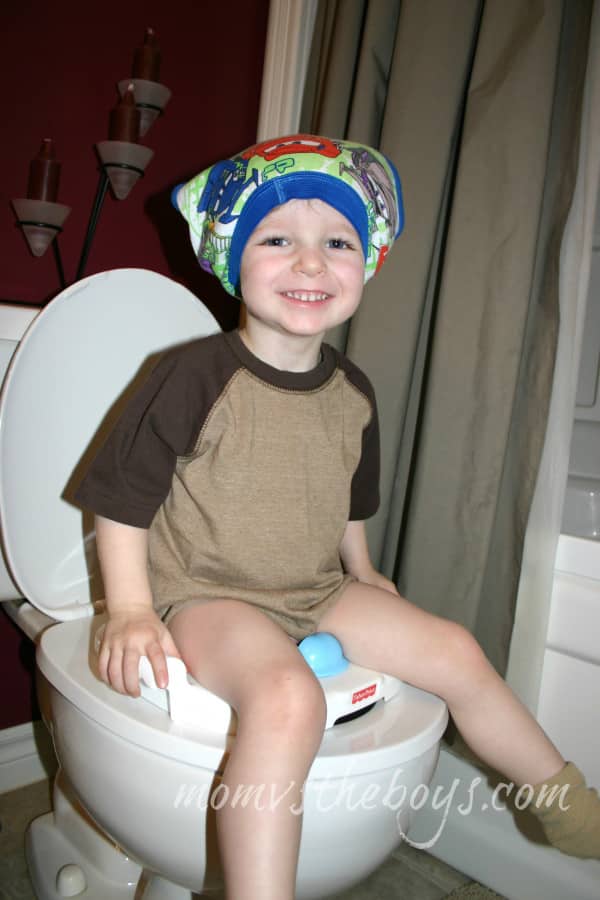 Potty training at it's finest!
Together with Today's Parent, P&G has created a handy chart to celebrate your child's bathroom routine successes and get them excited. Simply post it in your bathroom and use a dry-erase marker so you can use the chart over and over each week. This helpful tool also comes with great tips and tricks to make the bathroom experience even easier. 
Here are some to help with your current routine:
* Get kids in the habit of good brushing – let them brush on their own first, then review to make sure no areas are missed! Find the right toothbrush for your little ones' brushing stage. Oral-B Stages are made for their stage and make brushing fun with their favourite Bathroom Buddies characters by their side. For kids three and up, tryOral-B Pro-Health Stages Disney My Friends Tigger and Pooh Power Toothbrush or Oral-B Pro-Health Stages Disney Pixar Monsters Inc. Power Toothbrush.
* Make sure your little ones know that an essential part of the bathroom routine is cleaning up when you're done.  For their precious skin, find a soft bath tissue, like Charmin Ultra Soft, and teach them how much to use it – and no more will you hear "Mom, will you wipe my bum?!" right?
* Setting a routine for potty training is an important step for success. Visit the bathroom together after all meals and liquids, and before and after sleeps and going out.  When your little one is ready, they can start the potty training journey with friends Dora and Diego on their Pampers Easy Ups, designed for all day training.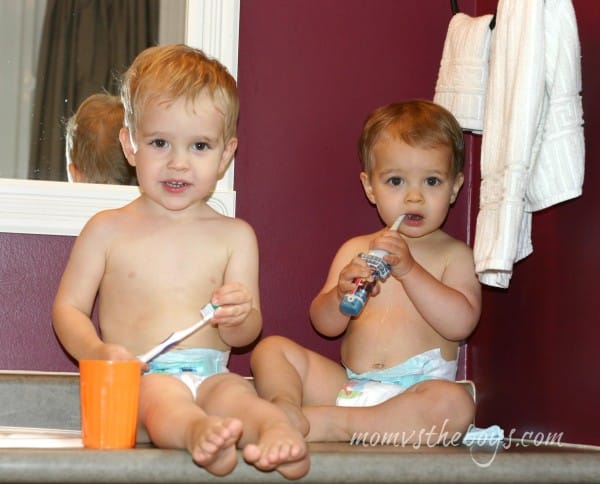 A Mom vs the Boys flash back moment! awwww….they were so little in their pampers!
There's an App for that!
There's an app for everything right? Helping your child master their bathroom routine is no different! With help from Charmin, Pampers and Oral-B, Canada's favourite parenting magazine, has developed a new tool for tech savvy families –Today's Parent Milestone App! In the app, an interactive "bathroom buddy" helps children learn their bathroom routines through fun games on potty training and brushing their teeth. The app is only compatible with apple products, so I haven't had a chance to try it out myself, but you can find out more about it and grab it for youself here.
 To celebrate and foster successful bathroom routines in your family, I have one Bathroom Buddies Prize Pack to giveaway!
Prize Pack is valued at $87 and includes:
Pampers Easy Ups Boys 2T-3T 

Pampers Easy Ups Girls 2T-3T 

Pampers Sensitive Wipes 

Charmin Ultra Soft 

Today's Parent with the Bathroom Buddies charts 

Oral-B Pro-Health Stages Disney My Friends Tigger and Pooh Power Toothbrush 

Oral-B Pro-Health Stages Disney Pixar Monsters Inc. Power Toothbrush 
Enter Below for your chance to win!
a Rafflecopter giveaway

By entering the following contest you are accepting that if you win your contact information will be shared with a P&G PR and shipping agency for the purpose of mailing your prize.  Please allow 4-6 weeks from the contest closure date to receive your prize.
This giveaway may appear on other blogs as part of the #PGmom/#mamanPG program.  However, to be fair, you can only win once per giveaway.  If your name is chosen more than once, another winner will be selected. All winners must be from within Canada.
Disclosure: I am a P&Gmom/mamanP&G. As part of my affiliation with this group I receive products and special access to P&G events and opportunities. The opinions on this blog are my own.