In February my husband and I visited the Waterloo area for our first child-free getaway in 6 years! While we definitely enjoyed our alone time away from the kids, but we couldn't help but say "the boys would really love this' at every single stop. We were delighted to receive an invitation to come back this Summer and experience the region without the snow and cold, this time, we brought the boys along for the adventure!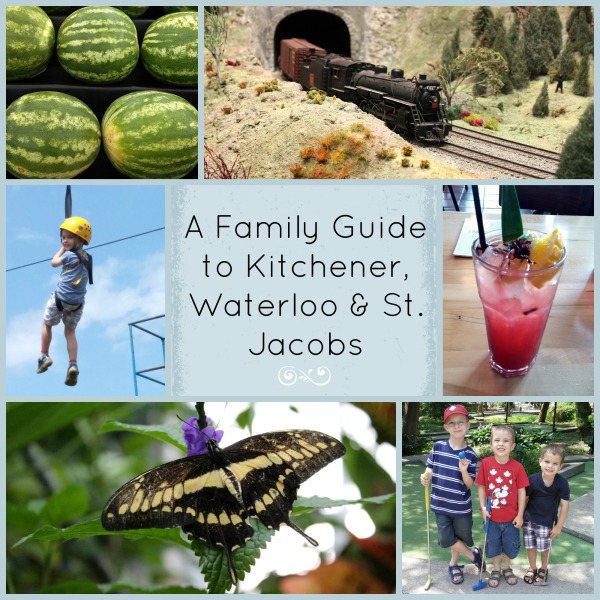 A Family Guide to the Waterloo Region
Plan to be at the Cambridge Butterfly Conservatory when it opens at 10am. This will give you plenty of time to see the exhibit rooms and you'll still be able to take your time wandering through the beauty of the rainforest. The bug exhibit was a big hit with the boys, who could not get over all the creepy crawlers! Our favourite though was the Bees! A whole colony was sandwiched between panes of glass, working away as bees do. The Queen is marked with a pink dot so you can easily spot her among her crew. A tube goes right through the wall to the outdoors which you can see from the windows and the bees roam freely in and out. Curator Doug Wilson was kind enough to show us how the bees communicate to eachother with their turns and shakes of their bodies, it was fascinating!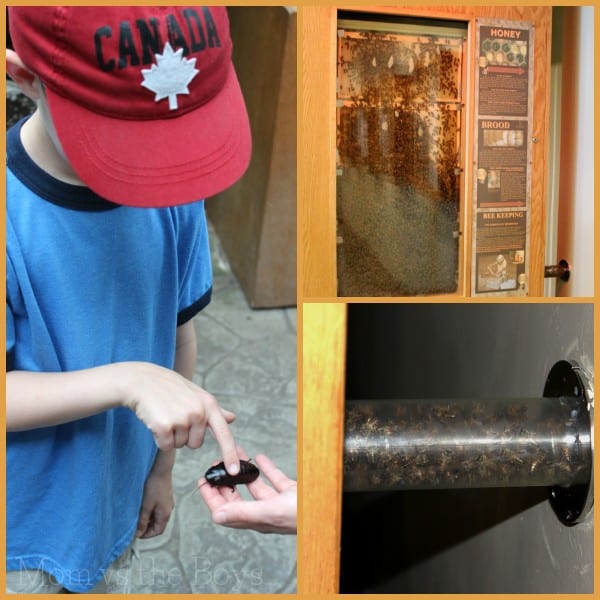 The star of the show of course though is the beautiful butterflies and there are at least 2000 free-flying tropical butterflies and moths are on exhibit at any given time! Each week a shipment is sent as pupae ( in chrysallis or cacoon form) from Costa Rica or the the Philippines, they hatch right on site and we were lucky enough to be able to watch one of the butterflies come out of his cozy home for the first time! We were also able to witness the worlds largest moth, the Atlas Moth, which is rare because they only live for a couple of days! It was a great visit! The kids will love the touch table where they can feel real butterfly wings!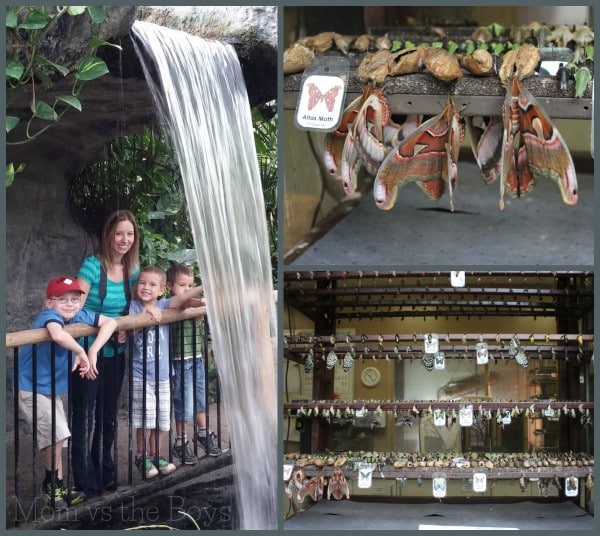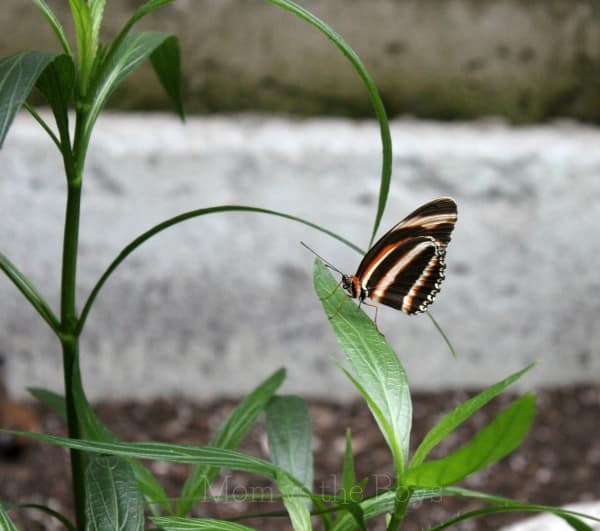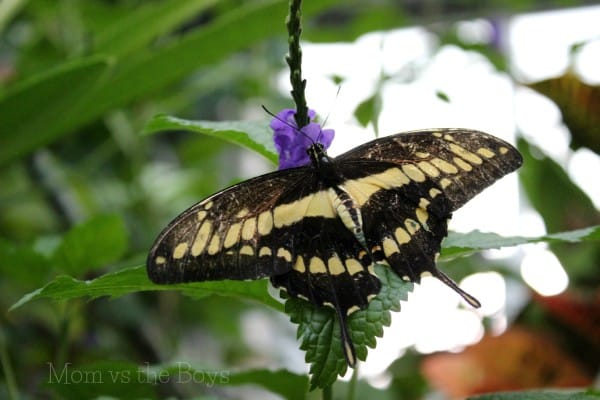 Grab so some lunch at the Paradise Garden Cafe on site, they have a great menu line up of healthy and delicious food. I had the Chicken Caesar Wrap, my husband ordered the Bistro Panini and the kids had small pizzas. Everything was tasty!
After lunch, head over to Chicopee Tube Park to let kids run off some energy! In Febuary, my husband and I loved the tubing so we were interested in what they had to offer during the Summer months. The park is open 7 days a week from 11am – 5pm and was a fun spot for the kids to try activities they had never tried before and test their bravery! Turns out, these are some pretty brave kids!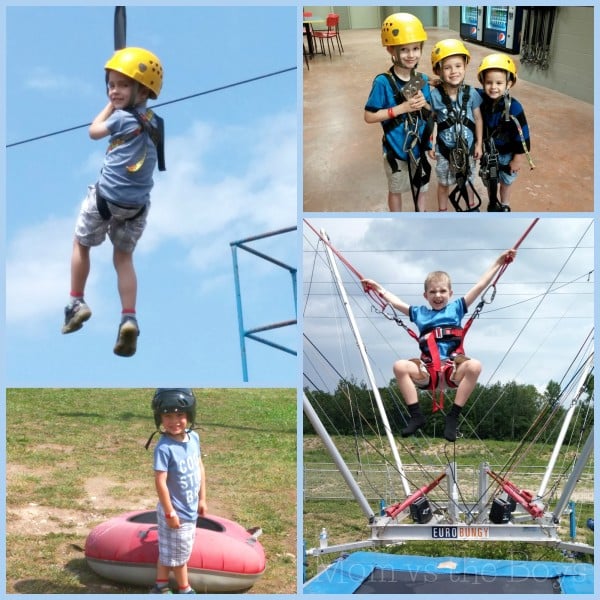 The boys tried everything! The little boys kicked their big brothers butt climbing the spider web tower, they bounced to their hearts content on the Euro Bungy and the older two boys tried out the horizontal ropes. This was very difficult for my 6 year old, but the 8 year old sailed through it. The staff were all pretty nice but we were super lucky to have one boy in particular that seemed to move shifts at the same time we moved on to the next activity and he was with us most of our time. He was so friendly and helpful and when he spotted my oldest trying to attempt a back flip on the Euro Bungy, he walked him right through it, encouraging him along until he got it! As a mom, it's so awesome to see staff like this when we were traveling, especially males that the boys can look up to! 
The boys favourite activity by far was the zipline! These brave little soles put on equipment heavier than they are and didn't think twice about stepping off into thin air and sailing away! I was soooo proud of them! They would have done that all day! Seeing the boys face their fears with success, I couldn't let them down and decided I would try to conquer the adult zip line too. Turns out, it conquered me. I had seen others on it throughout the day and was worried that the landing looked very rough, I expressed my concern to the attendant at the top of the hill and he told me I would be okay, to tuck in at the end and I did. However, my stop was extremely hard, so hard in fact that  my head snapped back so hard my helmet fell off and I experienced a pretty bad case of whiplash. I was very sore in the days to come, up to a full week afterwards. This was just my experience, but needless to say, I can't recommend it to others.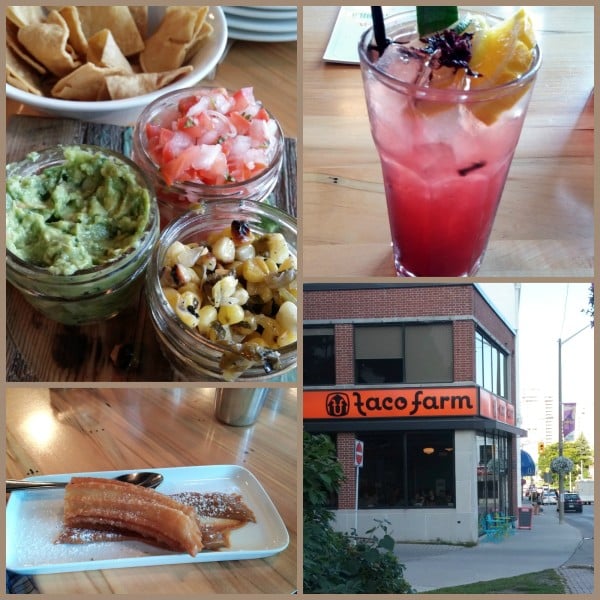 After a long, busy day exploring the region, make your way to the Taco Farm, located at 8 Erb Street W for a wonderful taco feast! Taco Farm is a small restaurant that quickly filled up and we could tell it was a popular spot, we soon found out why! Hubs and I each ordered a tasty Sangria to celebrate our great weekend away as we poured over the menu. With so many creative choices and the option to build your own tacos, we asked our expert waitress to help us to decide! We ended up with one of each of their custom tacos, except the fish, so we could try them all. It was so fun sampling the tasty tacos together, their shells are small, but they are stuffed full! By far, my favourite item that blew me away, was the Dip Trio, you must, must, must order this when you are there! It comes with baked chips and three dips – grilled green onion corn salsa, pico de gallo and guacamole. With a fresh salsa already on the table as well, we dug into each one with delight! Everything was soooo amazing. I've never even been fond of guacamole in the past, but I loved this one! I can't wait to go back and order it again! The boys all had cheese quesadillas which came with either fresh churned ice cream or Churros for dessert! Our picky eaters didn't complain once.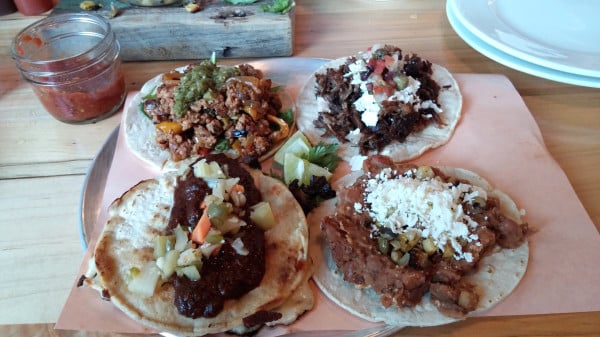 Check into the Holiday Inn Kitchener Waterloo, located on 30 Fairway Road S. It is currently under construction but promises to be a beautiful location when complete in September. We had two adjoining rooms giving us plenty of space for our family of 5 and the boys took a chilly dip in the fun outdoor saltwater pool in the evening.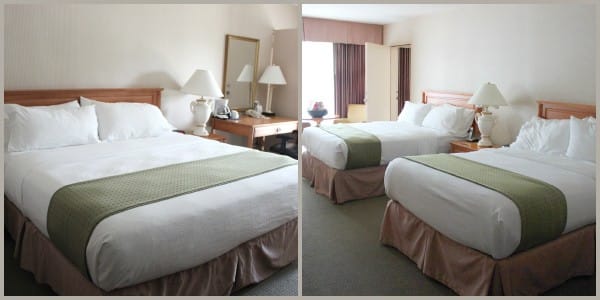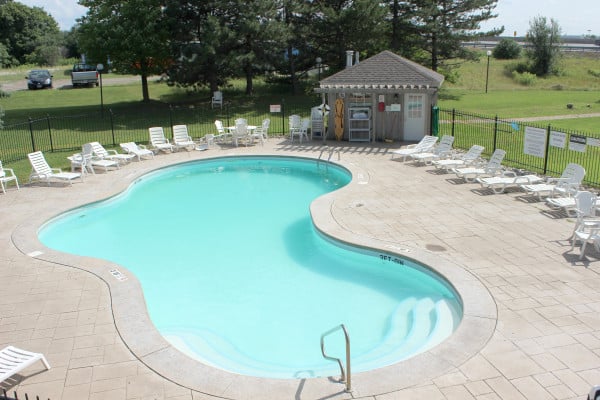 We enjoyed a fabulous hot breakfast at Embers Restaurant in the morning to start the day off right! Breakfast is not included in the price of the room, but if you contact Jennifer Burton direct at 519-894-8520 and mention my blog, she will include breakfast complimentary to your reservation! 
Ready to take on your second day in Waterloo Region? It involves a must-see visit to the St. Jacobs Farmers Market, the St. Jacobs Aberfoyle Model Railway and a fun afternoon at Bingemans Park!
All of the activities and accomodations were complimentary and coordinated by Explore Waterloo Region. I was not compensated in any other manner. All opinions are my own and not influenced in any way.