My boys birthdays fall in line with the start of soccer season so it's pretty awesome that it also happens to be their favourite sport to play. It's a pretty exciting but busy time of year for us. As with any outdoor sport you never quite know what you are going to get weather wise, some nights we sit out and watch them play in shorts and tanks and some nights, like this week, I literally had on a heavy coat and winter hat! Brrrr…..that wind was cold! I wouldn't have missed it for the world though, our middle who just turned 8 was called up to play with his 10 yr old brothers team and he held his own like a champ! Nothing makes me happier than seeing my boys out on the field together working as a team! 
Because that Mother Nature is so unpredictable this year my younger two boys, who have their birthday just 4 days apart, shared a party at a nearby indoor soccer field. So Soccer Cupcakes were definitely in order!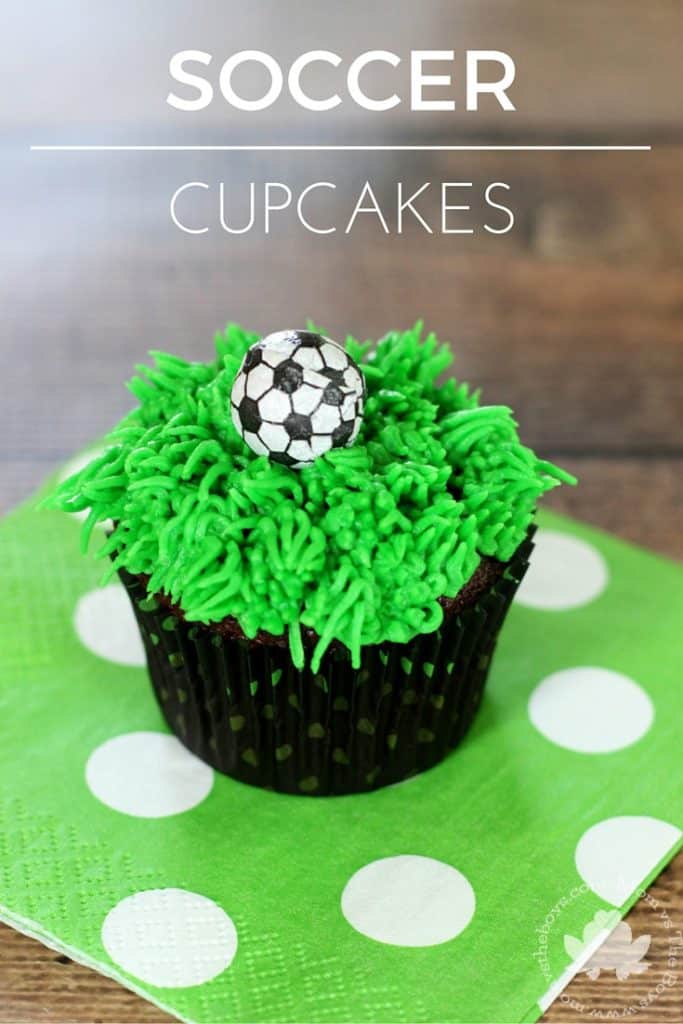 Because we were hosting a lot of kids for this joint party, simple is best! These cupcakes came together so fast and easy I decorated them the morning of the party. I had the cupcakes baked and the icing prepared the day before and then just put them together in no time that morning. The best part is, they were a big hit with the kids and even some parents commented on how creative they were! Easy soccer cupcakes for the win! 
SOCCER CUPCAKES 
You'll Need
Prepared cupcakes in co ordinating baking cups (liners)
Green buttercream frosting in a piping bag
Wilton No.233 Decorating Tip, Multi-Opening (grass/hair tip)
Soccer chocolates (or small soccer decorations)
Put it Together
Your cupcakes can be any flavour but I like to use chocolate because 1. it's always a hit and 2. the cake will look like dirt under your grass. I was going to go for a whole soccer liner but decided I liked these simple black and green dotted ones best. It's simple and not too distracting. 
Using your piping bag and grass tip, pipe the green icing covering the entire cupcake to look like grass.
Next, just place a chocolate soccer candy anywhere on top. I had my 7 yr old do this part and he loved helping out.
I found these soccer chocolates at the Bulk Barn. They come in a large tub with other sports balls (basketball, baseball etc) and we just picked out the soccer ones that we would need. 
You can also purchase Chocolate Foil Soccer Balls in bulk from Amazon.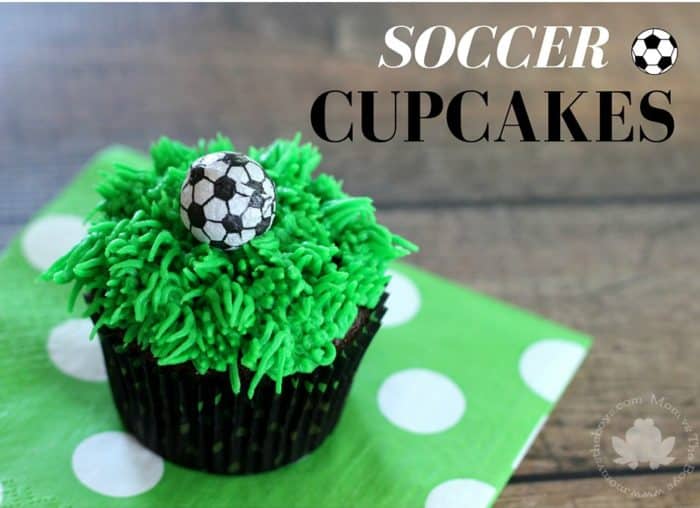 These soccer cupcakes are great for any crowd! Birthday parties, sports parties, last day of school, soccer snack, end of season soccer party, summer barbecue, world cup celebrations and of course the summer olympics! 
If you're on the fence about buying the tip that can make this effect because you aren't sure if you will use it again, I've used it tons of times in the past! Check out our Easter Cupcakes, Cookie Monster, or Minecraft cupcakes to see more.