An easy Campfire Cake with edible candy flames! Perfect for birthdays, summer celebrations or Scouting events!
I was actually struggling to come up with an idea for my youngest son's birthday this year. His birthday falls in the middle of his brother's birthdays and they are all within a week and a half, so I was trying to think of something a little different. Because his birthday falls at the start of summer I finally decided on a camping cake and then ultimately just narrowed it down to a campfire. This cake was just for our family on the day of his birthday, for his party with friends I made soccer cupcakes.
Here's how it came together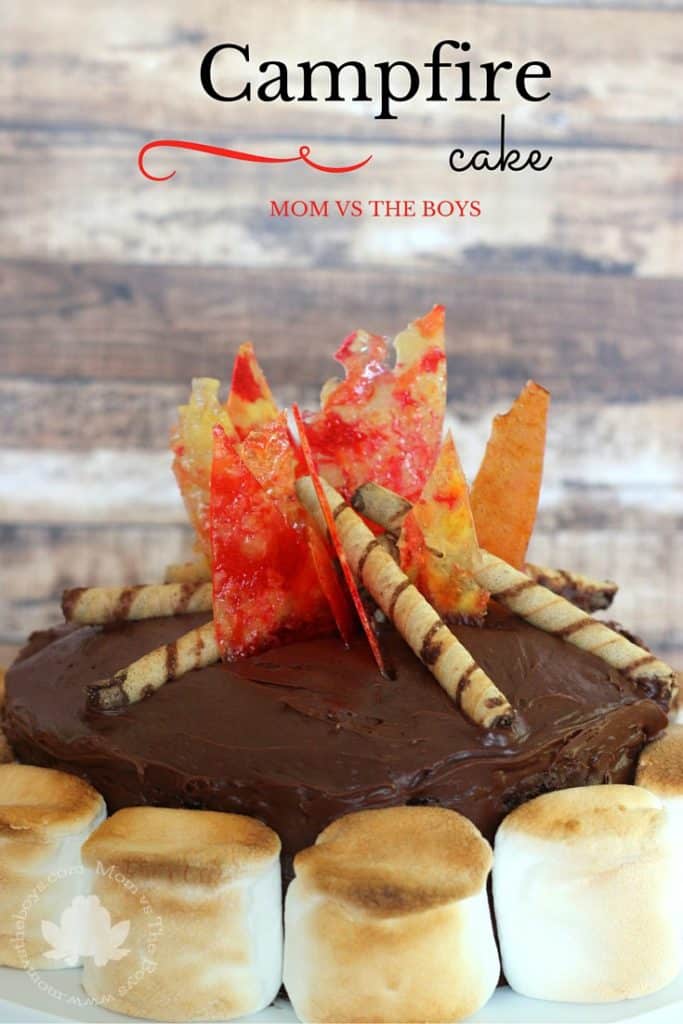 Campfire Cake
variation of a Pillsbury Campfire Cake
How to Make a Campfire Cake
You'll Need
2 – 9″ Round Cakes

1 – 2 cans of 16 oz Chocolate Frosting

1 bag of Extra Large Marshmallows

1/2 bag of Mini Marshmallows (optional)

6-7 Rolled wafer style cookies. (Creme Roulee)

10 individually wrapped red hard candies (jolly ranchers), unwrapped

10 individually wrapped yellow hard candies (jolly ranchers), unwrapped

5 individually wrapped orange hard candies (jolly ranchers), unwrapped

Waxed paper or silicone baking mat
Directions
Prepare and bake cakes according to directions. Cool.
How to Make Flames for a Campfire Cake
Line a baking sheet with waxed paper or a silicone baking mat. You could also spray tin foil with baking spray, I opted for a silicone baking mat, they are my favourite and I use them for everything.
Place candies in a plastic bag. Finely crush the candies with the flat side of a meat mallet or a rolling pin will work as well. Sprinkle the crushed candies onto the prepared pan in a thin layer.
Bake at 350˚ for 6 to 8 minutes or until candies are completely melted. Cool the melted candy completely before handling. I liked the Jolly Rancher candies for this. I couldn't find all the colours at my store, but they look really nice because they are shiny and let light through more than a solid colour style candy. They also taste amazing, but any hard candy should work.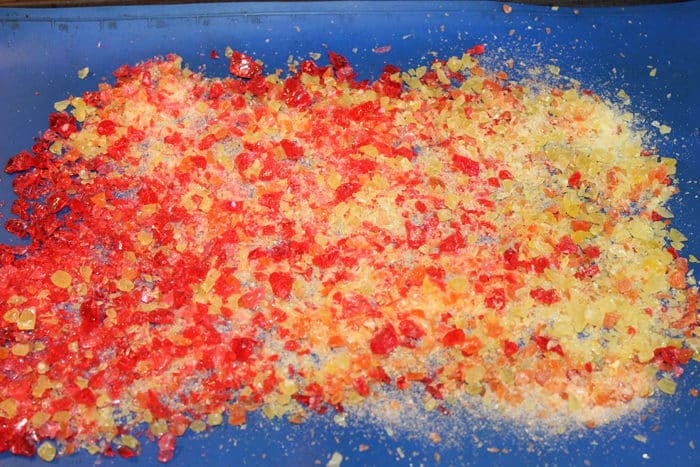 If you want to do a mini marshmallow filling like I did, spoon one can of chocolate frosting in a bowl. Pour in half the bag of mini marshmallows and mix them together. Spread onto one layer of the cake, sprinkle on a few extra marshmallows as needed to fill in any holes and make the cake even. Put the second layer of cake on top and frost top and all sides evenly.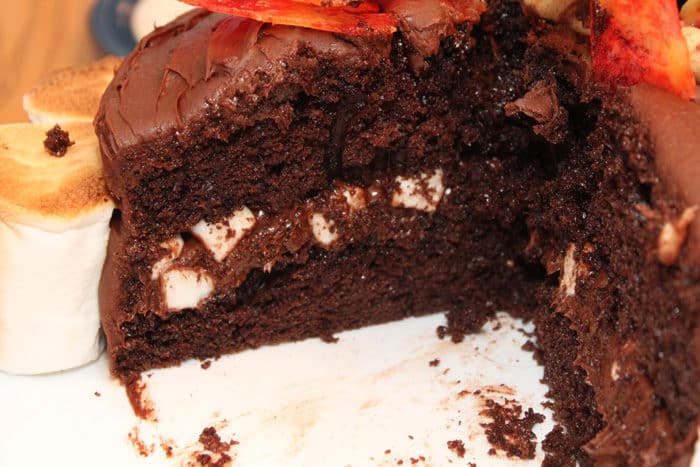 Building the Fire
Arrange wafer cookies in a circle on the top of the cake to resemble campfire logs. I found Creme Roulee cookies with a dark chocolate filling that tasted ahhhmazing! Break the cooled sheet of melted candies into pointed shards. Insert the candy pieces into the top center of the cake and around the "logs" to resemble flames.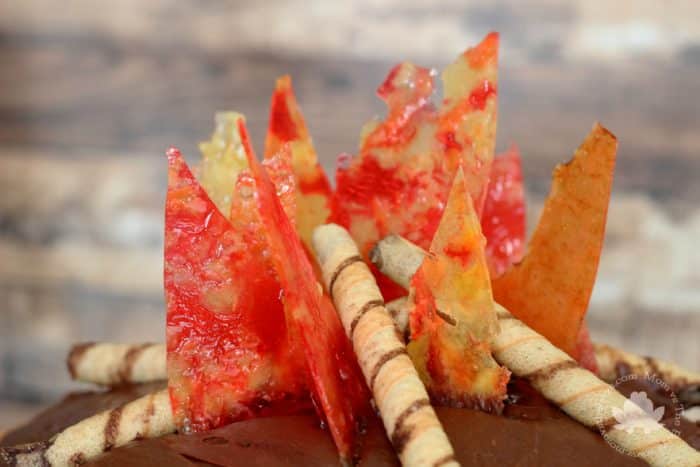 To toast the extra large marshmallows, I lined a baking sheet with the marshmallows and set the oven on broil. You will want to keep a very close eye on them so they don't burn. I did mine in batches (just in case!) but I did find the the hotter the oven was the less the marshmallows kept their form once cooled. My first batch turned out the best. It's fine if they cool with flat sides, it's actually best, because they will stick better to the cake this way. Once cooled, just press the marshmallows into the icing.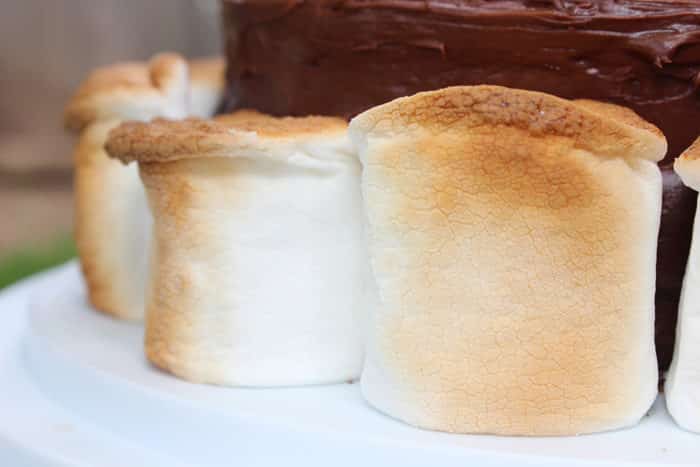 If your cake is for a birthday, the perfect spot for candles is right in the flames of course!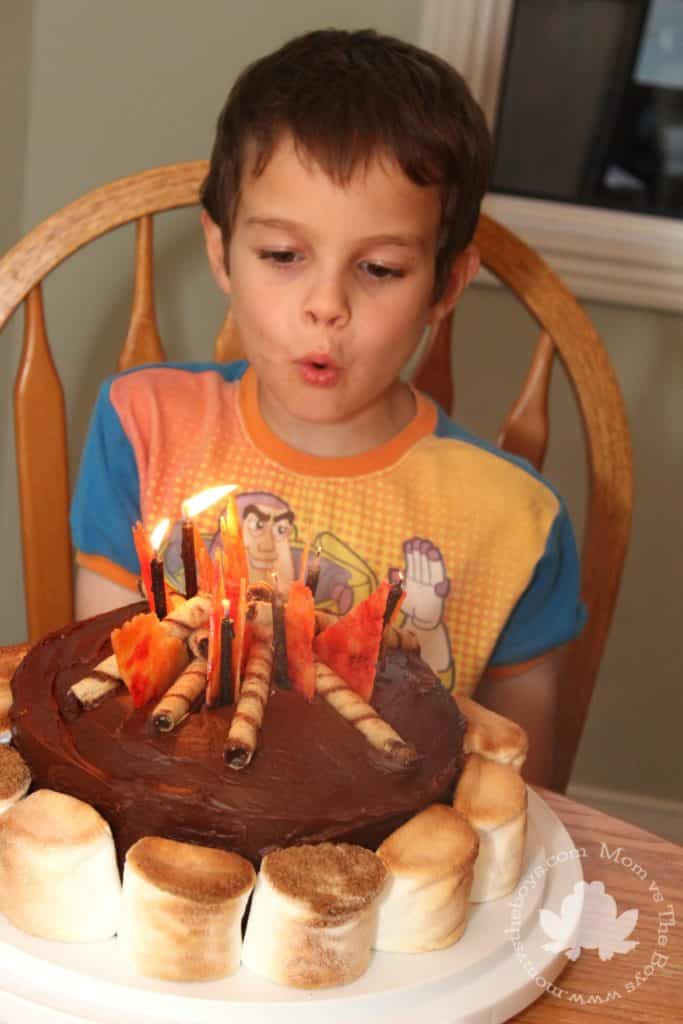 This was a really fun cake to make as well as eat! You should decorate the same day as serving if possible, the cookies will absorb moisture from the cake and get soft. Feel free to do the baking and flames a day early though, just wait to assemble the decorative pieces.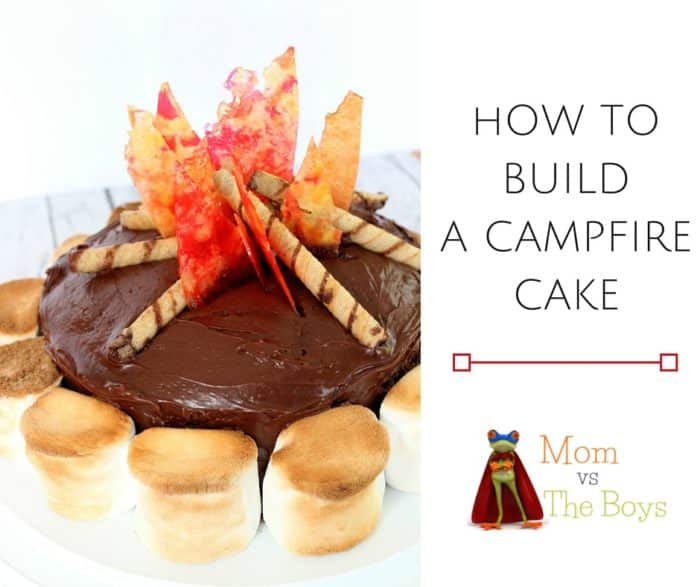 This campfire cake recipe is a really fun dessert for scouting events as well! I've had lots of people tell me they've used it for that!
If your family is outdoorsy, you might also like these easy Fishing Cupcakes or Fishing Cake as well!
PIN ME FOR LATER!