Located in Orillia on the shores of Lake Couchiching you'll find Fern Resort. Though it's been around for over 120 years, our family discovered Fern Resort in August and the boys have been talking about it ever since. Our time at Fern was jam packed with activities in the summer, so we were wondering, what does Fern have to offer in the heart of winter? Turns out, quite a bit!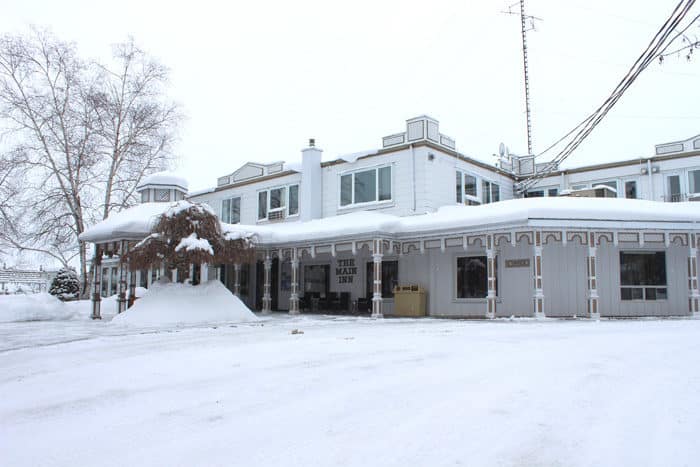 Accommodations
Accommodations were something that I didn't even touch upon in our summer review because we honestly rarely used our room other than to sleep in. With this trip being in the winter, we found ourselves using the accommodations a fair bit more. We actually stayed in the same one bedroom suite both times, located in the Fireside Inn, across from the Main Inn. The suite is really great for large families like ours as it's very spacious and offers some privacy. The Fireside Suite features a living room with a wood burning fireplace, TV,  and two pull out love seats that turn into single beds. There is a small refrigerator perfect for storing beverages and a coffee maker, along with a set of table and chairs. A separate bedroom has a Queen sized bed, a second TV, and a closet perfect for tucking away suitcases. The 4 pc bath has extra touches for families with young children including a nightlight and step stool. Because we have three children, we requested a cot which was delivered to our room, and it still fit comfortably with the other beds turned out as well. The only part of the room we didn't make use of on this visit was the double balcony over looking the lake. The view was still quite stunning though.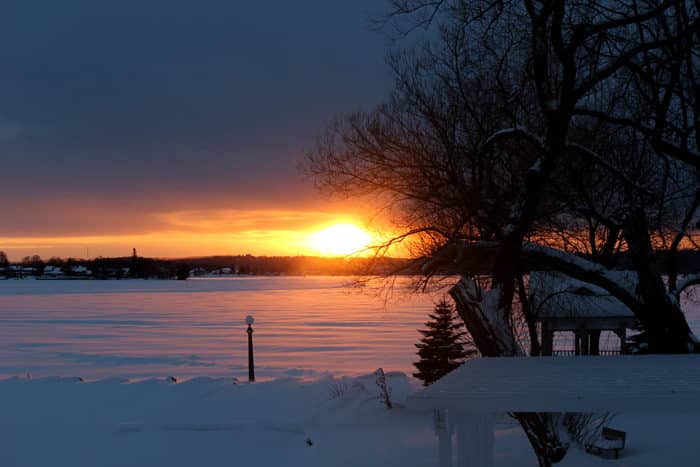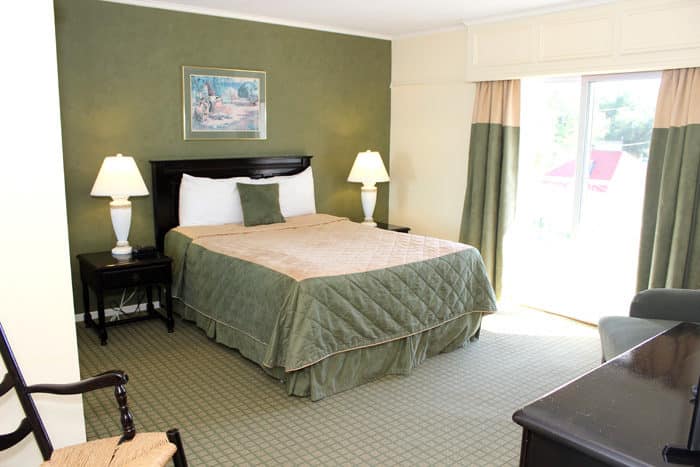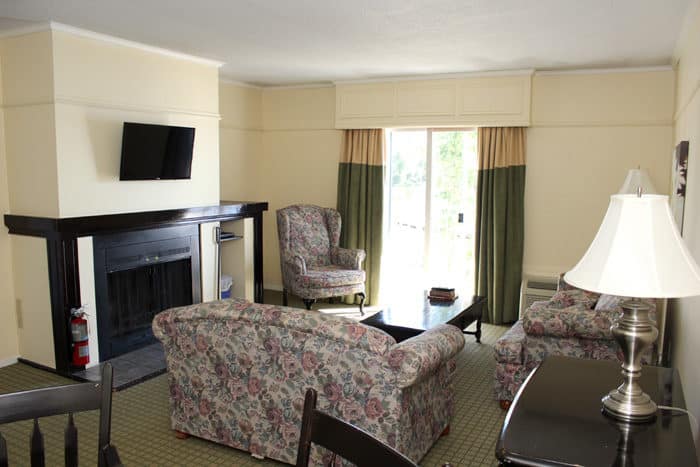 Activities
During the winter you'll find a Ski Shop set up in Mary Lou's throughout the day. It still houses ping pong, billiards and a couple of video games as well, so it's a fun place to hang out with the family. At the Ski Shop, you are free to sign out sports equipment such as toboggans, skis, skates and snowshoes at no cost.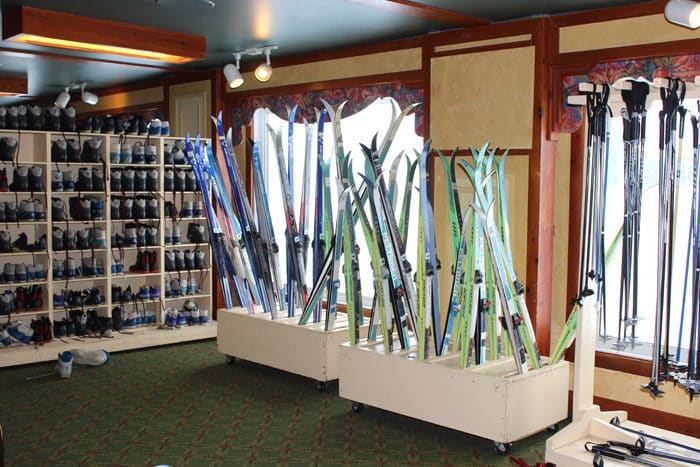 Fern's 1.5 km Skating Trail
Upon check in we received a lay out of the weekend's activities so we could plan ahead. We were delighted to find that there was a Torch lit Skate planned for Friday evening on Fern's 1.5 km skating trail. We had heard about the trail and were eager to give it a try! It was very dark in the forest but torches led the way through and there was a nice fire going to rest at when you were done. We used the skating trail a few times during our stay and just loved being able to skate outdoors through the gorgeous snow covered forest, it was a unique experience that was so much fun! We were really impressed that the resort had a heated room set up to get your skates on and leave your boots in while you skated. There was quite a bit of snow coming down and I'm sure our boots would have been filled with snow when we were done if we had not had a nice dry place to store them.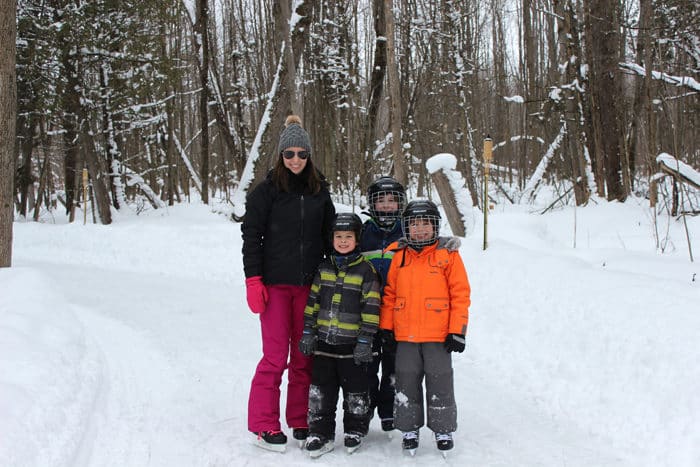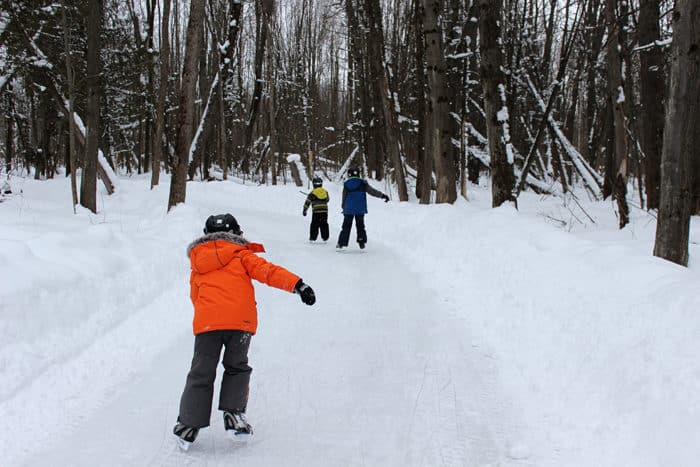 Tobogganing
Over at Gwendolyn Park is a large hill perfect for tobogganing. No need to bring your own, Fern has tons of toboggans for you to borrow. Because there was so much snow fall and we were the first ones there, we had to make our own paths down the hill to get started! It didn't take long before other families headed over to join us though, it was a lot of fun.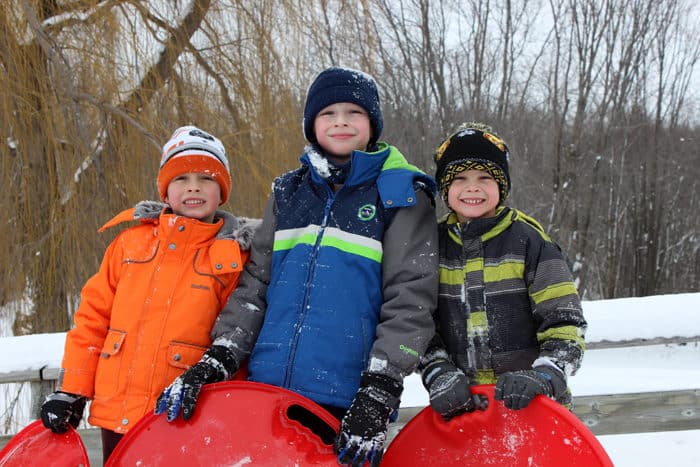 Cross Country Skiing
One thing I love about my boys is that they are always willing to give a new sport a try and being able to try out new activities is one of my favourite things about Fern Resort. Fern had all the equipment we needed and we set out. There wasn't a clear indication of where to ski so we just roamed around. I wouldn't say it was the boys favourite sport but they didn't give up and gave it a good try. It was great exercise and really fun for mom and dad who hadn't been on ski's in years.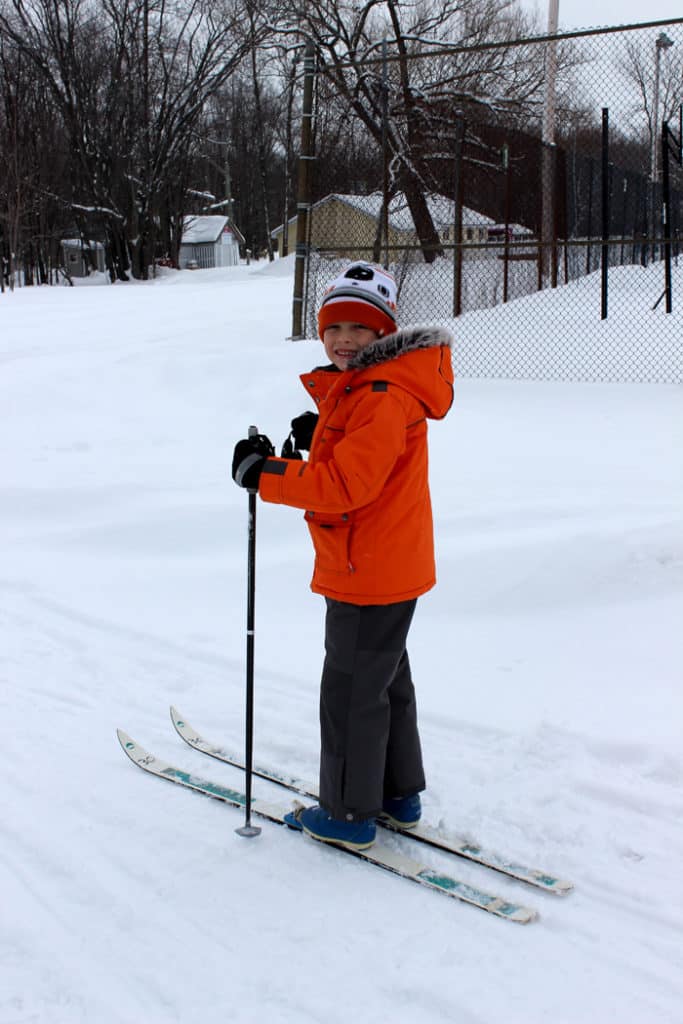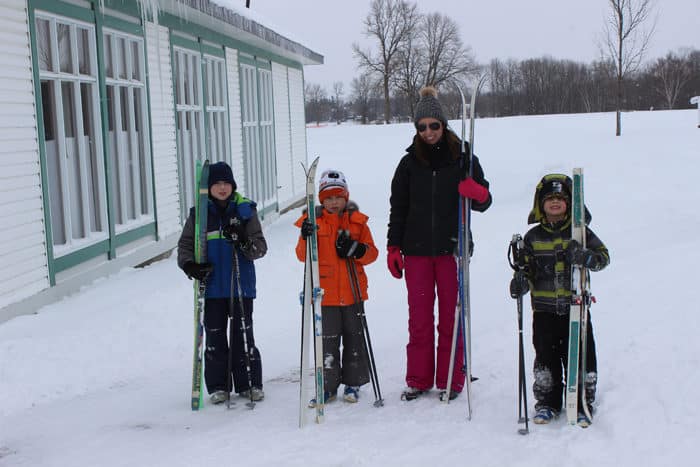 Snowshoeing
Snowshoeing proved to be easier than skiing and we hit the forest trail before leaving on Sunday. There is just something magical about being in a silent snow covered forest! It was great that the resort carried many sizes and the whole family found equipment to fit their feet. The snow shoes for little ones were just adorable and made yeti tracks through the snow!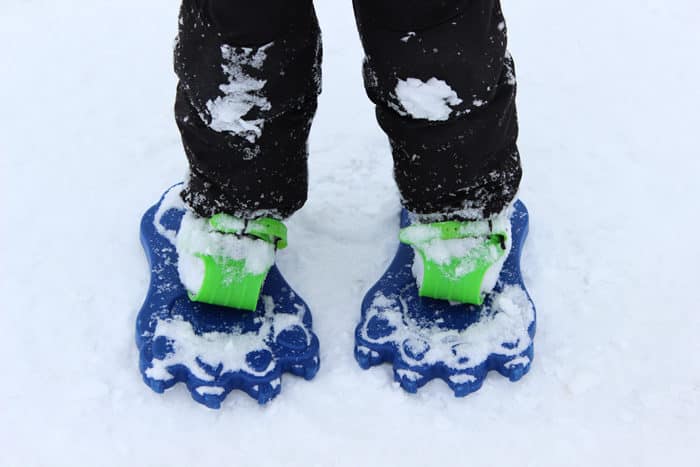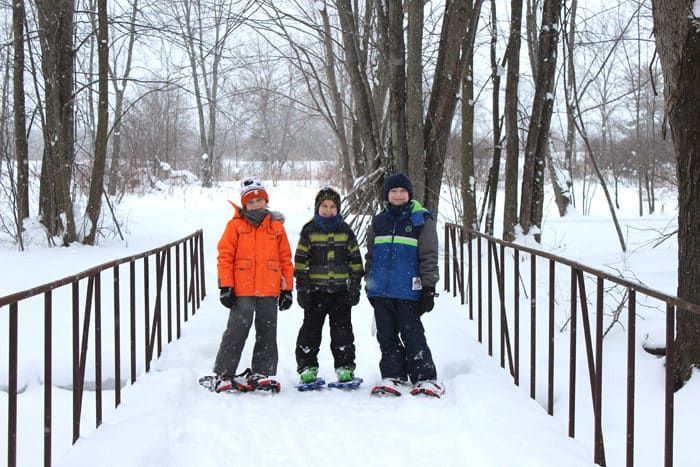 Tired yet? We sure were! All of the activities were a good work out and we had wonderful weather to play out in the snow for hours. Other activities held at the resort during the weekend were a beer and cider tasting, wine and cheese party, watercolours class, bingo, live music and a few at cost activities such as dog sledding, horse drawn hayrides, private horse and cutter rides and tea leaf readings. 
Dining
All those fun activities are going to leave you tired and hungry which is why the best part about staying at Fern Resort is your meals are included. Trust me, I had no extra energy to cook up meals and it was so nice to go to the dining room and have a lovely 4 course meal served to you. The boys liked to start with a cup of hot chocolate to warm up, while mom and dad ordered a nice hot bowl of soup, the broccoli soup was particularly tasty. We were already big fans of their caesar salad, and again on this visit my middle son and I ordered it for almost every meal, so good. Every dish comes with perfect presentation and dessert is always a hit. The chocolate cheesecake was simply amazing and your jaw will literally drop to the floor when you see the ice cream sundaes arrive at your table! My boys are big breakfast fans and enjoyed the french toast each morning, and for the parents knowing that a full day of activities is coming up, it was great to fuel up start the day off with a made to order omelette, bacon and home fries.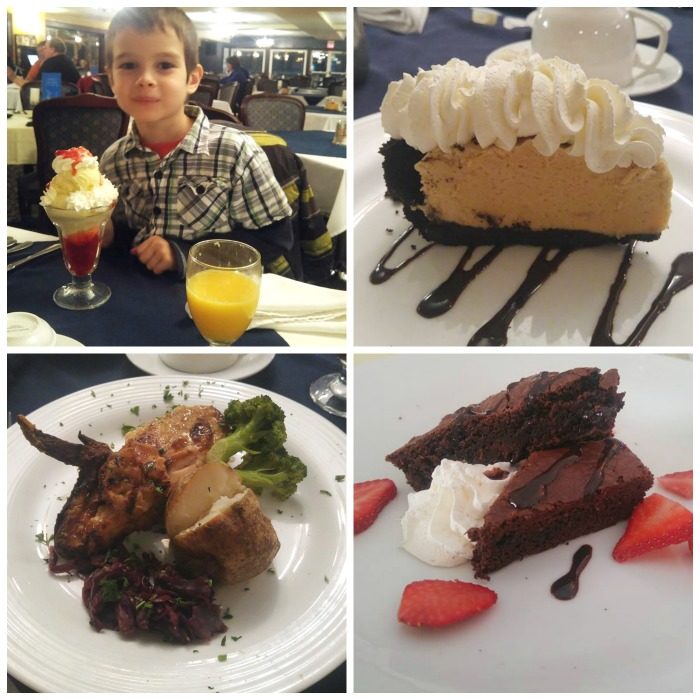 Fern Resort proved to be a wonderful family getaway no matter the season. Why hibernate all winter when you can get out in the snow and make memories with the family! Visit the Fern Resort website for pricing and keep up to date with Fern on Facebook and Twitter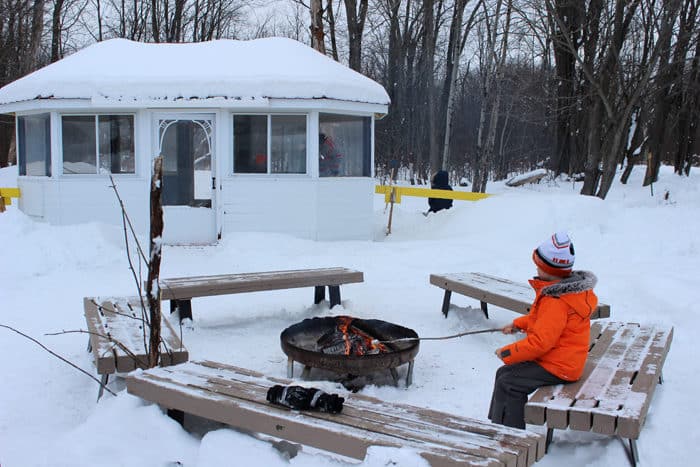 disclosure: We received a complimentary stay with Fern Resort, however, all opinions expressed are my own.