Did you know Tiger Sharks have a litter of up to 80 pups??? 
Neither did I, but that is one busy mama right there! If you know someone who has a fascination for sharks, DK has a number of good options that will have them sinking their teeth into the juiciest facts! See what I did there?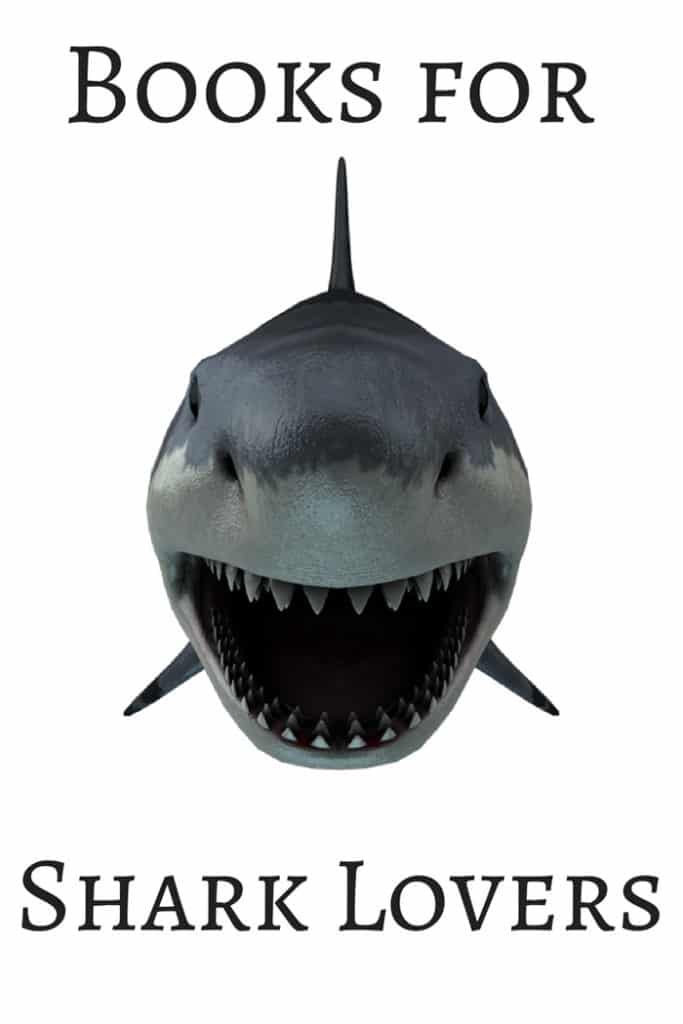 Ready to Dive in??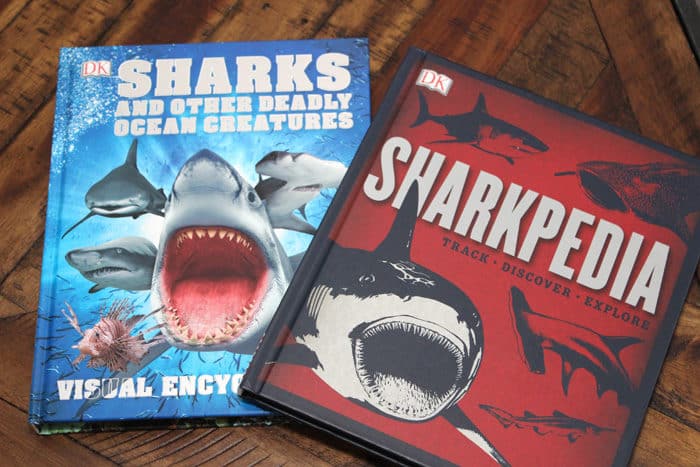 Sharks And Other Deadly Ocean Creatures – Visual Encyclopedia
Brought to life with cutting-edge CGI technology, more than 200 sharks and fierce fish are featured in highly visual profiles. From great white sharks to barracudas, children can explore dangerous waters with age-appropriate texts and photographs. Compare different ocean habitats, body sizes, tails, and more in the eight chapters that cover the different classifications of sharks, including bullhead sharks, ground sharks, and carpet sharks.
Find out why they are called tiger sharks, discover how long frilled sharks' pregnancies last, and see why a hammerhead shark's head is shaped that way. Learn which sharks live in salt water, which sharks live in fresh water, and which sharks can live in both!
Read amazing shark facts about anatomy, behavior, and habitats, and find key information at a glance with data boxes, facts, and figures laid out in DK's signature style.
The book is nicely laid out in 8 chapters, grouping together sharks and other ocean animals with similar traits. Each page gives readers a colour photo as well as a brief description and a data file for easy comparison. It's no surprise that the Great White Shark ranks a 5 our of 5 on the Predator Power scale but you may be surprised that a simple looking Cone Shell can rank a 4!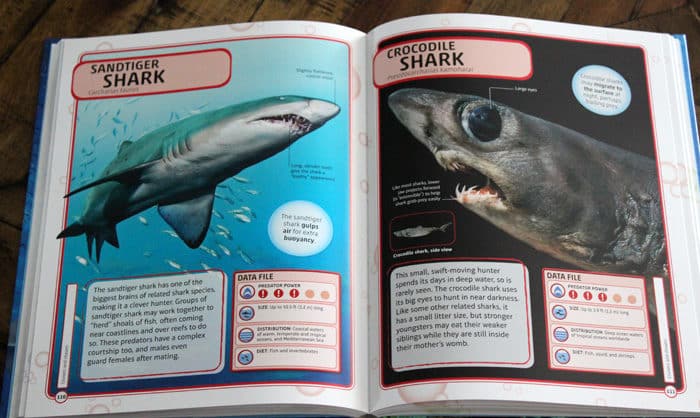 Kids can go on an around-the-world adventure to track the sea's most extraordinary predators with Sharkpedia, 2nd Edition. From the huge and harmless whale shark to the puny pygmy shark, these fascinating fish come in many shapes and sizes, and this guide will take kids from tropical paradise to the cold, dark depths of the ocean. Who gulps up tiny plankton? Who snatches unsuspecting seals mid-swim? Kids can see for themselves from the portholes of our trusty vessel or, if they dare, from behind the bars of a shark cage.
Lots of shark facts and stats are nestled inside the pages of this book along with some fun full page spread stories set up like a newspaper clipping.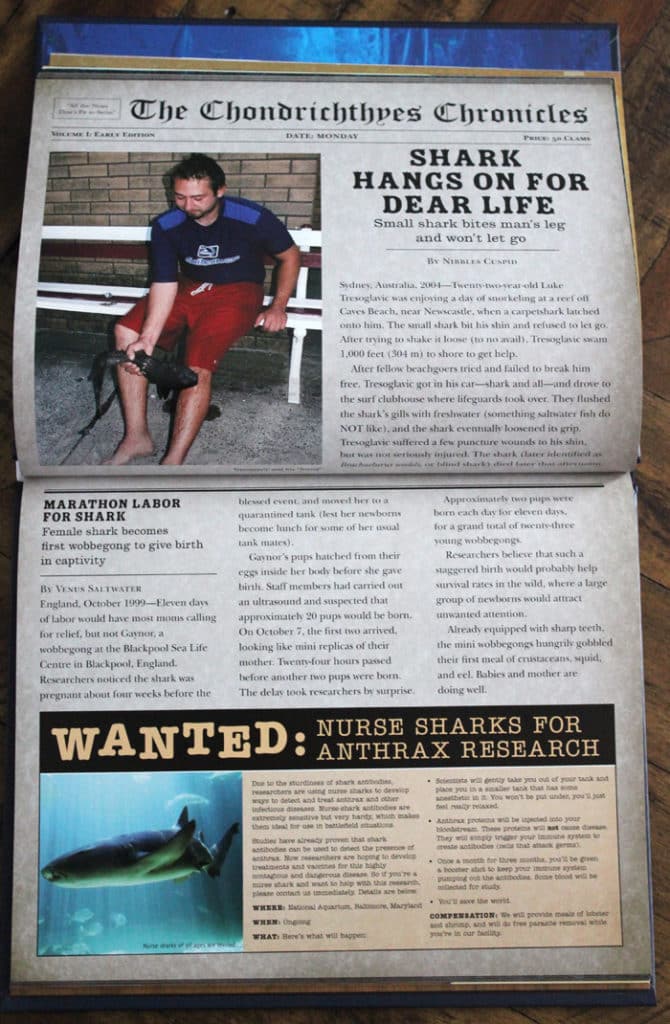 Both of these books are suitable for adults or school aged children and are chock full of shark and ocean life info they can chomp on! If you have a pint sized shark lover try Sharks and Other Sea Creatures which is geared for ages 3-5.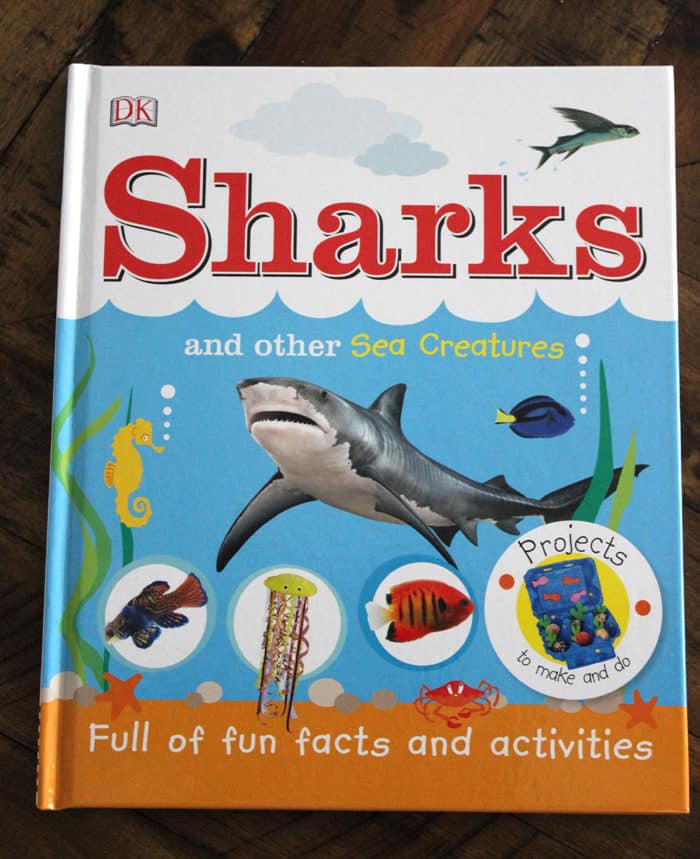 Packed with fun activities, crafts, reading games, and amazing facts, kids can take a dive under the waves and meet all the colorful creatures beneath-from clown fish to starfish to jellyfish-in this educational project book.
In Sharks and Other Sea Creatures, each page has engaging photographs with clear text and simple step-by-step instructions for young readers to follow as they complete each project. Kids can learn how to create an egg carton ocean, make pretty paper plate clown fish, and make their way through an octopus maze. Perfect for kids who love the enchanting creatures of the deep, this book will improve their dexterity, memory, and brain development with each activity.
You won't find any frightening pictures in this book, it's completely safe and suitable for the youngest viewers. Kids and parents will enjoy the fun craft ideas and activities while learning all about starfish, puffer fish, jelly fish and of course sharks!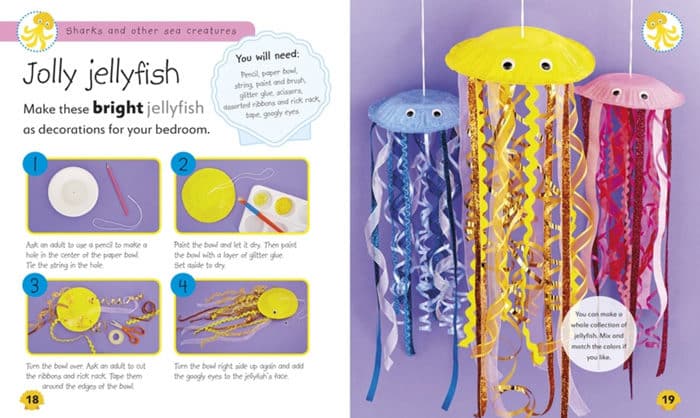 My son started showing an interest in ocean life and especially sharks around kindergarten so we've started out with cute books for little kids like the Shark and Other Sea Creatures and over the years he's graduated to books for big kids and adults like the ones above. As a parent I just love to nurture his passions and interests and keep my eye out for great books for him to learn and expand his knowledge. In grade 3 he wrote his school speach on sharks and in grade 4 he choose to share his ocean life facts on a speach about coral reefs. Because he's been soaking up DK's informative and interesting books over the years, he was able to quickly and easily write his speach and had the books to guide him.
Check out DK's website for other shark books such as Everything You Need to Know About Sharks or Super Shark Encyclopedia which also come recommended by my son. You'll also find some really good Sticker and Activity books as well as a few levelled Readers.