This post is sponsored by Bayer. To make sure these products are right for you, always read and follow the label
The dreaded cold and flu season is here. Every year, it's the same story. Despite our best efforts, many of us will be forced to admit defeat and retreat to our couches with a healthy supply of tissues and hot liquids.
While you might not be able to prevent yourself from getting sick in the first place, there are things you can do to feel better and get back on your feet sooner. 
Clear your nose
Having a blocked nose can be one of the worst parts about being sick. If cold medications still leave you feeling stuffed up, try pairing them with a saline spray like hydraSense®. hydraSense® is 100% naturally sourced sea water that is clinically proven to help get rid of nasal congestion so you can breathe better and concentrate on getting the rest you need.  
Clean up your act
This one is often overlooked! Keep anti-bacterial wipes and hand sanitizer within reach on sick days to avoid leaving germs on the surfaces in your home. The last thing you want to do is spread sickness to your friends and family members. You'll feel better knowing you're keeping your germs to yourself.
Take a hike
Did you know that light exercise can help to relieve congestion when you have a cold? Instead of staying cooped up inside, a brisk walk can help you feel restored. Just make sure you don't overdo it.
Put your sore throat on ice
Sucking on ice chips can help temporarily relieve a sore or scratchy throat by numbing and calming some of the inflammation causing your pain.  Other ways to soothe a sore throat include gargling warm salt water or sipping on a warm herbal tea.
Give yourself a (delicious!) boost
When you're sick, making nutritious meals may feel like more of a chore. If your sick-day meals are more microwave friendly than health conscious, it's also important to make sure you're getting the nutrients you need with a multivitamin. If you're not a fan of pills, try One A Day® Gummies. They taste great and help the body to metabolize carbohydrates, fats and proteins. For some added Vitamin C, pop Redoxon® into a ½ glass of cold water. You get 10 oranges worth of vitamin C in one tablet! I tried this for the first time today and found it surprisingly tasty!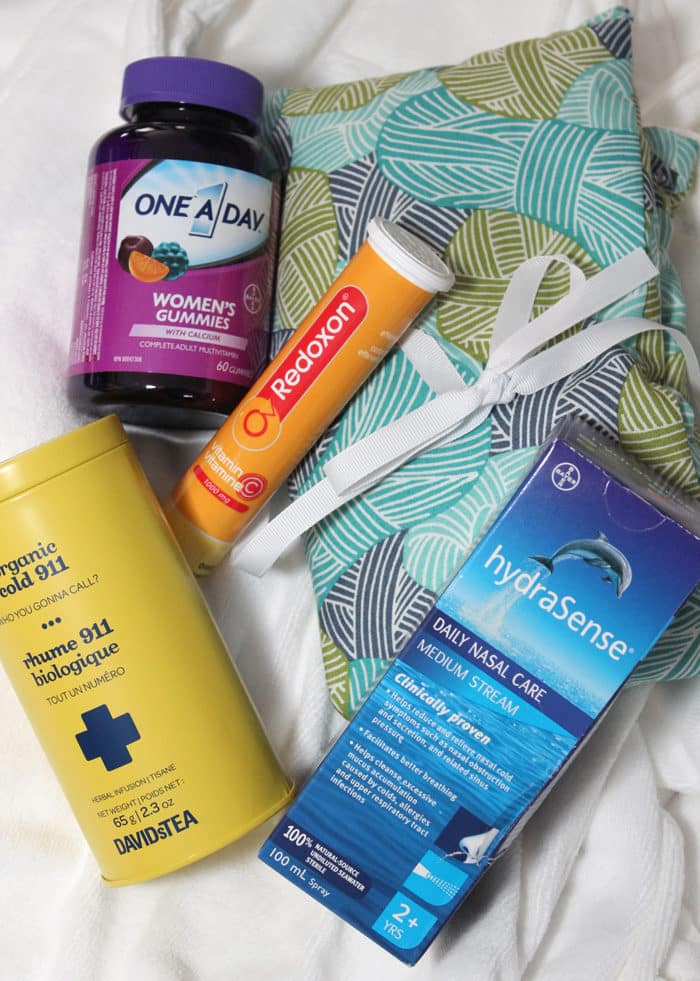 To help you survive cold and flu season, enter below for a chance to win this great cold and flu essentials kit complete with HyrdaSense nasal spray, Redoxon Vitamin C, Women's One A Day multivitamin, Davids Tea Organic Cold 911  (blend of peppermint, juniper and eucalyptus) and a pretty lavender scented hot and cold pack. ($85 value)
Giveaway is open to Canadian residents,  over the age of 18, excluding Quebec. Ends November 5th 2017 at 11:59pm.
This post is sponsored by 

Bayer

. To make sure these products are right for you, always read and follow the label