Disclosure: We received complimentary passes and perks to visit Featherdale Wildlife Park, all opinions and experiences are my own.
Located less than an hour from the city of Sydney and on route to the Blue Mountains, you'll find Featherdale Wildlife Park. Featherdale is home to the largest collection of Australian native animals in the world making it a fun and educational visit for Sydneysiders and International guests alike. 
Planning an Australian adventure or thinking of visiting Featherdale Wildlife Park? We've put together our top 3 reasons we loved Featherdale and why you MUST experience an Animal Encounter!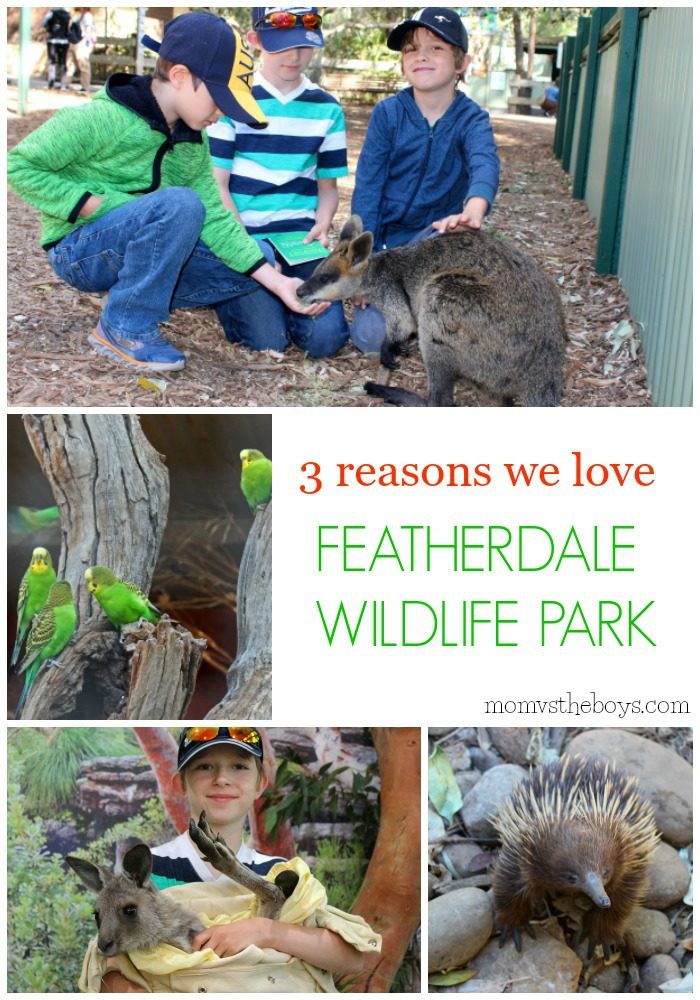 Meet All the Aussie Animals In One Place
While larger zoos will show you animals from all over the world, if you are visiting Australia, you most want to see the native animals. At Featherdale you can meet over 1,700 Australian animals from more than 300 different species. If you are visiting the Sydney area and hope to get a good look at as many Australian animals as possible, Featherdale is the perfect place.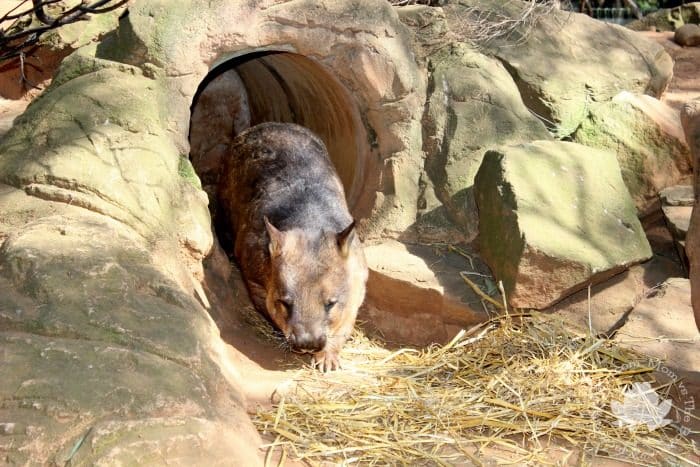 Wombat
Throughout the park you'll find Koala, Kangaroos, Wallabies, Echidnas, Tasmanian Devils, Dingoes, Little Penguins, Cassowaries, and you'll even meet a giant Saltwater Crocodile! You'll also be able to spot some rare and endangered species such as the creepy but fascinating Ghost Bats whose wings are so thin, they really look like ghosts in the night and the world's deadliest snake – the Inland Taipan. While Featherdale has an extensive collection of animals, I was surprised to see how many birds were also available for viewing. One thing we learned about Australia is their birds are bold and BIG! From colourful parrots to impressive Owls, Falcons and Kites, and then on to the biggest of them all, the Emus and Cassowarys, you'll see so many special birds at Featherdale Wildlife Park.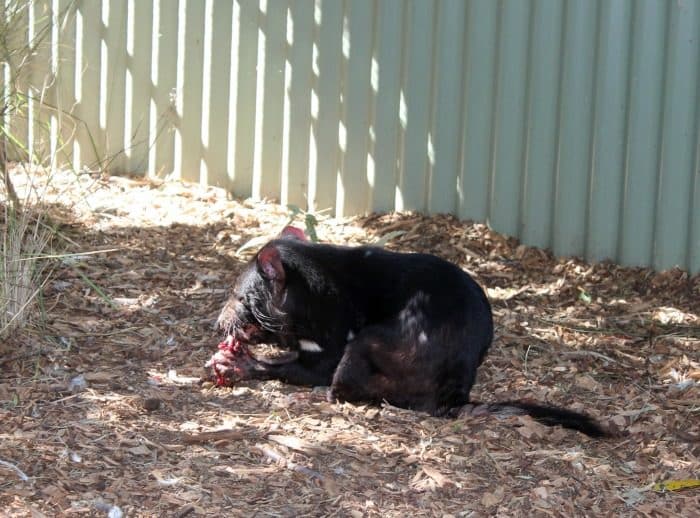 Tasmanian Devil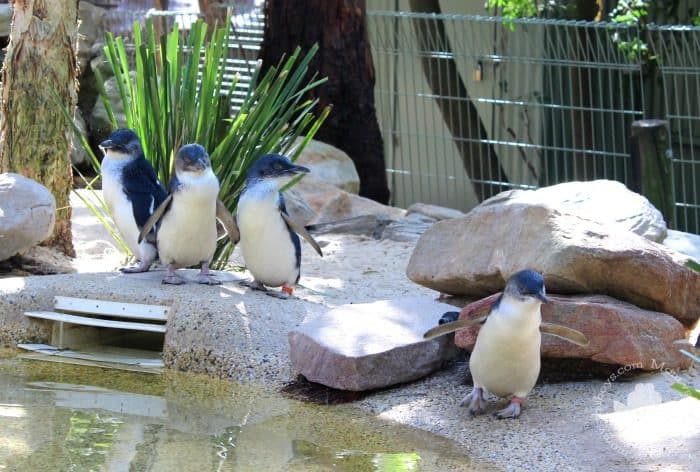 Little Penguins
Kids will enjoy collecting stamps for their Featherdale Wildlife Park Passport.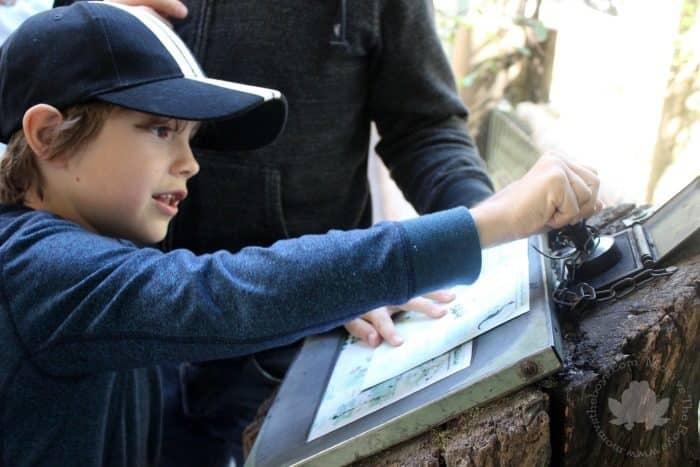 Size Matters
Featherdale is a smaller privately owned zoo that is perfect for young children and the older generation. The paths are flat for easy walking and wheelchair and stroller (pram) accessible. You can wander at your own pace and complete the zoo in approximately one and half to two hours, making it a perfect pit stop on your way to the Blue Mountains from Sydney. It's also great for toddlers who require afternoon rest and an excellent option for tourists who have limited sight seeing days in the area as it won't eat up an entire day.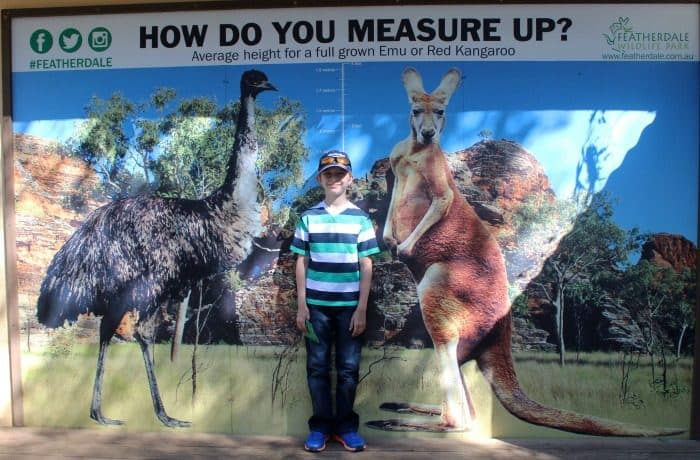 Up Close and Personal
The park has that personal "We Bought a Zoo" feel to it where you can pet a kanagroo or wallaby as you stroll through the park and maybe even offer them a bite to eat from your hand. This was one of our most memorable experiences visiting Australia and the boys couldn't get enough of it. You can purchase feed from a small cup for $2 at the park and offer it up to hungry takers in the different areas that Kangaroos and Wallabies roam freely.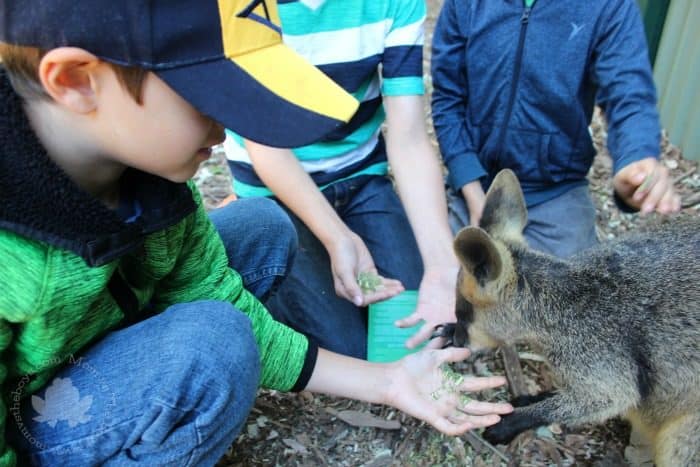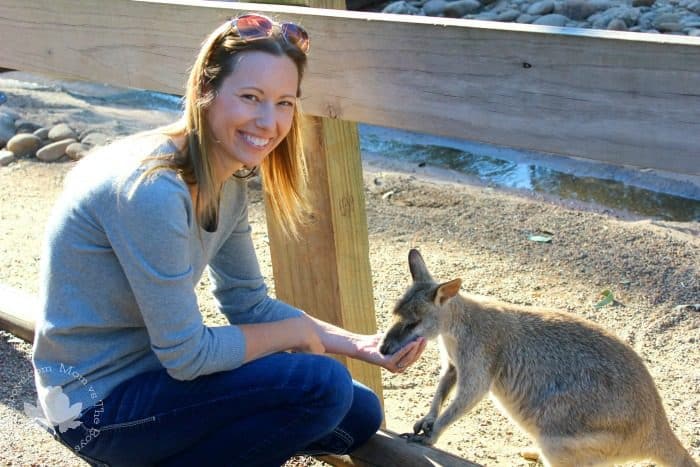 Animal Encounters
Getting up close and personal with the animals is the best way to learn about and experience a new country. We could look at a Kangaroo or Koala in any zoo, anywhere in the world, but it's not every day you are able to touch and see the animals up close. Besides feeding the Kangaroos and Wallabies, Featherdale offers a few other animal encounters at a cost.
Personal Koala Encounter
If you have your heart set on cuddling a koala, Featherdale offers a personal koala encounter where you can pet and have your photo taken with one. Now, because it is against the law in the State of New South Wales to hold a Koala without the appropriate accreditation, you can't actually hold the Koala and hug it, but you can touch the Koala, talk to the koala keepers and you'll receive a souvenir photo pack to take home. The cost for this experience is $20 AUS.
Private Animal Encounters
If your budget allows and you want to splurge a little, the private animal encounters are THE BEST way to get to know Australia's native animals. It's one of those once-in-a-lifetime experiences that will truly make your trip to Australia special. My family took part in the 30 minute Mammal Encounter and we thoroughly enjoyed every single minute of it!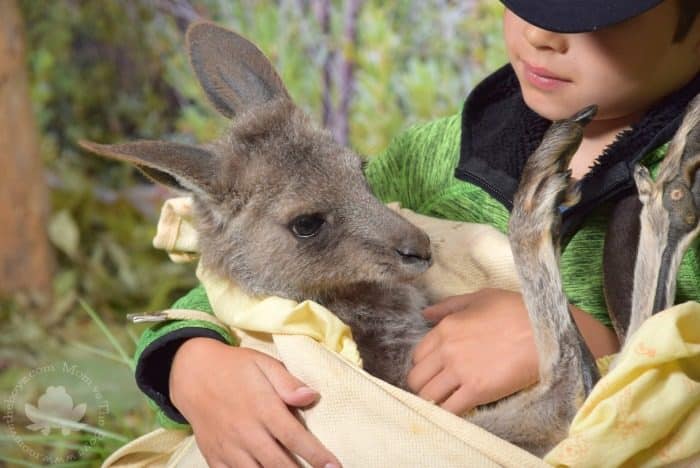 The encounter happens in a room designated just for this experience so your time is very private and special for both you and the animals. The mammals receive their very favourite treats while in the encounter room so they are happy to meet you too because they know you are going to give them a tasty treat! During the Mammal Encounter you will be able to get up close and personal with 3 different Aussie Mammals. It's a bit of a surprise who you will meet, but it could be a Wombat, Quokka or one of the three we met which was a Kangaroo, Ring Tailed Possum and a Sugar Glider.
Not only will you meet the animals but you'll have an informative session with one of the animal trainers. Our trainer was excellent and gave us so much information on all of the animals we were meeting.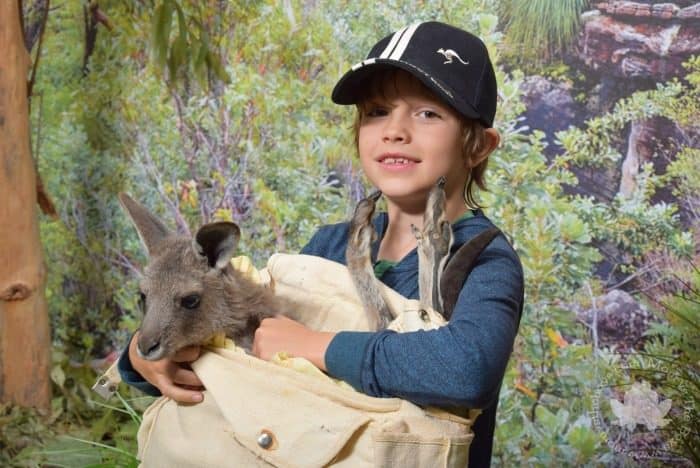 Tabby is an Eastern Grey Kangaroo and is still a baby at 9 months old. Tabby's mom was hit by a car but luckily they checked the pouch and sure enough Tabby was hiding unharmed inside. A family actually tried to take Tabby in thinking they could look after her and then release her to the wild, but they had definitely underestimated how hard it would be to look after a joey and how long it takes for a Kangaroo to mature. Even at 9 months Tabby was still drinking from a bottle. Because Tabby was now used to people, kids and pets she could not be released back into the wild and now lives at Featherdale and goes home at night with her keeper while she's still young. When we first met Tabby she was sucking on her toe, just the way a human baby would suck their thumb! We were able to hold Tabby in her pouch but she did climb out of her pouch afterwards and roamed around the room while we met the other animals.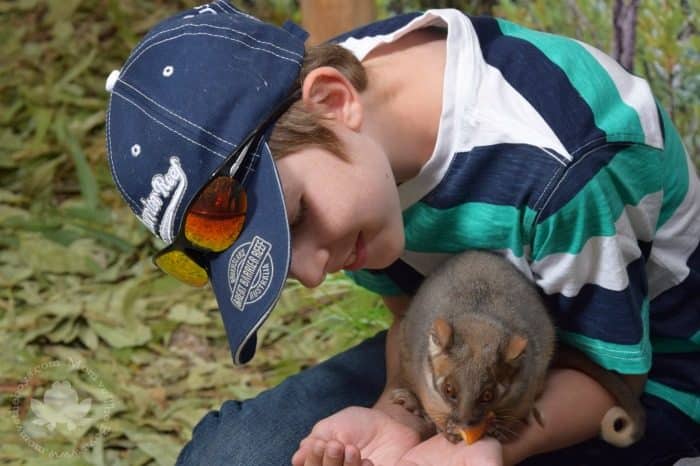 Next we met Pudding, a Ringtail Possum. Possums are nocturnal animals, but Pudding was quite willing to wake up to meet us when we fed him his favourite snack, apples! We loved the way he wrapped his tail around our finger like he would around a branch in the tree.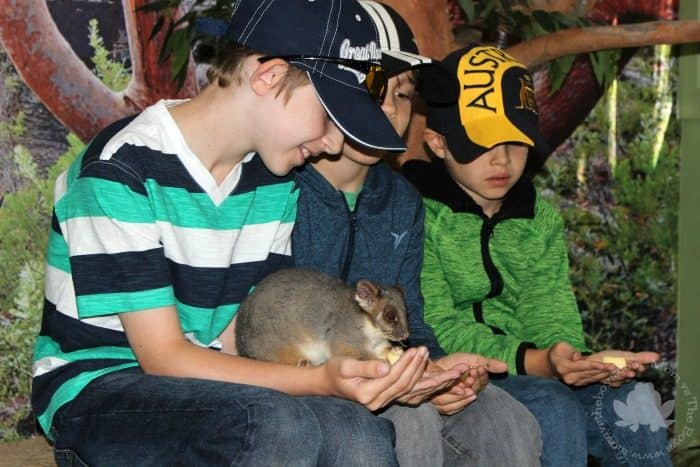 Our third mammal was a Sugar Glider named Bubbles. He sat in our hands while we fed him meal worms and you could feel his whole body vibrate! He wasn't nervous or scared, Sugar Gliders always vibrate like this because their heart beat is so high. We were excited to see Bubbles do his famous glide, but he had other because to take care of first, he had a little pee and poop in my hand before leaping to the trainer! It was a memorable experience indeed and one the boys won't soon let me forget!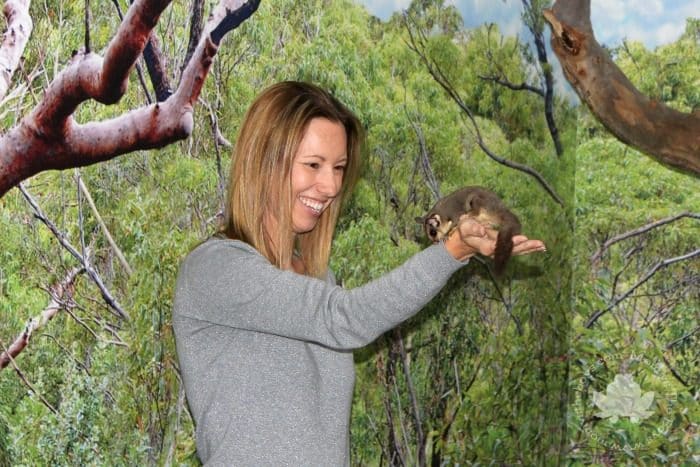 If you are more interested in learning about Reptiles or Birds, you can choose those encounters as well. Each one is 30 minutes with a animal trainer and photographer, where you will meet three animals and receive a souvenir photo package that includes 2 photos ($5 each for additional photos) plus a Featherdale souvenir gift bag with bottled water & bookmark.
We highly recommend the Mammal Encounter, it was one of our favourite memories of our trip and we really appreciated how private and personal the visit was. We had a great time, didn't feel rushed at all and was able to ask lots of questions and learn so much about each animal. I was very impressed that the experience came with a photographer to get the perfect shots, but also that you were welcome to take as many photos as you want yourself as well.
There are limited sessions offered for Animal Encounters each day, so if this is something you want to take part in be sure to book ahead. Prices are $119 (per group) for the birds and reptile encounters and $149 for the mammals.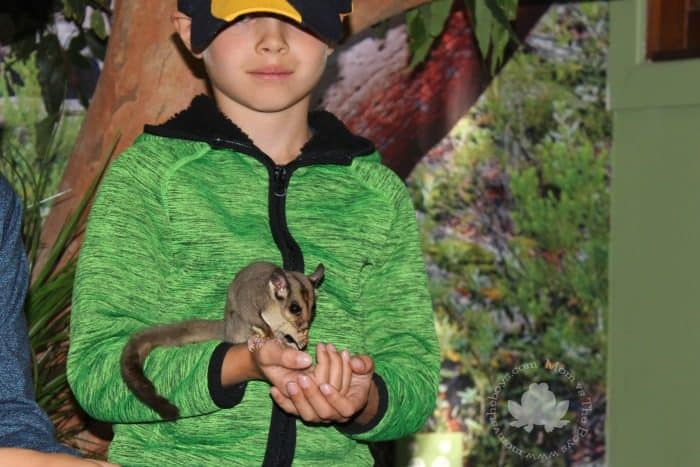 To make the most out of your day in the park, Featherdale has Free Wifi, a gift shop and Billabong Cafe which offers hot food options, as well as fresh sandwiches, ice creams, tea/coffee and cold beverages. You are also welcome to bring a picnic lunch, there are picnic tables for use as well as coin-operated electric barbeques.
For more information on Featherdale Wildlife Park visit www.featherdale.com.au
Planning a trip to Sydney? Check out my post on our Top Things To Do In Sydney, including a visit to Featherdale Wildlife Park.