Thanksgiving prep and planning is right around the corner as Canadians across the country gear up for one of their favourite holidays of the year. Thanksgiving has been my long standing favourite holiday for so many reasons. With warm days and cool nights, the weather is often perfect for spending time outdoors over the long weekend. We usually split our time between cleaning up the yard for the winter and taking in all the rides, displays and agriculture at the Fall Fair. Thanksgiving  is far less stress than other holidays thanks to no gifts to fret over but the meal is a complete showstopper as always.
Our family serves a full turkey dinner each and every year and we wouldn't have it any other way. For tips on preparing the perfect Thanksgiving dinner, check out these ten tips.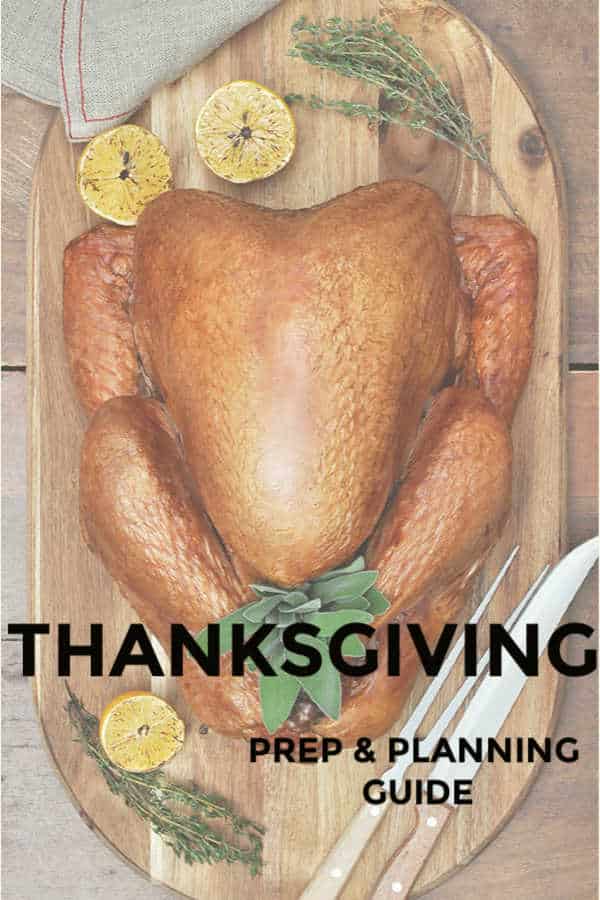 10 Ways to Master Thanksgiving Prep & Planning
This post is sponsored by Canadian Turkey
1. For an easy way to ensure extra-crispy skin, unwrap your turkey the day before you are planning to cook it and leave it in the fridge overnight. The extra drying time will add the perfect crispiness to your turkey.
2. Make sure you use a good quality meat thermometer to ensure you cook your turkey to the perfect doneness without overcooking. Test your thermometer a few days ahead of time to make sure it is working properly.
3. Consider cooking your turkey in parts – breasts, thighs and drums – for a quicker, foolproof way to get the meat cooked perfectly.
4. Get a head start on your meal! You can prep all of your staples like onions, celery and carrots up to 3 days beforehand. Dice and store in storage bags. Green beans, squash and salad greens can be washed, trimmed, and chopped beforehand. Store these in storage bags for ready-to-cook sides.
5. For a large crowd, consider hosting a buffet-style meal. Spread your dishes out in the kitchen or dining room and let people self-serve and mingle while they eat for an easier-to-serve, fun meal with a casual feel.
6. To reduce cooking time, cook your stuffing on the side. This way you can get more of your favourite crunchy bits while cutting down on cooking time in the oven.
7. Plan ahead and make a 'smart' shopping list. Organize it by staples you can buy in advance and perishables you need to buy a few days before, then organize according to sections of the grocery store. This will make grocery shopping a breeze and save you precious time.
8. Look for make-ahead sides that you can make a day or two beforehand and taste delicious re-heated. Bookmark a website with tasty and reliable turkey recipes and resources, like www.canadianturkey.ca, so you're ready for the big day!
9. To plan for leftovers, order a turkey that is several pounds bigger than what you need. Extra turkey can be stored and frozen to use for quick and easy meals later on.
10. Leftover turkey freezes well. Store in an airtight container in the freezer for a quick start to a weekday meal. Visit www.canadianturkey.ca for recipe inspiration and create salads, soups, pastas or casseroles in a snap!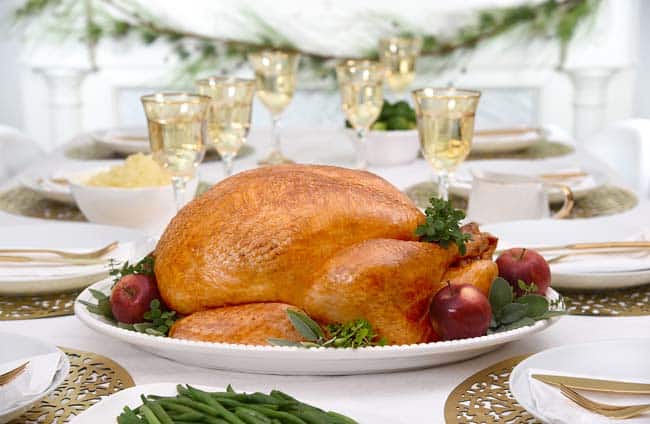 Looking for additional tips, recipes, Turkey Basics videos and HOW TOs? Visit canadianturkey.ca for all your cooking inspiration. Canadian Turkey makes your Thanksgiving easy with all the recipe suggestions and turkey prep tips you need. The Year Round Whole Turkey HOW TOs section will help you prepare a whole Canadian turkey for your friends and family for any occasion. And the recipe section is filled with delicious recipes for whole turkey and turkey cuts so you can get tasty, nutritious and versatile turkey on your table every day!
One of the best things about roasting a whole turkey is having delicious leftovers that are perfect for feeding your family later on during the week.  It's like making two meals in one!  Turkey leftovers give you so many options for making a new and tasty main meal for your family.  And don't forget that the leftover bones make amazing stock or soup!
Be sure to check out The Ultimate Guide To Thanksgiving downloadable e-guide for some tasty turkey recipes and pro tip this Thanksgiving.