When Jack Frost starts nipping at my nose, it's time to turn to one of my favourite Winter comfort foods, homemade soup! Today I thought I would share my recipe for Stuffed Pepper Soup, getting it's name from a soup version of a classic stuffed pepper! Dive in!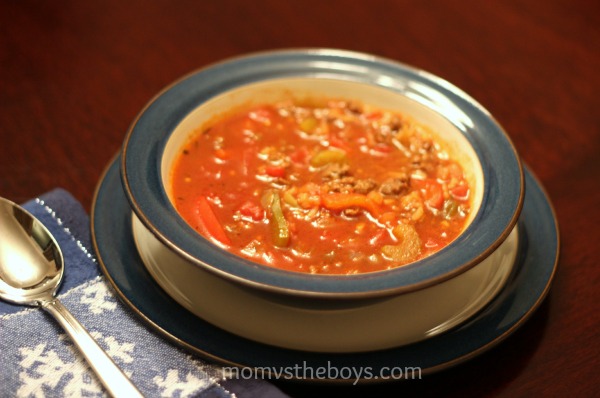 Stuffed Pepper Soup
Ingredients
1 lb lean ground beef

1½ green, red or yellow peppers, cut into thin strips

2 stalks celery, sliced

1 small onion, finely chopped

1 box (900ml) beef broth

1 can diced tomatoes

¾ cup white rice

1 small can (156ml) tomato paste

1 Tbs Worcestershire sauce

2 tsp minced garlic

1/1 tsp dried thyme

½ black pepper

optional: tobasco sauce to taste
Instructions
Cook beef in a heavy bottom pot over med-high heat until browned. Remove beef, pour off fat and set aside.

Reduce heat to med. and add peppers, celery and onion and cook for about 5 min. Return beef to pot.

Stir in remaining ingredients. Heat to boil. Reduce heat to low and let simmer, stirring occasionally, for 20-30 min.
I have played around with this recipe for a couple of years, feel free to use a seasoned version of the diced tomatoes, I like Herb and Spice and also, Hunt's actually makes a Green pepper, celery, onion style that fits this recipe perfectly. I also use Club House Black Pepper Medley for the black pepper, I like the bigger pieces of pepper that you can see and find it adds a really great taste. For me, hot sauce is not an option, it really adds something to this recipe and really kicks all the flavours up a notch! 
Bon Appétit