We've been celebrating a lot of birthdays around here lately and with that much cake to make, I decided to try something a little different and fun for my youngest boy turning 4!
Ice Cream Cone Cupcakes!!
These are seriously adorable, with cake batter baked right inside the cupake and piled high with icing made to look like a soft serve cone! This will make a really fun April Fools Day joke for the kiddos too!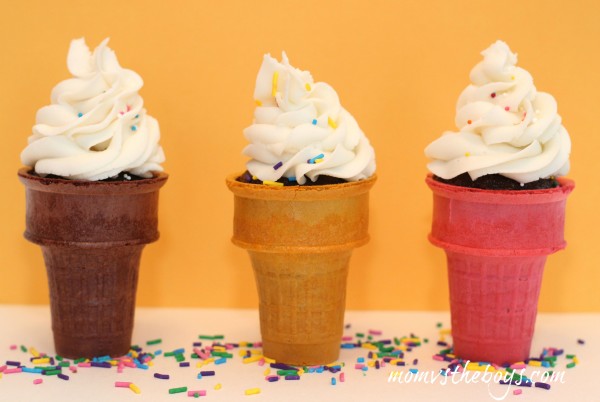 Ice Cream Cone Cupcakes
Cupcakes baked inside ice cream cones and piled high with icing to look like a soft served cone!
Ingredients
boxed cake mix, any flavour
flat bottom ice cream cones
buttercream icing
sprinkles
Instructions
Prepare cake mix as directed on the box
Spoon into cones about half way, this is really important because you don't want them to spill over when baking. You can always test out one before baking them all.
Bake at 350 F for 20-30 min, or until toothpick comes out clean
Prick the bottoms of the cones with a toothpick to allow steam to escape while cooling, let cool
Using a piping bag and a Wilton 1M tip, pipe icing high onto the cone in a swirl fashion. Start from the inside and work your way out.
Decorate with sprinkles
I actually have this nifty cupcake cone baking rack, that I won in a blog contest, but I also found this You Tube video that gives you a rather genius way of keeping your cones upright while baking and decorating, so that's an option too. 
Here's a look at how high I filled the cones and what that looks like after baking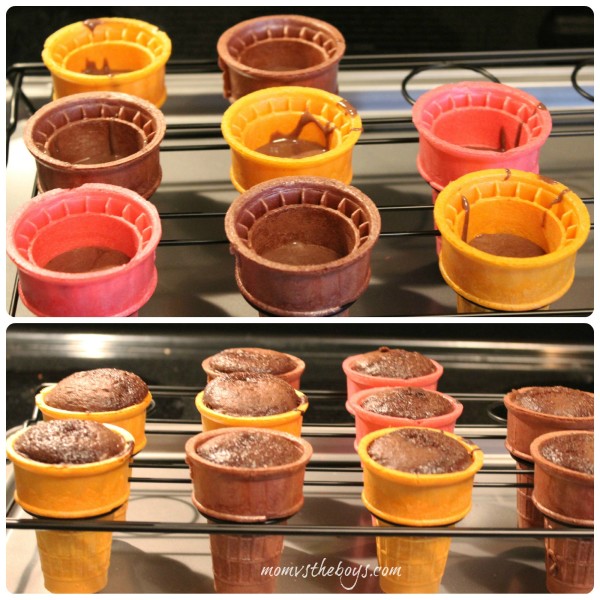 So go ahead and pile on the icing until your cone looks like a real live ice cream cone! I start with one dab of icing right in the centre and then swirl out and up from there. 
End results are cute and pretty darn tricky! My little guy exclaimed Ice Cream!!!! When he saw them!