Please welcome the talented Amy Lee as she shows us step by steps instructions on how to create a Cinnamon Scented Fall Colored Rice Sensory Bin.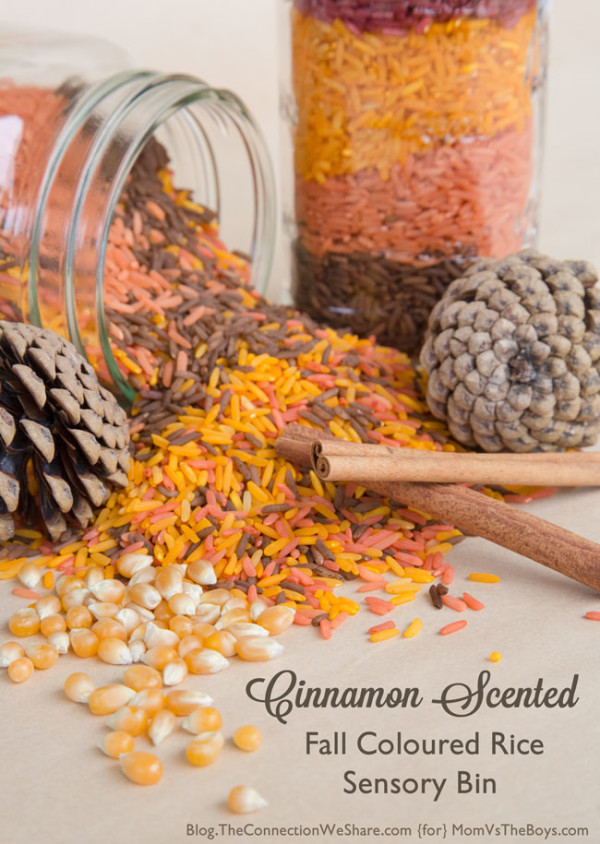 Cinnamon Scented Fall Colored Rice Sensory Bin
Having little kids in your home is a lot of fun. I'm mostly looking for ways to keep my energetic little girl engaged in entertaining activities. Cinnamon scented fall colored rice sensory bins are one of the innovative options that will not only keep your kids engaged for hours together, but will also boost their creative and mental abilities. Read on to know some basic ways to make these bins.
1. Collect the material
To make the sensory bins, you will need some basic things like white rice, food coloring, mason jars, hand sanitizers or vinegar, cinnamon powder, pinecones, and other fall specific things. You can let your imagination take control. You can even order things online from various kids' crafts websites. We often have leftover stuff from Kiwi Crates like streamers, feathers, and popsicle sticks etc. You can use some leftover stuff for your sensory bins.
2. Color the rice
Once you have collected the materials, it is now time to color the rice. Apart from food coloring, we can also use hand sanitizer for this purpose. It dilutes the food coloring, thus encouraging uniform color coating of the rice.
o Add a few drops of your gel or liquid food coloring in the jar
o Now add a few drops of the binder that is the hand sanitizer or the vinegar
o And in the end, add the desired quantity of white rice. However, make sure that you have enough room mix the stuff
3. Shake this concoction
This is my favorite part of the process.
o Add one or two tablespoons of cinnamon powder in the mason jar
o Start shaking the entire mixture. Ask your kid to do the same
o Prepare a 'shake-shake' song which goes with the shaking process and sing it along with your kids. I've made my own song with my daughter Elle (and she has helped me with it):
"Shake it to the right, Shake it to the left
Shake it up high, Shake it down right"
It's really fun when we both sing it together. She has come up with the right dance steps to match the song too!
o Now shake the jar until the rice is completely mixed with the color and is coated with it.
o If you want multiple colors, you can repeat the process with the second color.
4. Store the colored rice
o After you have colored the whole rice with fall shades of your choice, it is now time to store it in a sensory bin.
o Put the rice on a sheet and let the color dry.
o Add around ten pounds of the colored rice in a tub. Although this may appear a lot to you, but it is not much in comparison to the tub capacity. However, you can always take lesser quantity.
o Add different items related to the fall season such as pine cones, chestnuts, kernels, cinnamon sticks, and anything else that catches your fancy.
That's it – your sensory bin is ready, give each other a little pat on the back!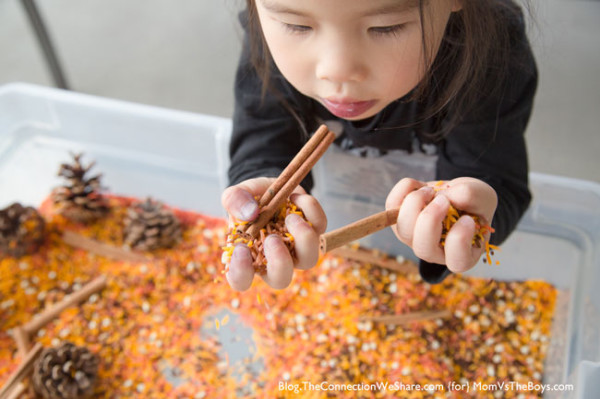 For other fall activities try these posts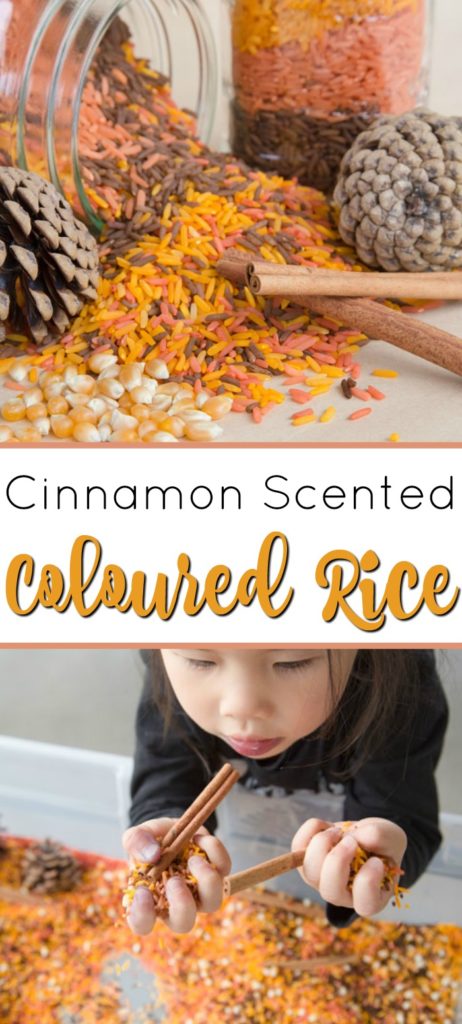 About the Author
Amy Lee is a blogger who is currently based in Vancouver. Her blog The Connection We Share is one of the widely read mommy blogs on the web which is replete with articles that suggest different ways for parents to bond with their kids through distinctive fun activities like crafting, baking, photography, and others. She also likes to create photo albums of her family from Blurb.com who has the best photo books on the market.You can find Amy's blog or on Google+.