Easter craft ideas, even the boys will love doing!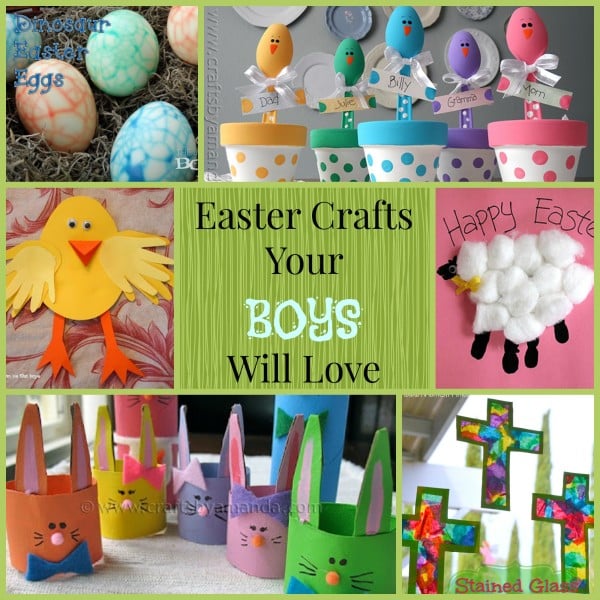 Boys love Easter, but sometimes the spring crafts tend to run a little big girly with all of the pinks, pastels and flowers! It's okay, I've rounded up a great list of Easter and Spring crafts that even the Boys will enjoy trying out. From handprint chicks to Easter bunny race cars, I've looked for fun activities that will keep the boys buys without making them "totally gag".
Easter Crafts For Boys

Chicks and Bunnies from Plastic Eggs



If your boys are like mine, making treats is their favourite way to craft. While they don't always want to sit down with paper and glue, I can always tempt them to the crafting table with icing and chocolate! They are still using their fine motor skills and creative thinking, plus they are really proud of themselves when they were the ones to make dessert for the family!
Birds Nest Rice Krispie Treats
Peeping Pancakes (pancakes and scrambled eggs breakfast)
One of my favourite Peeps, treat bag topper

Easter Egg Decorating Using Nail Polish
Marbled Eggs using Shaving Cream
Egg Prints with a Potato Masher

To get the most out of the Easter holiday, be sure to check out our other seasonal posts including Easter Jokes for Kids, Birds Nest Rice Krispie Treats, Easter Books for Kids or Non Candy Easter Basket Fillers for Boys