A quick and easy ice cream cake recipe that you can change up with different flavours every time you make it!
Last year my oldest asked for an ice cream cake for his birthday. Since we were actually having his party at Chuck E Cheese's, it just wasn't possible and he got these Minecraft Creeper Cupcakes instead. So this year, I knew I would plan an ice cream cake just for him. I found a few different recipes on pinterest and took the parts I liked from each one and mashed them all together to create this quick and easy Ice Cream Cake recipe that everyone loved!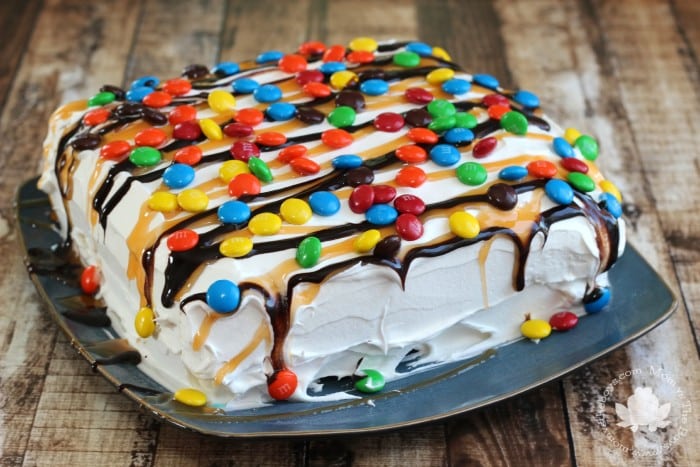 It really turned out amazing!!! So fast and easy to prepare, looks colourful, and the best part – it tastes great!!
Once you cut into the cake, it's a pretty impressive site to see all these layers of cookie and ice cream!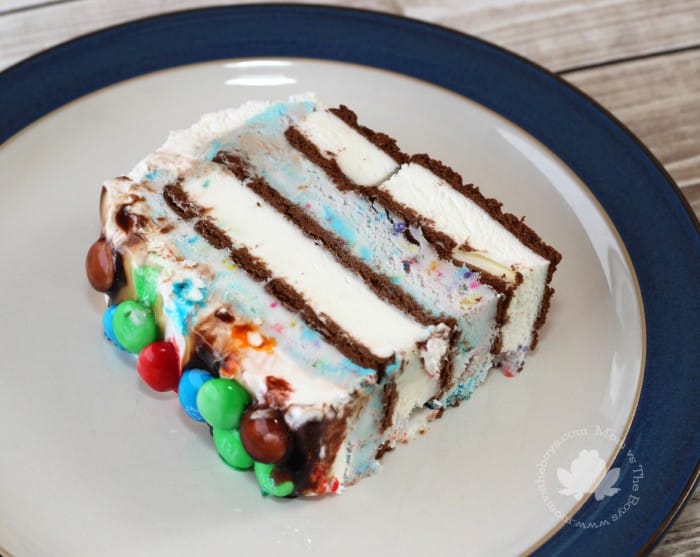 So let's build an Ice Cream Cake shall we?
Quick and Easy Ice Cream Cake Recipe
You'll need
10 Ice Cream Sandwiches
1 box of ice cream, any flavour, softened
1 tub of whipped cream
Ice Cream sundae syrup (I used both chocolate and caramel)
1 bag of M&M's
Assembly Instructions
Find a pan you want to make the cake in, this will be the shape of your cake, a loaf pan might work well. Line it with plastic wrap.
Next layer your ice cream sandwiches to fit into the pan. This may require cutting a sandwich or two.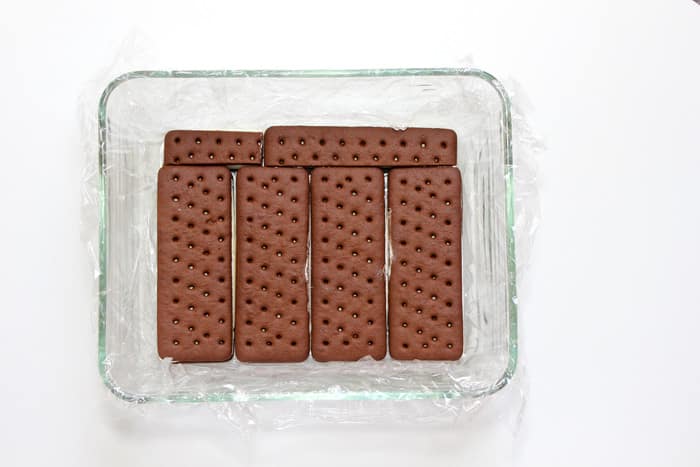 Now which ice cream flavour did you choose??? I went with Birthday Cake Ice Cream! How fitting is that? It's also a blue swirl which is my son's favourite colour so it worked out perfectly! Spread the softened ice cream on top of the sandwich layer.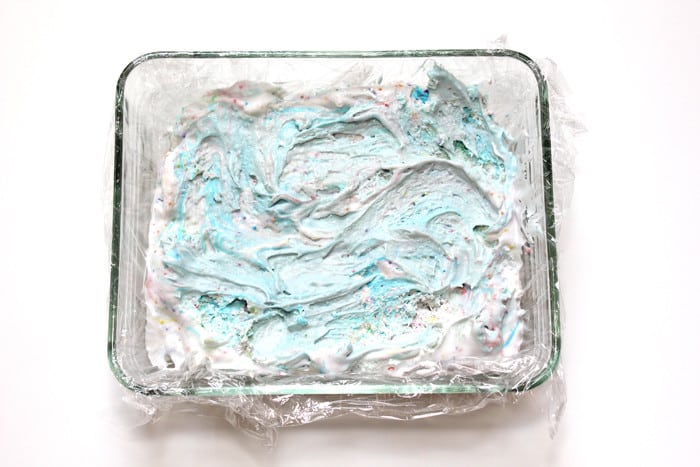 Now repeat. If you had to cut sandwiches like I did, switch sides for the cut pieces to give it some stability. Smooth the ice cream, fold the plastic wrap to cover and place in freezer until set, at least two hours or overnight. I really liked that I could make this part the day before.
When you are ready to decorate, remove the cake from the freezer. Pull the plastic wrap up, bringing the cake up and out of the container and flip onto a serving platter. Discard the plastic wrap. Frost with whipped cream, like you would a regular cake.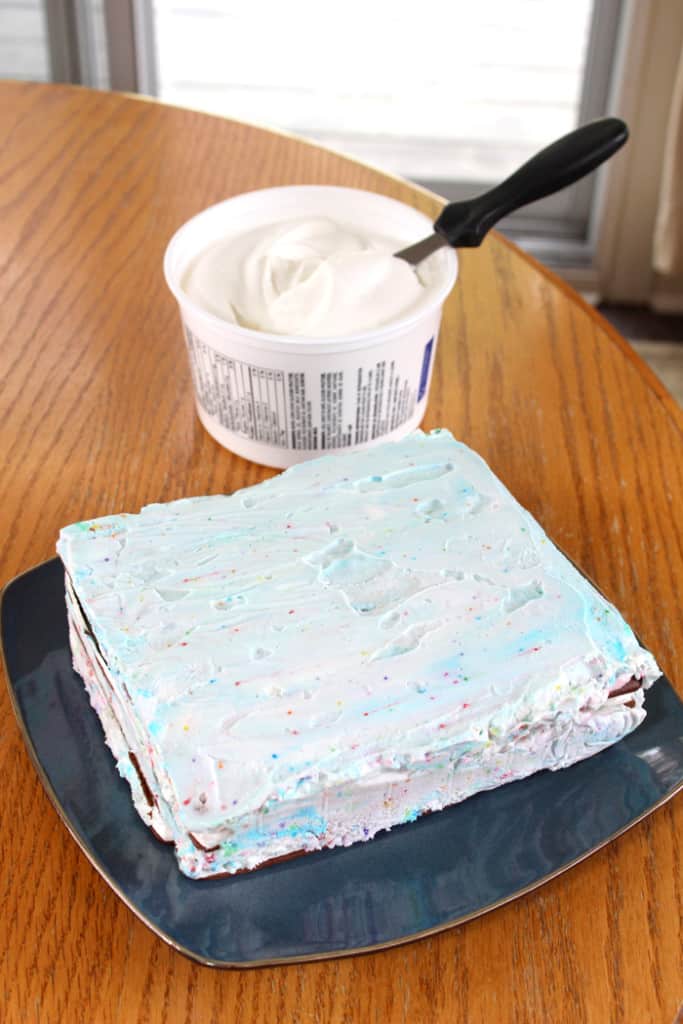 For a finishing touch, drizzle with sundae syrup and sprinkle with bright and colourful M&M's, now that's a party cake!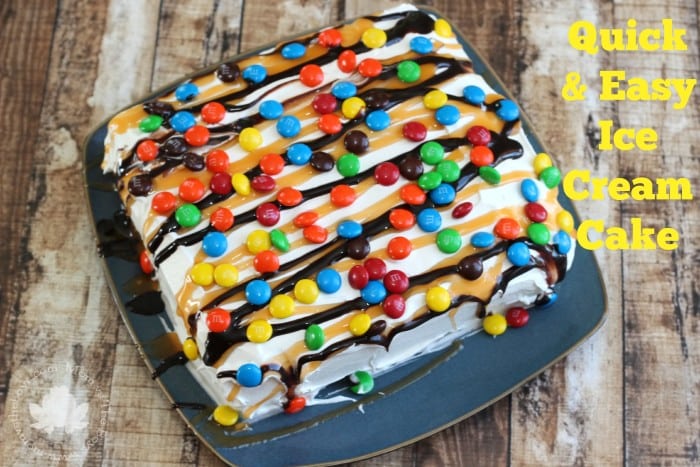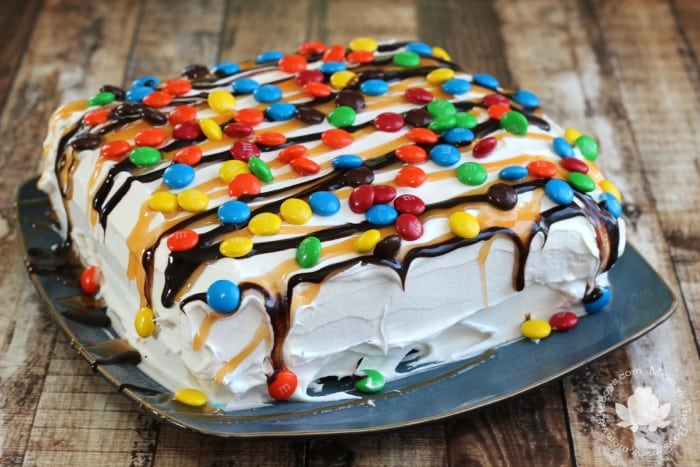 The cake was a big hit with the birthday boy who was turning 9! Where did all those year go????? I cannot believe I have a 9 year old, next year is double digits!! Gah!!! sloooooow Doooooown!!!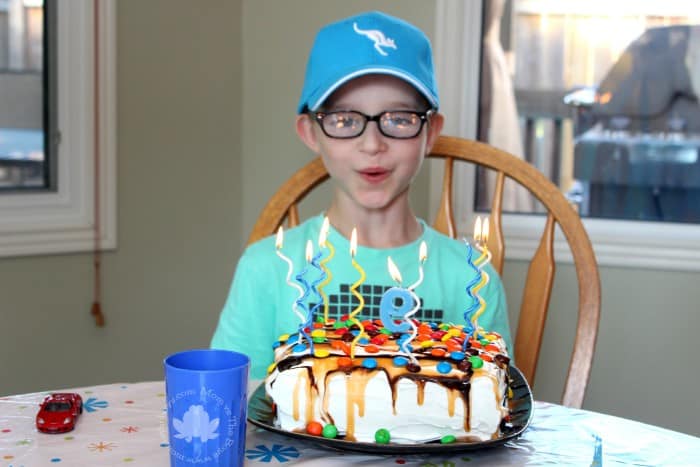 I really loved how versatile this basic recipe is. By changing up ice cream flavours and toppings, you can make a new and interesting cake every time. I even saw ice cream sandwiches with bright coloured ice cream and a vanilla cookie shell the other day, so the options really are endless!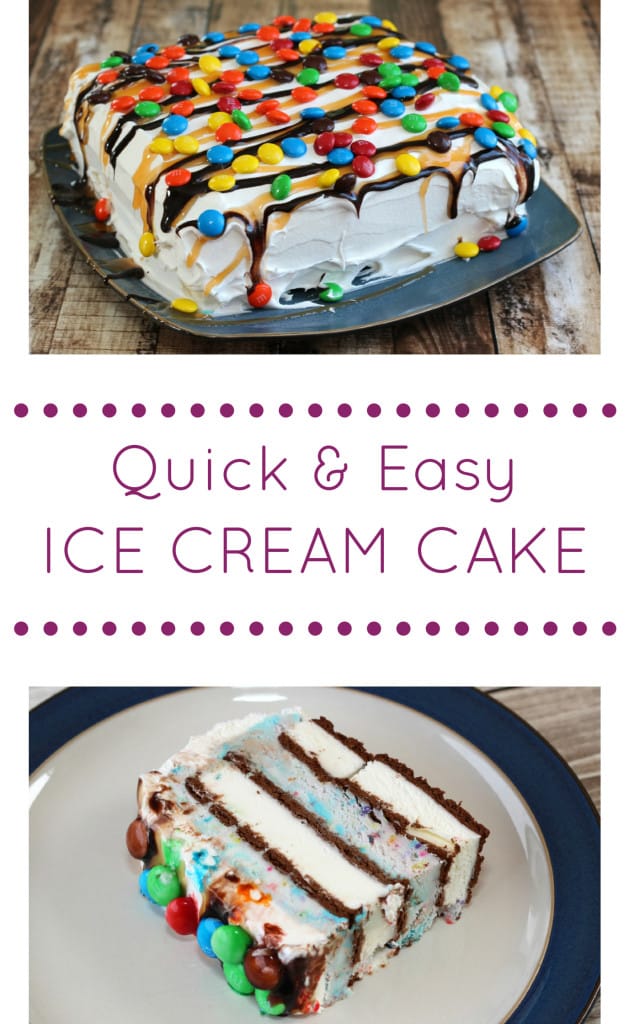 Ice cream cakes are perfect for summer gatherings and birthday parties any day of the year!
Here's another easy ice cream cake recipe to try!