This post is in partnership with Canadian Turkey, I have been compensated to share this recipe and Thanksgiving tips with you. All opinions on this blog are my own.
Even though summer's warm temps seem to be hanging on a little later this year, we can tell by the changing leaves that fall is indeed here. After the cool and rainy start to summer we had, I don't think anyone is complaining and it's always nice to visit the orchards, pumpkin patches and fairs with nice weather. The crisp air and morning frost will be here soon enough and so will my favourite Canadian holiday, Thanksgiving!
This Thanksgiving season, make Canadian Turkey the centerpiece of your family celebrations!  Whether you are feeding a large crowd or making an intimate dinner for two, there are many different ways to prepare a turkey meal that fits your unique needs.   
If you aren't having a large crowd for the holidays there are still plenty of options for serving 100% Canadian Turkey. For a family of 4 or 6, roasting a half turkey can be a great way to celebrate!  A half turkey cooks up just as delicious and festive as a whole bird.  For single parents, empty nesters, or romantic couples looking for that traditional inspiration, Canadian Turkey has compiled a large library of delicious options.  A turkey breast can be butterflied, rolled and roasted, and served with stuffing on the side to make a gorgeous feast on a smaller scale. Try this Sundried Tomatoes and Greens Turkey Breast Roast below!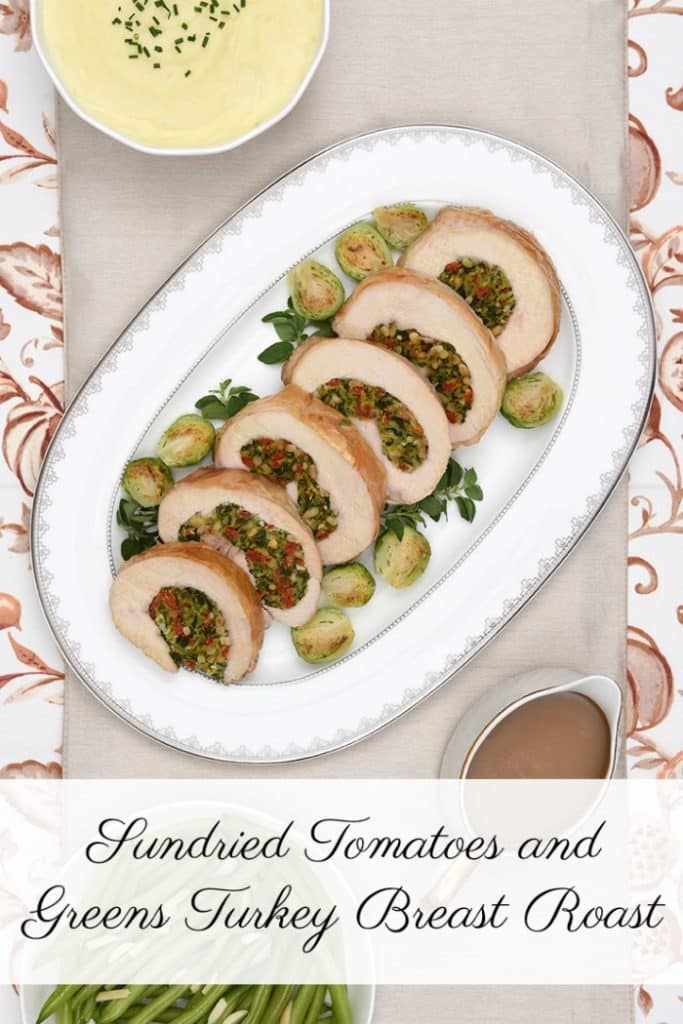 Sundried Tomato & Greens Stuffed Turkey Breast Roast
Serves: 4 – 6 people
Prep time: 45 mins.
Cook time: 60 – 75 mins.
Ingredients:
3-4 lbs. large boneless Canadian turkey breast
1 tsp. olive oil
1 cup panko breadcrumbs
2 heads rapini
12-15 sundried tomatoes, diced
3 garlic cloves, sliced thinly
2 eggs, beaten
3 tbsp. Parmesan cheese
½ cup toasted pine nuts
½ cup white wine
½ tsp. each ground rosemary, sage and thyme
Salt and pepper to taste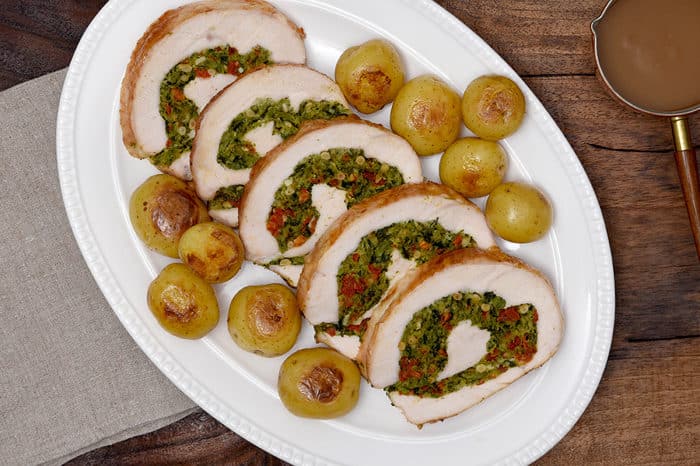 Instructions:
Wash the rapini and trim the stems.
Heat a large pot of salted water until boiling. Add the rapini and boil for 5 minutes until they are tender and cooked through.  Drain and set aside to cool.  Once the rapini have cooled, chop roughly.
Butterfly the turkey breast. To butterfly, turn the turkey breast over, skin side down and lay it flat on your cutting board.  Using a sharp knife, position it parallel to the meat.  Cut through the thickest part of the breast along the full length of the breast but not all the way through, leaving about ¾ of an inch intact.  Unfold so the meat opens like a book.  Cover with plastic wrap and pound any thick areas with a meat mallet until the breast is fairly even in thickness.
Season the turkey breast with salt and pepper to taste. Sprinkle with herbs. 
Heat olive oil in a non-stick fry pan over medium heat. Add rapini, salt and pepper to taste and garlic.  Sauté for 2 – 4 minutes.  Remove from heat and let cool.
To make the stuffing, add sundried tomatoes, rapini, panko, pine nuts, parmesan cheese and eggs to a bowl and mix to combine.
Spread stuffing mixture evenly across turkey breast. Roll up into a roast and tie with butchers twine to secure.
Place roast and wine in a roasting pan. Roast in the oven at 350°F for 1 hr. – 1 ¼ hr. until the roast is cooked through and a meat thermometer reads 165°F (74°C).
Rest for 20 minutes before slicing and serving.
TIP: You can substitute any of your favourite greens for rapini in this recipe.  Try using spinach or Swiss chard if you have these on hand.  Leftover roast makes a great sandwich for lunch the next day.  Take a piece of roast and some sliced tomatoes and serve in a bun.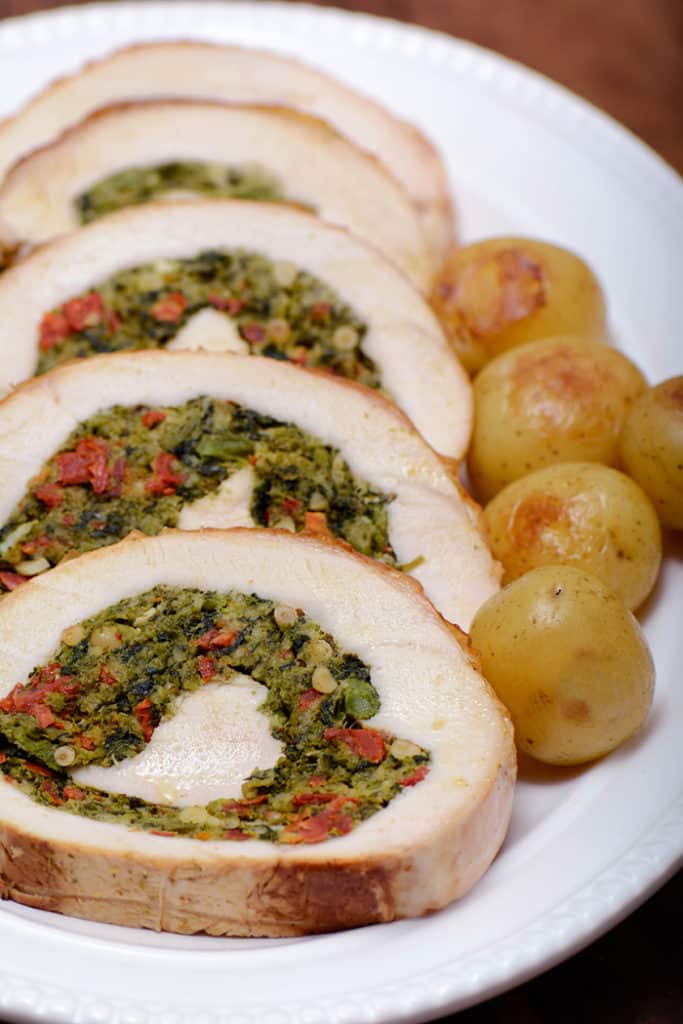 I'll admit that roasting a whole turkey can seem intimidating at first, but the Canadian Turkey website has made it easy with their Turkey Basics videos. These step-by-step videos will break down the basics so you can master all the steps needed to make that perfect roast Thanksgiving bird.  You'll be surprised at how simple it can be to create a special celebration meal with these foolproof tips and easy-to-follow directions. 
One of my favourite things about roasting a whole turkey is having delicious leftovers that are perfect for feeding your family later on during the week.  It's like making two or even three meals in one!  Turkey leftovers give you so many options for making a new and tasty main meal for your family.  Pairing well with many flavours, you can use your favourite spices and other familiar ingredients to make delicious meals your family will love. And don't forget that the leftover bones make amazing stock or soup!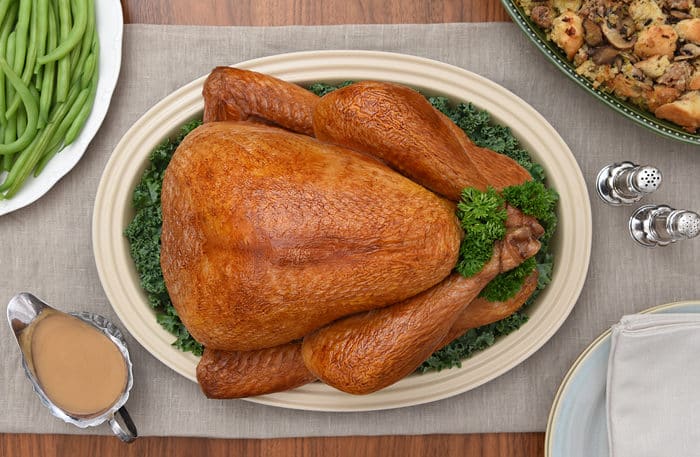 5 WAYS TO MASTER THANKSGIVING PREP AND PLANNING
1- Get a head start on your meal! You can prep all of your staples like onions, celery and carrots up to 3 days beforehand.  Dice and store in storage bags.  Green beans, squash and salad greens can be washed, trimmed, and chopped beforehand.  Store these in storage bags for ready-to-cook sides.
2- For a large, crowd consider serving a buffet-style meal. Spread your dishes out in the kitchen or dining room and let people self-serve and mingle while they eat for an easier-to-serve, fun meal with a casual feel.
3- To cut down on cooking time, cook your stuffing on the side. This way you can get more of your favourite crunchy bits while cutting down on cooking time in the oven.
4- Plan ahead and make a 'smart' shopping list. Organize it by staples you can buy in advance and perishables you need to buy a few days before, then organize according to sections of the grocery store.  This will make grocery shopping a breeze and save you precious time.
5- Look for make-ahead sides that you can make a day or two beforehand and taste delicious re-heated. Bookmark a website with delicious and reliable turkey recipes and resources, likeca, so you're ready for the big day!
Canadian Turkey makes your Thanksgiving simple with all the recipes and Turkey Basics you need. Just visit www.canadianturkey.ca to find the perfect recipe and create your Thanksgiving tradition!
To help you prepare the perfect holiday table, Canadian Turkey has one $75 Hudson's Bay e-gift Card to give away to a lucky reader (redeemable at The Bay, Home Outfitters, or thebay.com) Giveaway is open to Canadian residents only, enter below.