If you love decorating with a rustic woodland theme, you'll have a lot of fun painting your own Wood Slice Ornaments. Once you have your wood slices cut from a branch and dried, painting scenes and characters are quick and easy and a whole lot of fun. 
I  had my husband slice a fallen branch in our backyard and just laid out each piece over a heat register for a couple of days. You might also find slices ready to go from your local craft store.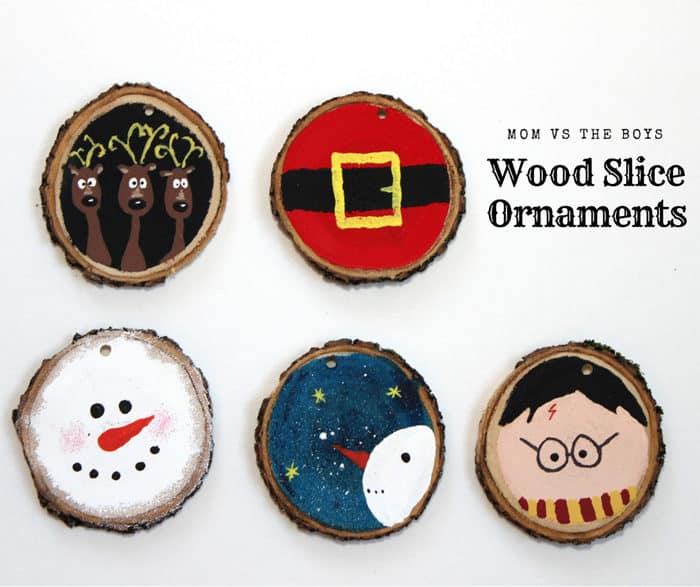 I used acrylic paint, but could also probably get by just fine with craft paint. Small thin paint brushes are best, but you can also achieve really fun designs by being creative with sponges and toothbrushes as well.
The options are endless on what to create, to get inspired you can always cruise through pinterest or even old Christmas cards for scenes and designs. The reindeer I painted I saw done on a pot and couldn't resist replicating it onto my ornament to represent my three silly boys.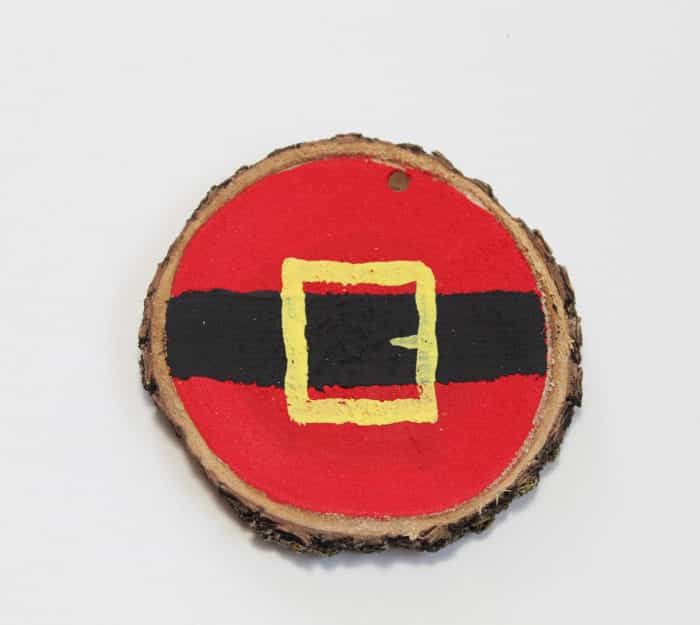 You don't have to be an artist to create fun wood slice designs, in fact kids might even have the most fun letting their creativity run wild. This Santa design is very simply done by painting the surface red, a solid thick black line through the middle and a gold box for the belt buckle. 
You'll need to wait for each layer to dry before adding next so you can be working on a few at a time. The dry to touch time is very short with acrylic paint.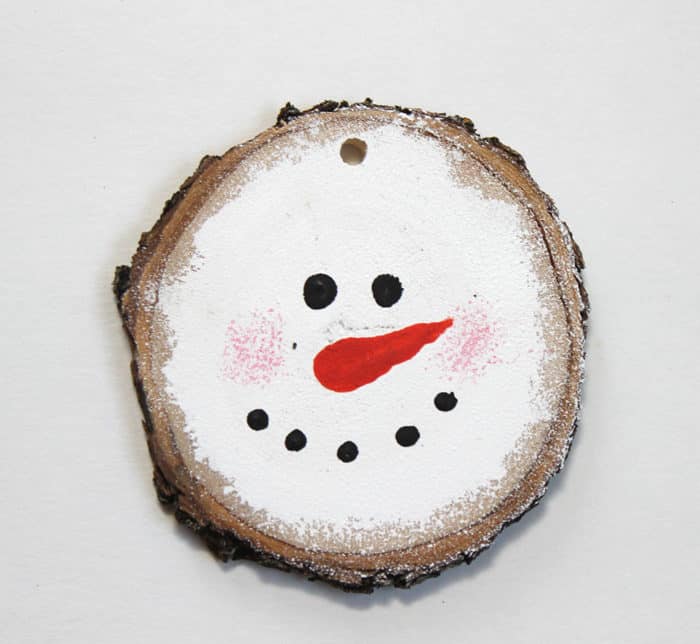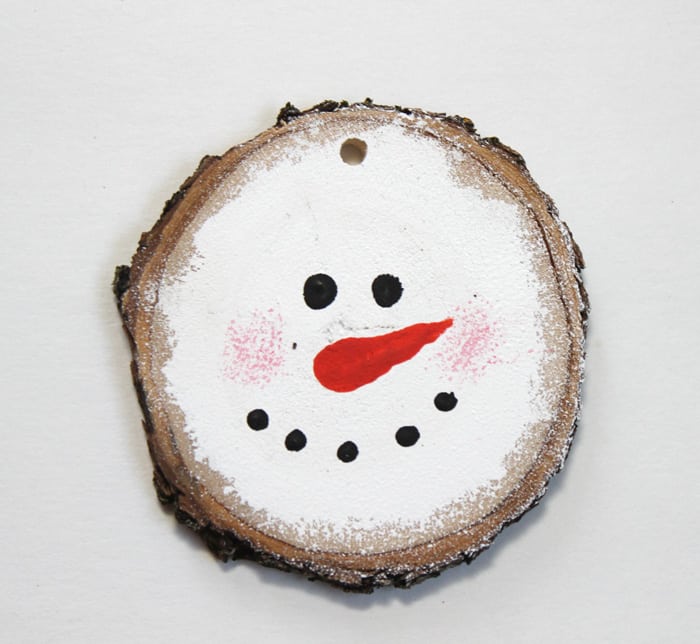 For the snowman I used a small sponge to pat the white paint on as a base layer and also used a tiny sponge to add some rosy pink cheeks. To create the eyes and mouth, turn your paintbrush upside down and dip the end into black paint. The non brush end, creates perfect dots.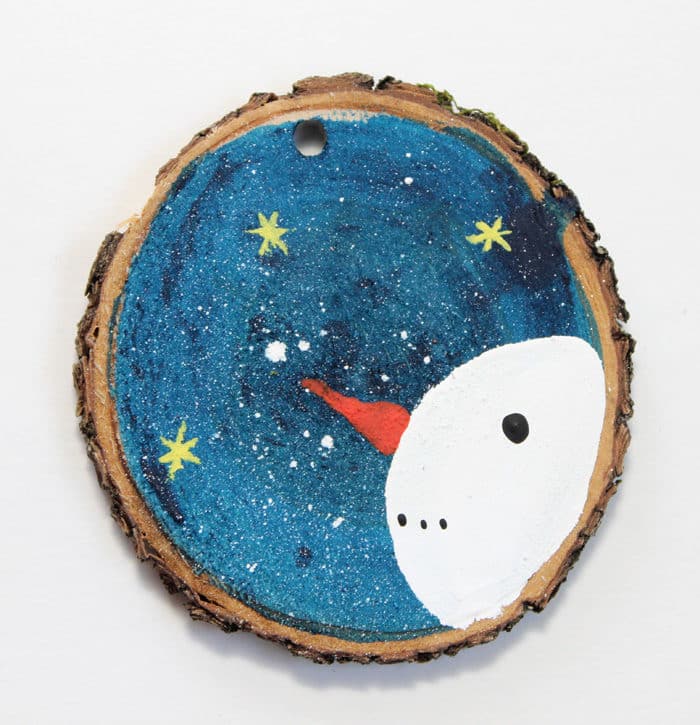 I used a solid navy colour for the sky in this one, but I love how the variation in the wood created lighter and darker spots like a real night sky. Using a toothbrush (we keep one in our craft supplies that we got for free from the dentist. Don't use a used one) we splattered one paint onto the sky to look like snow falling. It's a fun effect!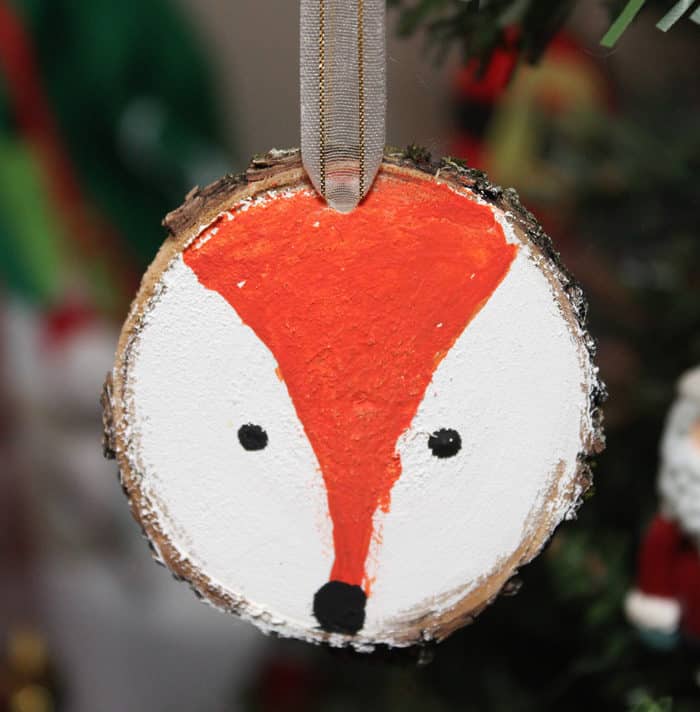 My 8 yr old created this adorable woodland fox! Start by painting the full surface white, when dry, draw a V shape and fill it in with orange paint. Again, turn your paintbrush upside down and use the other end to dip into black paint for the eyes and nose. Just move the paintbrush around in circles to make a bigger dot with the black paint for the nose.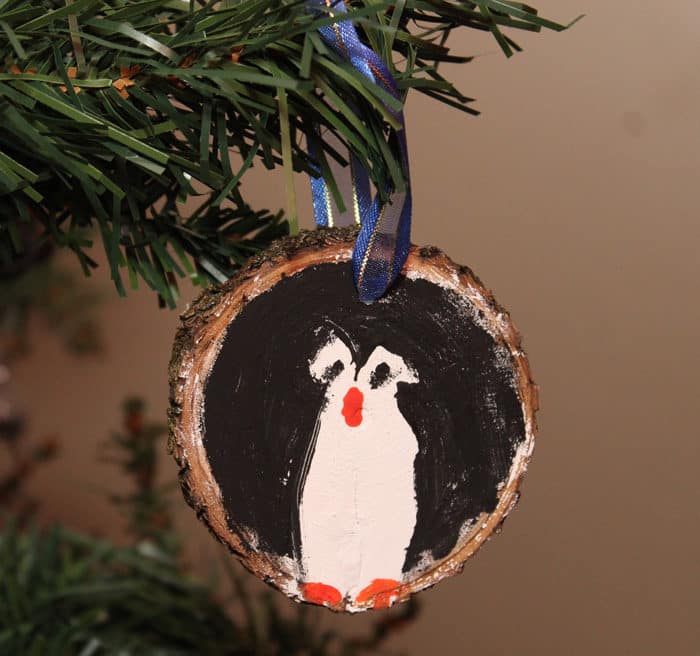 Wood slice painting is a lot of fun for any age and skill level. I like to write the boys' initials and the year on the back with a sharpie so we can look back on these as we hang them each year and remember who made each one and how old they were. They make great keepsakes for your own tree, a personal gift for a grandparent or loved one and they are fun to use as gift tags or decorations on holiday cards and presents.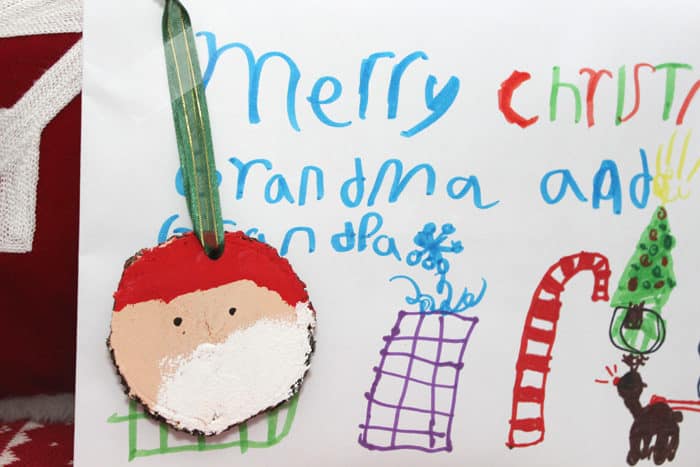 Pin this Christmas Craft!