It's hard to believe it's February already! Usually January kind of drags on for me, but this year it seemed to slip by in a hurry. At least it's winter though right? No one wants the warm weather months to rush past too fast. To help prep your kiddos for classroom Valentine's Day parties coming up, we've been working on some really fun DIY Heart Shaped Crayon Valentines that are perfect for the classroom. 
Do you have a ton of nasty old crayons laying around like we do? Our crayon collection has grown over the years and we had a whole ziplock bag bulging full of broken crayons that had seen better days. We decided to repurpose them into a fun little heart shaped crayons that their friends can actually colour with! To make them giftable, we designed a cute little Valentine's Card to go with them and we've got it all ready for you to use too just by hitting print!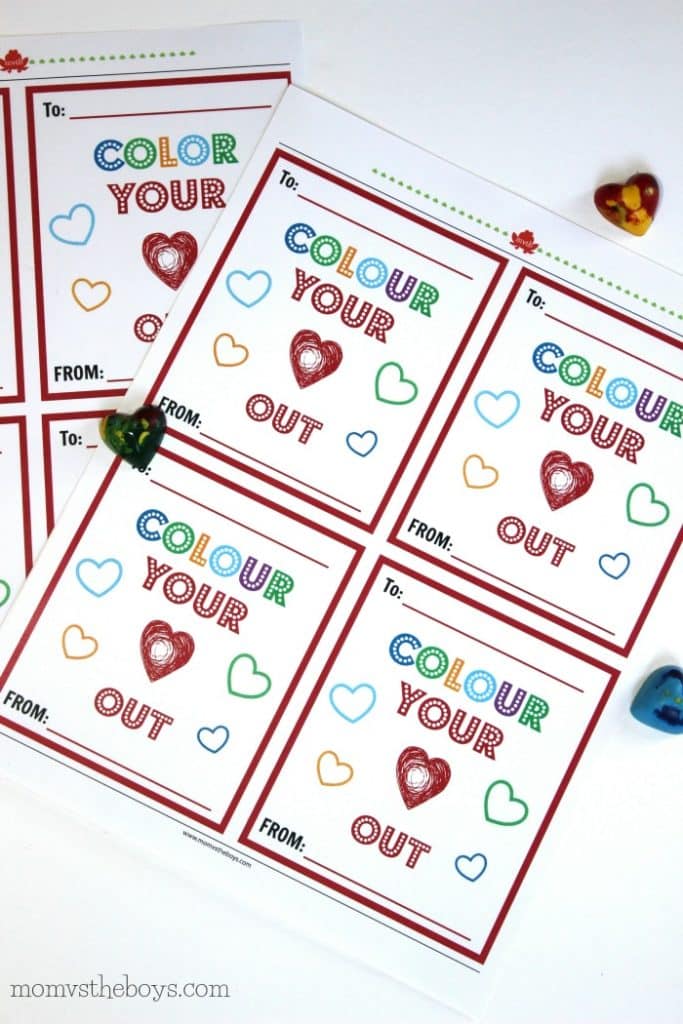 Aren't they cute? The Heart Shaped Crayon Valentines have bright colours that are still kind of boyish and not too mushy. Boymoms you know how boys can roll their eyes at all the pink and  lace the day of love tends to receive! Friends take note of the two different versions on the spelling of COLOUR/COLOR. Regardless of what country you are visiting from, I've got you covered and created one printable with each spelling.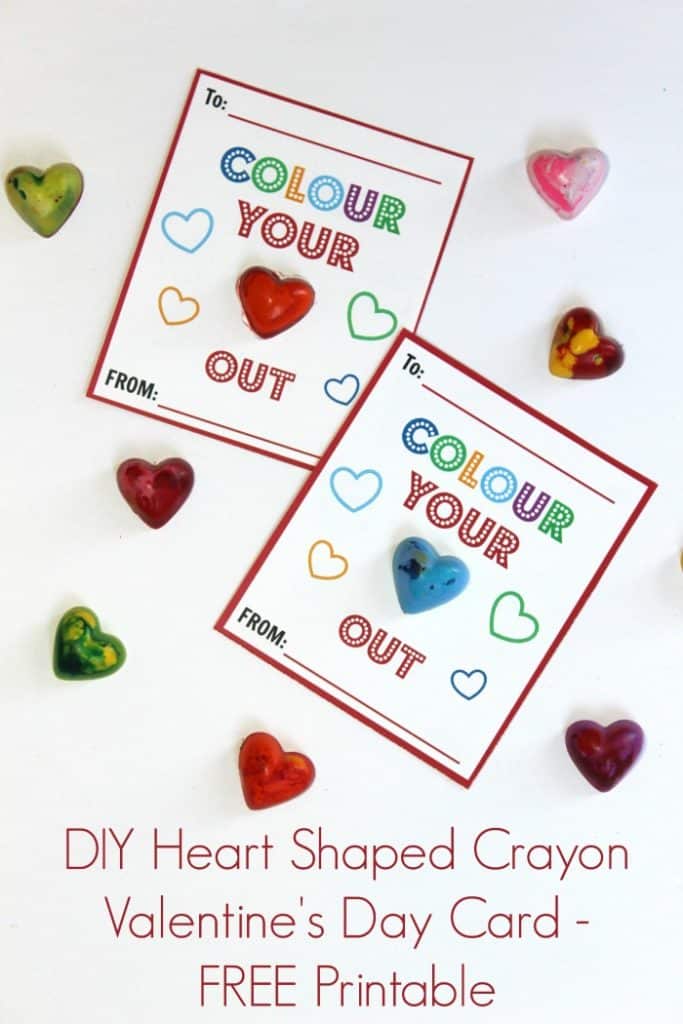 DIY Heart Shaped Crayon Valentines with Printable
You'll Need
Crayons (no need to use new ones, the old broken ones are perfect)
Knife
Silicone (oven safe) mold
Oven
Glue Gun
Colour Your Heart Out Printable or Color Your Heart Out Printable
Card Stock Paper
Directions
Pre Heat oven to 220 F.
Separate crayons into colour categories such as yellows and oranges, blues, pinks and reds etc. You don't HAVE to do this, but it does make a prettier crayon if the colours co ordinate.
Using a cutting board and knife, cut the old crayons into smaller pieces to fit your molds. I'm using small heart shaped molds from Trudeau but you can also find other sets that are a little less expensive on Amazon like this one or this one, or you can even check your local dollar store or walmart. They are pretty common.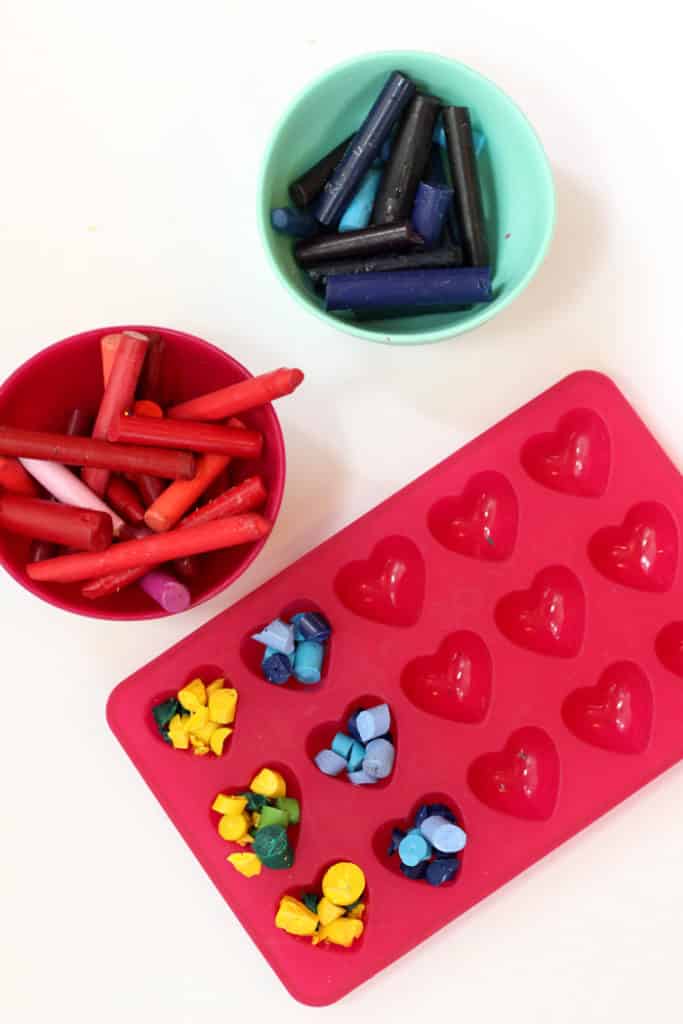 You'll want to overfill your mold. The crayon will melt down and settle lower. The more full they are the less of a dent you'll get in the back of the crayon and the easier it will be to secure to the card.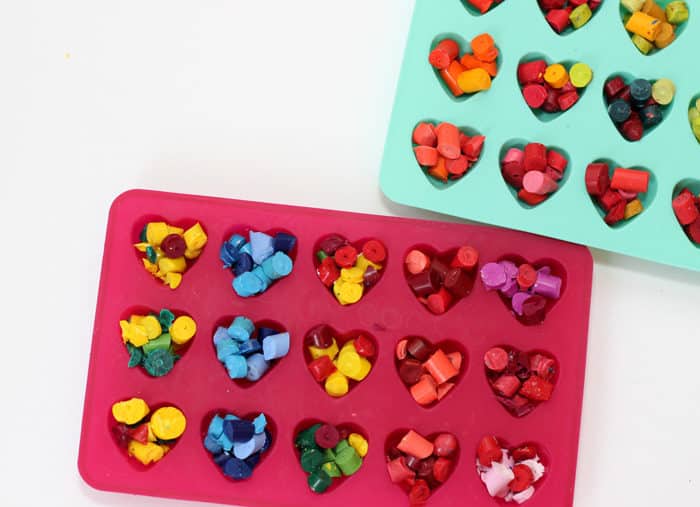 Place the silicone molds on a foil lined cookie sheet and pop into the oven. The foil is just to protect your sheet in case of a wax spill. 
Watch your molds carefully, different sizes and shapes of molds will need different times. I found these small hearts only needed 5 min, but we also made Star Wars Crayons that used a larger deeper mold and those ones took at least 15 min.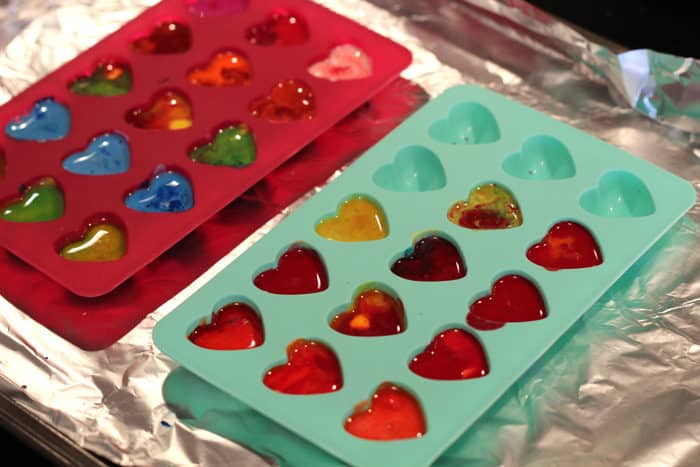 Once the wax has turned liquid, remove the sheet from the oven and let cool. If you live in a cold climate like us up North here, you can pop the whole sheet outside in the cold to speed up the cooling (we just placed the sheet on the back deck to cool) or you could also use a fridge as well once your sheet has cooled some.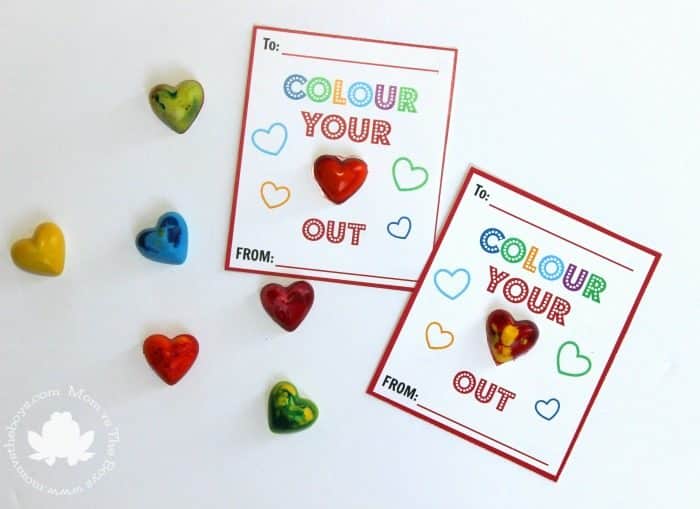 Once the wax has cooled completely you can unmold them and ohhh and ahhh at all the pretty colour designs you created. The blues were by far my boys' favourite combo.
For the COLOUR YOUR HEART OUT printable click HERE
For the COLOR YOUR HEART OUT printable click HERE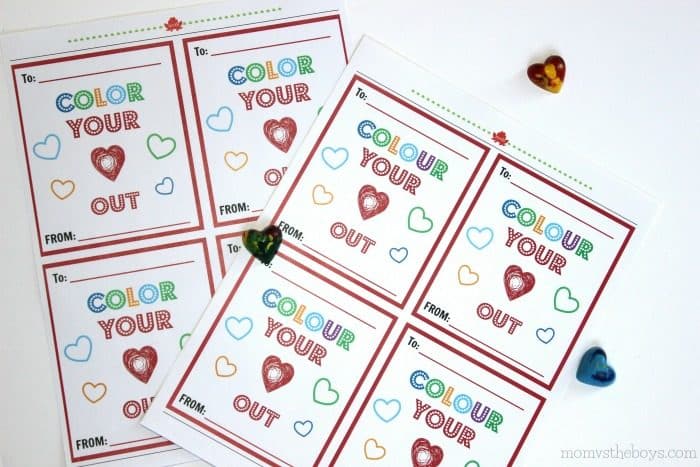 The printables have a line for your child to print their classmates name as well as their own. It also features a cute scribble heart in the middle so if you wanted to use these without the crayon you could but it also gives you a little guide on where to stick the crayon heart. 
Use caution when securing the crayon hearts with a glue gun and make sure it's an adult doing this job. Because the wax tends to resist the glue you'll want to put the glue on the paper first not the crayon. Trust me, I learned this the hard way when the hot glue slid back off of the crayon and onto my hand. OUCH! So using the glue gun make a small blob or draw a glue heart on the paper and press the crayon heart into it, holding it firmly until it dries and holds. 
TIP: Don't put the glue directly onto the crayon heart, squeeze the glue onto the paper and press the crayon into it.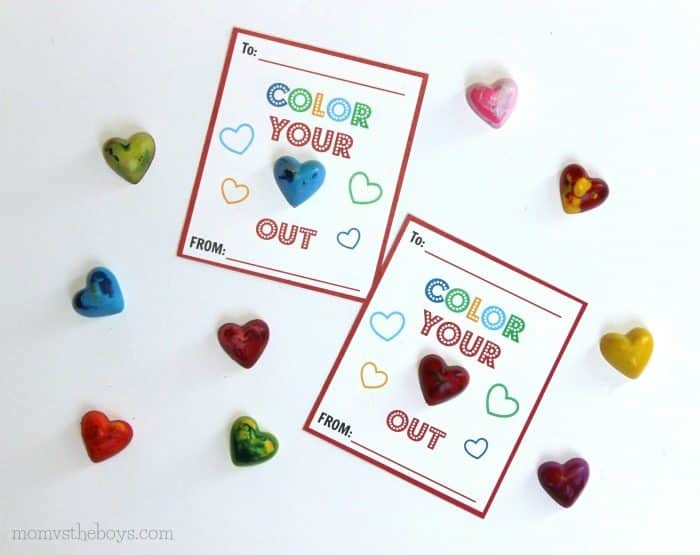 The boys were really impressed with themselves seeing the final product, they really turned out great and the new crayons are fun to colour with!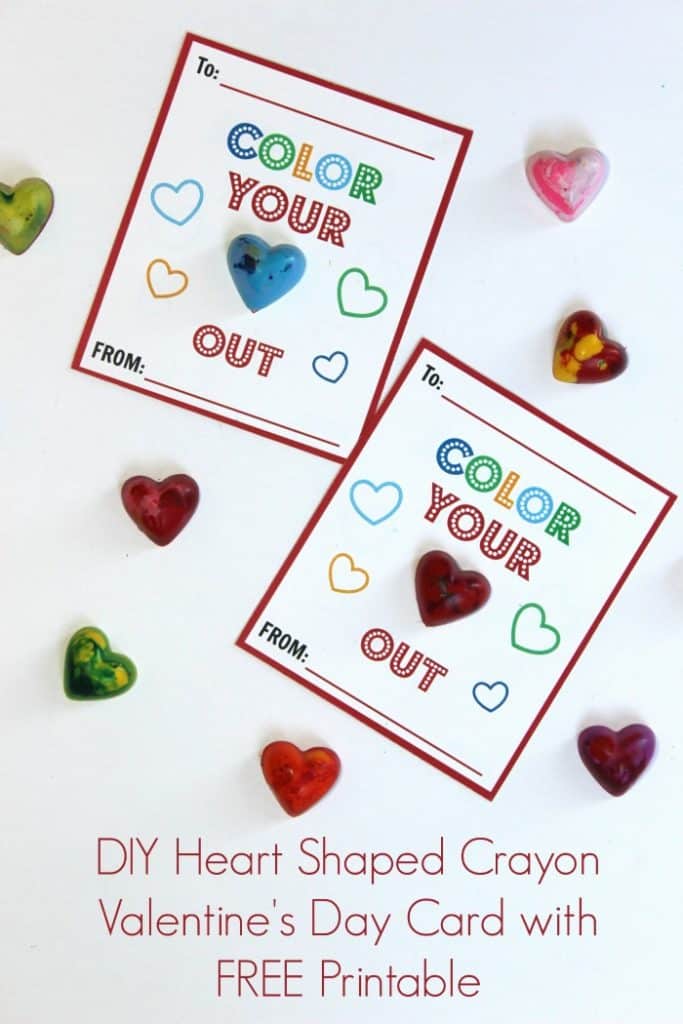 The crayons are a fun alternative to candy or chocolates on a holiday that is already overloaded with sweets, but if your kiddo has his heart set on a treat Valentine, check out these options below that also come with a free printable.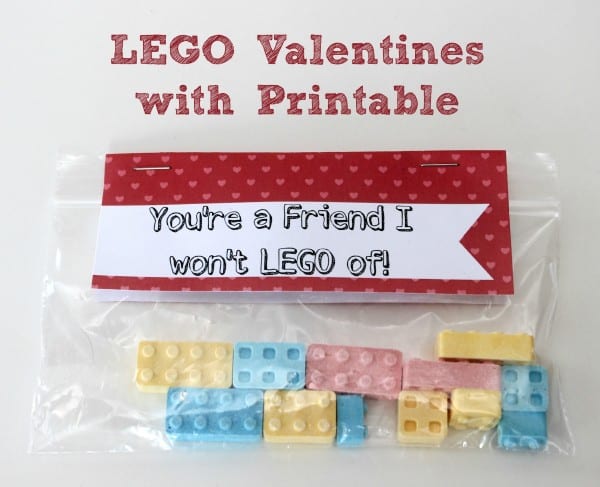 LEGO Candy Valentine Bag Topper Printable