Rubber Duckie, you're the one,
You make bathtime lots of fun,
Rubber Duckie, I'm awfully fond of you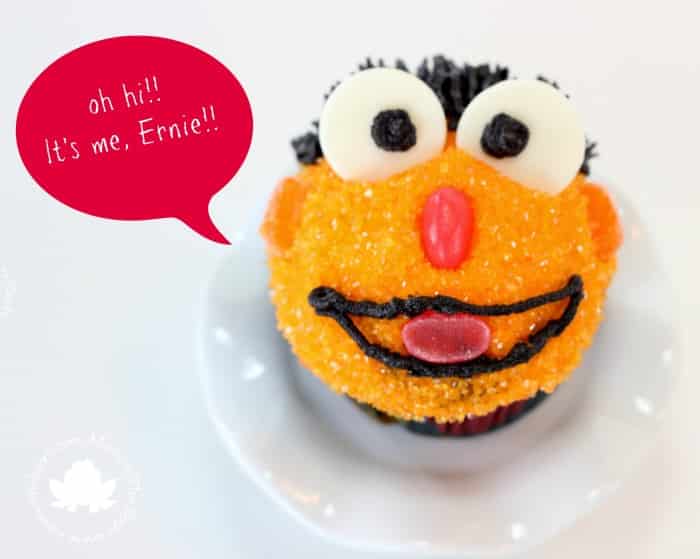 Oh hey there guys, it's me Ernie! I'm just taking a break from my bubble bath to share with you a delectable delight from the Mom vs the Boys crew! Who's your favourite Sesame Street resident? (please say me, please say me, please say me) It's me???? Fabulous! Because guess who carefully constructed the world's most handsome cupcake? These guys right here!!
I just know you'll want to make one too, because, HELLO???? CUTE!!! and you're in luck because we're sharing the instructions right below!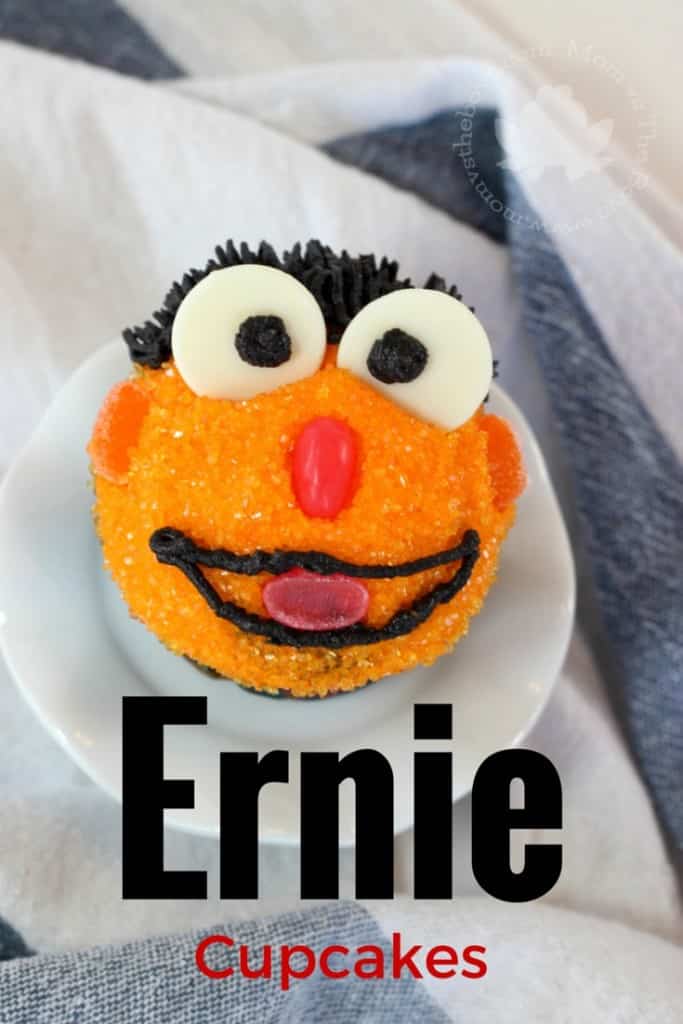 Sesame Street Ernie Cupcakes
You'll Need
Cupcakes in any flavour
Orange buttercream icing
Orange sugar
Black buttercream icing
2 white chocolate candy melts
Jelly beans or other small candy in red and orange
Directions
Icing the cupcakes using the orange buttercream. Place the orange sugar in a bowl so that it covers the bottom. Turn the frosted cupcake upside down into the bowl and swirl it around until covered evenly in sugar. 
Starting with the eyes, use the black buttercream to give Ernie some pupils. Use a writing tip and just make a large black circle, insert into cupcake. With the same tip, draw on a large open mouth.
Swap out the tip for a 'grass' tip and pipe on some bushy hair above the eyes. 
Using a whole or half jellybean, add on a nose and tongue. Same for the ears with an orange one (these are actually those jelly orange slices you see above because we had them on hand for the chick cupcakes)
Every day when I
Make my way to the tubby
I find a little fella who's
Cute and yellow and chubby
(rub-a-dub-a-dubby!)
Thanks for checking these out, I'm heading back to the bath with my duckie! If you love my crafty cupcakes, check out these other Sesame Street cupcakes too!