Star Wars fans will love making their own Star Wars Crayon Valentines to hand out to all of their allied forces. Whether they join the Jedi's or the Dark Side, kids will have a blast melting down their old and broken crayons to make these one of a kind Star Wars crayon valentines. We've created 4 valentines printable sheets to make giving them out on Valentine's Day a breeze.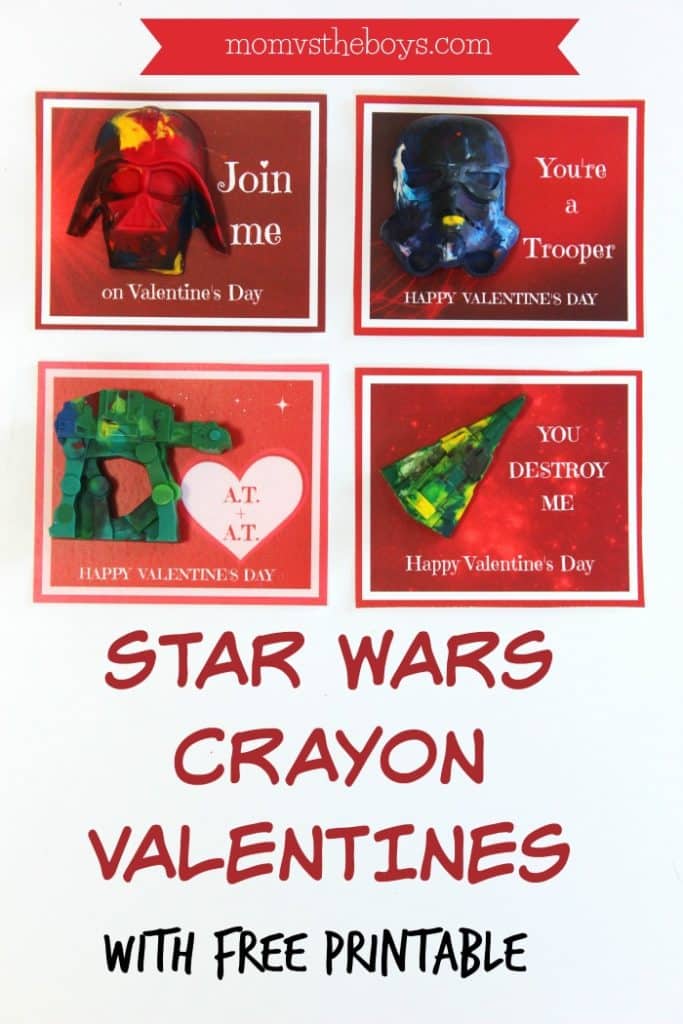 Star Wars Crayon Valentines with Printable
You'll Need
Crayons (no need to use new ones, the old broken ones are perfect)
Knife
Silicone (oven safe) Star Wars mold (I used the Think Geek Stars Wars Ice Cube Trays)
Oven
Glue Gun
Star Wars Valentines Printables
Card Stock Paper (The crayons will be heavy so you'll want a nice thick weight of paper to hold them)
Directions
Pre Heat oven to 220 F.
Separate crayons into colour categories such as yellows and oranges, blues, pinks and reds etc. You don't HAVE to do this, but it does make a nicer crayon if there is only a couple variations in colour. We did a bit of both. 
Using a cutting board and knife, cut the old crayons into smaller pieces to fit your molds.
I used the Star Wars Ice Cube Molds from Think Geek, despite being labelled ice cube molds, they are made out of silicone and are both oven and dishwasher safe. They come with two trays of the 4 designs (2 designs per tray) and retail around $9.99 though I've seen them on sale for as low as $1.99 (like right now!) so they are very affordable. The molds are really fun to have around, not only can you use them for ice cubes and crayons but you can make Star Wars chocolates or even soaps with them too!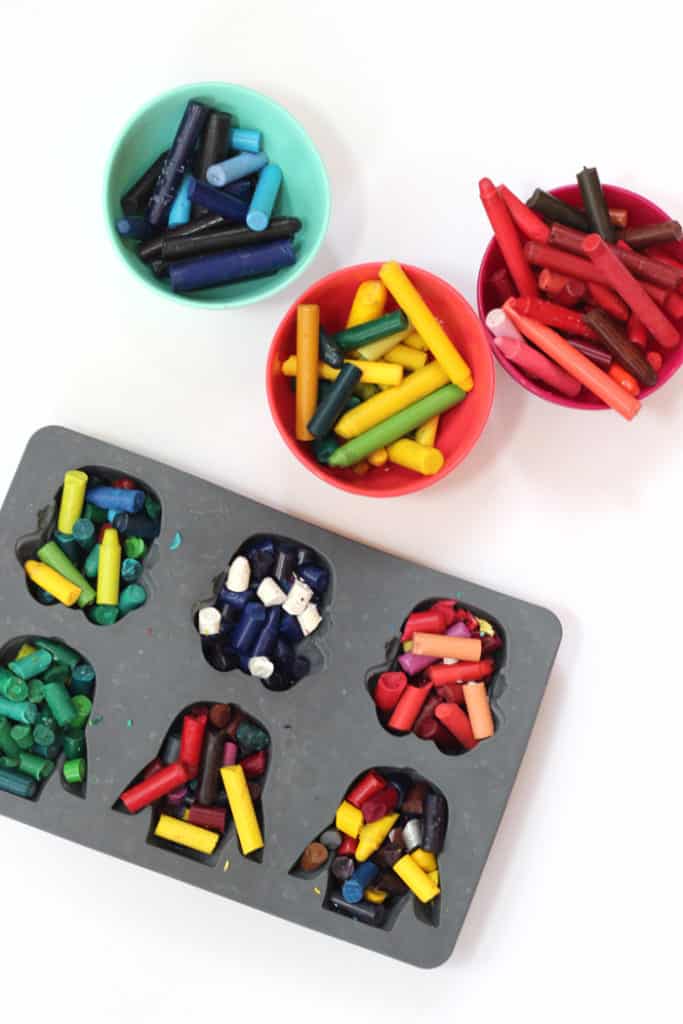 You'll want to overfill your mold. The crayon will melt down and settle lower. The more full they are the less of a dent you'll get in the back of the crayon and the easier it will be to secure to the card. 
Place the silicone molds on a foil lined cookie sheet and pop into the oven. The foil is just to protect your sheet in case of a wax spill.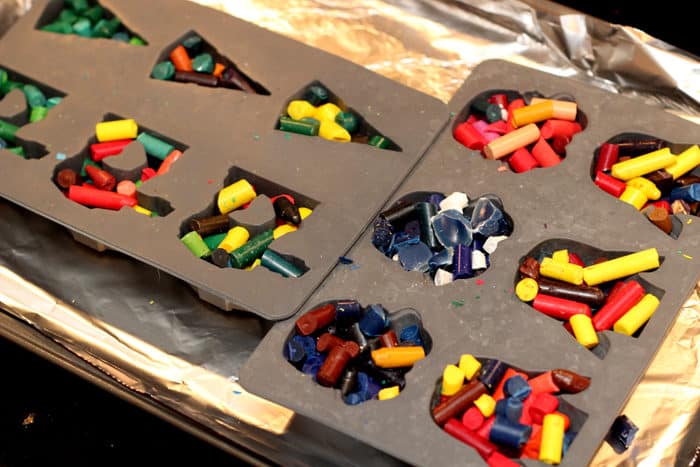 Watch your molds carefully, different sizes and shapes of molds will need different times. These Star Wars molds are large and deeper and  took about 15 min. (when we made these heart crayon valentines, they only took around 5 min.)
Once the wax has turned liquid, remove the sheet from the oven and let cool. If you live in a cold climate like us up North here, you can pop the whole sheet outside in the cold to speed up the cooling (we just placed the sheet on the back deck to cool) or you could also use a fridge as well once your sheet has cooled some.
Once the wax has cooled completely you can unmold them and ohhh and ahhh at all the cool colour designs you created. It's really amazing how much detail comes through, they unmolded perfectly!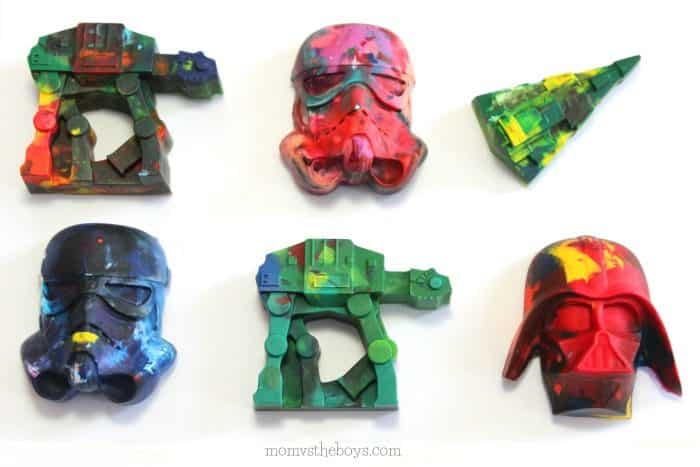 We designed 4 different printables to go with this Star Wars Crayon set. You can print one page for each design or choose to print a mix page 
You Destroy Me – for the Star Destroyer
A.T. + A.T. – for the AT AT 
You're a Trooper – for the Storm Tropper
Join Me on Valentine's Day – for Darth Vader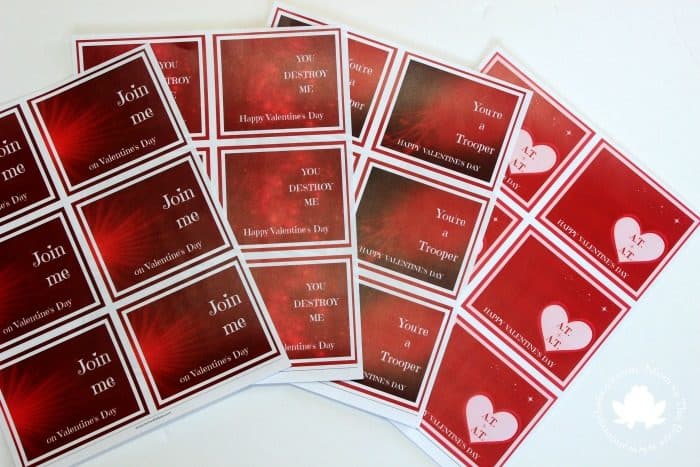 Kids can write their To: and From: on the back of the cards before the crayons are attached. 
Use caution when securing the crayons with a glue gun and make sure it's an adult doing this job. Because the wax tends to resist the glue you'll want to put the glue on the paper first not the crayon. Trust me, I learned this the hard way when the hot glue slid back off of the crayon and onto my hand. OUCH! So using the glue gun make a small blob on the paper and press the crayon  into it, holding it firmly until it dries and holds. 
TIP: Don't put the glue directly onto the crayon heart, squeeze the glue onto the paper and press the crayon into it.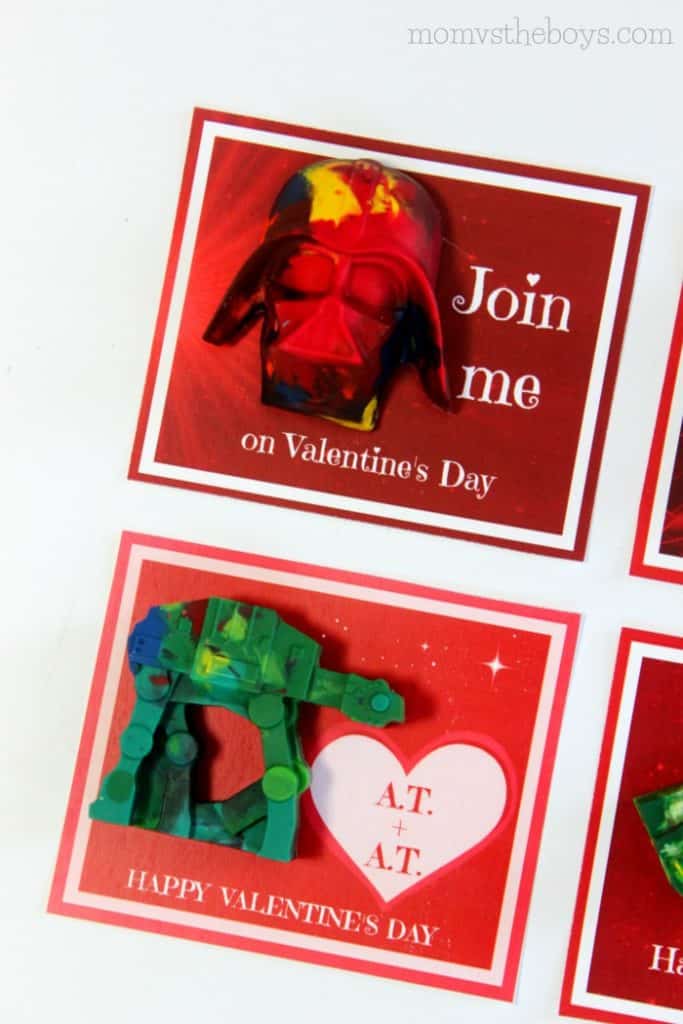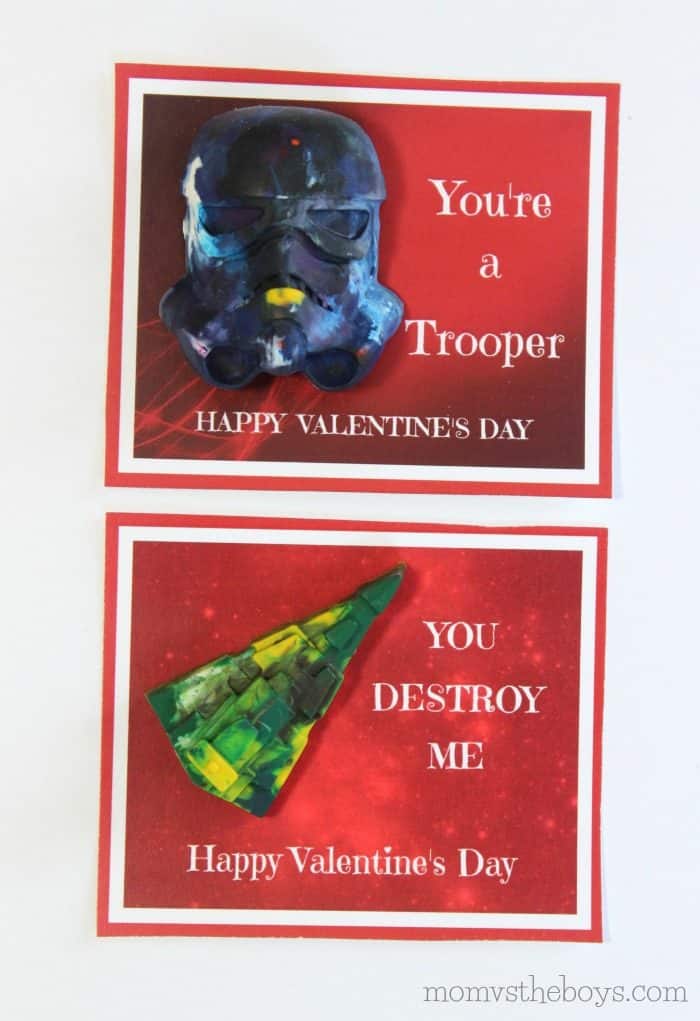 So Join Me on Valentine's Day with these DIY Star Wars Crayon Valentines!