Easter is right around the corner and if truth be told it's not one of my favourite holidays. We rarely, if ever, see extended family on this holiday which is a bit of a downer. In order to try to make the holiday more than just a regular weekend I tend to go a bit overboard on the treats. In an effort to reel the junk in and still make it a fun and memorable occasion, I've compiled a list of ideas to help the Easter Bunny fill those stockings with a little less sugar in mind. And while I compiled the list with boys in mind because I'm a boymom to three, I'm sure girls will love them too!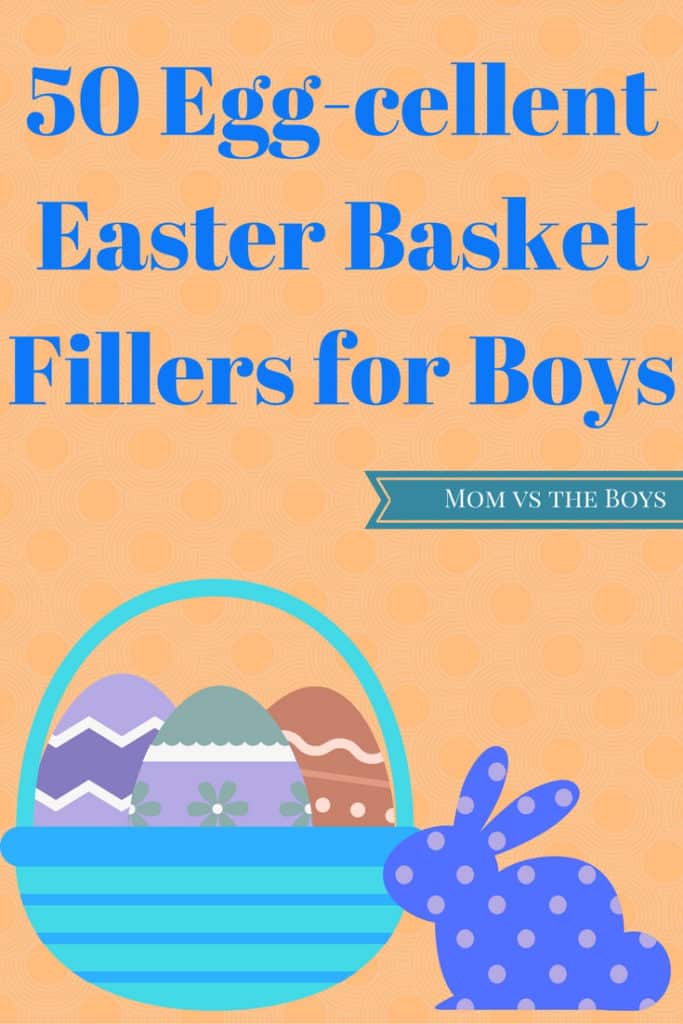 50 Egg-cellent Non-Candy Easter Basket Fillers for Boys
1. Playdough
2. Hot Wheels Cars
3. Small LEGO sets
5. Whoppie Cushions
6. Stickers
7. Stamps
8. Books, everything from board books to chapter books
9. Small Balls (baseballs, road hockey balls, foam footballs)
10. Mini Sticks
11. Glow Sticks
12. Key Chains
13. Puzzles
14. Art supplies
15. Pokemon Cards
16. Sports Cards
17. Silly socks
18. Blow up beach toys
19. Fun flashlights
20. Small toy animals
21. Finger lights
22. Card games like UNO or Skip-Bo
23. Grow a dinosaur
24. Bubbles
25. DVD's
26. TonkaTINYS
27. Sidewalk chalk
28. Water guns
29. Fishing tackle
30. Spring Pajamas
31. New toothbrush
32. Bath toys
33. Waterbottles
34. Hexbugs
35. Fun character bandaids
36. Plush toys (My boys love the minecrafts, marvel and How to train your dragon ones)
37. Sandbox or water table toys
38. Sunglasses
39. T-shirts or muscle shirts for warm weather
40. Wallet
41. Blind Bags
42. Sandals
43. Temporary tattoos
44. Nerf bullets
45. Bubble bath or foam soap
46. Swimming goggles/water wings
47. Baseball glove
48. Notepads
49. Water balloons
50. Summer hat
Got other great ideas? Leave them in the comments below to help our your fellow boymoms this Easter!